Series in Review: Grizzlies are too tough for the one-star Thunder
The Oklahoma City Thunder felt every bit of Russell Westbrook's injury by losing to the Memphis Grizzlies in five games.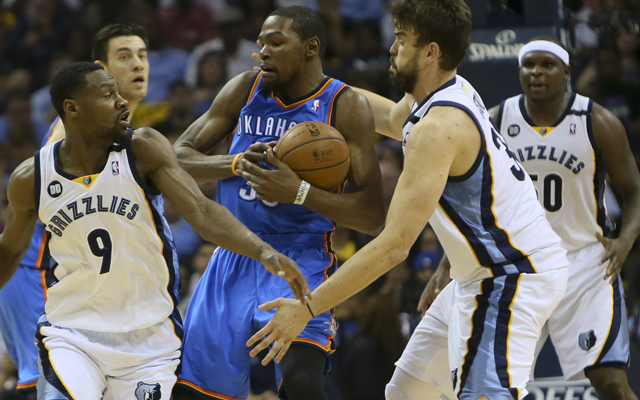 Sometimes, things just aren't fair. It isn't fair to the Oklahoma City Thunder and their fans that Russell Westbrook had a freak accident on the court that wasn't his fault. It isn't fair that Westbrook was forced to miss this entire series against the Memphis Grizzlies. It isn't fair that Kevin Durant was forced to put a team on his back without any consistent help from his teammates against the second best defense in the NBA. None of that was fair to the Thunder and losing in five games seems like a horrible way to end what looked to be such a promising season. 
But it also wasn't fair to the Memphis Grizzlies' players and their fans that they were saddled with such a terrible, cheap owner for years. It wasn't fair that Michael Heisley seemed to make a lot of people frustrated with being a Grizzlies' fan. It wasn't fair that Mike Conley wasn't allowed time to grow early on or Zach Randolph didn't get a great mentor when he first entered the league or that Tony Allen blew out his knee when he dunked after the whistle in Boston. Every Grizzlies fan went through crappy times with this team and the fact that they've seen the franchise's fortunes turn around with Marc Gasol leading the way, Zach Randolph realizing his potential, Mike Conley working through the naysaying, and a new ownership group/front office make a risky and polarizing trade to get rid of Rudy Gay for role players shows that grinding out the tough times can make the great times all the sweeter.
The Memphis Grizzlies may have won this series simply because Westbrook was out with a knee injury. Perhaps they could have won the series anyway and stuck to their motto of using grit to grind out their victories. Regardless of the road paved ahead of them by hard work and sometimes fortune, the Grizzlies still had to cover the deadliest scorer on the planet for five games and take him out of his comfort zone. They still had to break the opposing role players. They earned this Western Conference Finals bid, whether it looks fair or not.
Series MVP
Marc Gasol was amazingly the best player in this series. It's insane to think that anybody outside of LeBron James could outplay Kevin Durant in a playoff series, but we just saw Marc Gasol do exactly that. Gasol averaged 19.4 points, 8.4 rebounds, 2.4 assists, and 2.8 blocks in 41.8 minutes of action. He shot 48.6 percent from the field. He played stellar defense both on and off the ball. He hit a parade of daggers from midrange throughout the key stretches of each game. He showed that his Defensive Player of the Year award was warranted. He showed that he played like the best big man in basketball this season, even into the playoffs. Gasol has started to become a household name during these playoffs, after emerging in the basketball community over the past three seasons. 
X-Factor
Tony Allen; it's always Tony Allen. In a series full of great collective performances by the Grizzlies' role players, Tony Allen had the biggest impact on the court. When he wasn't in the game over the course of five games, the Grizzlies were -11.3 points per 100 possessions. When he was in the game, the Grizzlies were +15.2 points per 100 possessions. That was the highest differential on the team during the second round. His job wasn't to be a scorer or a distributor. His job was to make Kevin Durant's life really hard on the basketball court. He did exactly that and left his imprint on this series.
The series was over when ...
Patrick Beverley crashed into Russell Westbrook in Game 2 of the opening round and Westbrook suffered a lateral tear in his meniscus. I don't know that the Thunder would have been a lock to beat out the Grizzlies in this series if Russell Westbrook was healthy, but I do know that a one-star team doesn't have much of a shot against a defensive team like Memphis has. They swarmed Durant constantly when he had the ball and took him away from the spots he wanted to shoot the ball. They contested nearly everything and dared Derek Fisher and Reggie Jackson to beat them. They took Kevin Martin and Serge Ibaka out of the series. They let Kendrick Perkins do what he wanted and giggled in the process. Without a second star to take some of the defensive pressure away from Durant, Memphis had a relatively easy time closing out games.
Key moments
With 39 seconds left in Game 3 and the Thunder trailing by four points, Kevin Durant drove down the lane and drew a questionable blocking foul against Marc Gasol. The career 88.4 percent free throw shooter stepped to the line, hoping to cut the deficit to two points with enough time to get a stop and put the fear of Durant into the Grizzlies. Instead of making both free throws, he misfired on both shots. Instead of capitalizing on a chance to score with the clock stopped, Durant froze at the free throw line in a crucial moment. 
Looking ahead for Oklahoma City
The Thunder had a boring and speculative offseason that led to a momentous trade right before the season started. When they traded James Harden to the Houston Rockets, they officially waved the white flag at the looming luxury tax penalties in this new collective bargaining agreement. They brought in a high draft pick, Kevin Martin, and other assets to help keep the team afloat. This summer, they have to figure out what to do with these assets as they continue to get their team moving toward an NBA title. 
There isn't anything really wrong with the makeup of the team, per se. Aside from Kendrick Perkins being a horrible burden on anything they try to accomplish on the court, this team has a lot of depth that can complement Durant and Westbrook for years. Ibaka is still an improving defender near the top of his craft. Nick Collison is the ultimate role player off the bench. Reggie Jackson emerged as a really nice backup point guard who can probably spend time next to Russell Westbrook in the lineup. Thabo Sefolosha is still everything they ask him to be.
Now the Thunder just have to figure out what to do with Kevin Martin's free agency, how they're going to develop Jeremy Lamb, and whether or not they want to amnesty Kendrick Perkins to both get him off the court and save cap money to keep bringing in talent without worrying about approaching the luxury tax. They have a lottery pick in the 12th pick range from the Toronto Raptors and can use that to continue to stockpile assets to shift around roster components around Durant and Westbrook. The future is still very bright.
Looking ahead for Memphis
The Memphis Grizzlies are in the Western Conference Finals for the first time in franchise history. They should be satisfied, right? There's a scene in the movie Finding Forrester, in which the protagonist (played by Rob Brown) is an inner-city teenager being recruited by a prestigious private college prep school. He's practicing with the basketball team he's being asked to join in order to attend the school and he's butting heads with the current star of the team. After a couple of plays in which Rob Brown establishes his superiority over the incumbent star, the two get into a bit of a scrap.
As punishment, the coach of the team makes them both shoot free throws. First one to miss has to run until they puke. Shot after shot from the charity stripe goes in for both players. They make 10 in a row. They make 20 in a row. 25. 35. They get to 49 in a row and the coach declares that they'll both shoot just one more. The incumbent knocks his down; Rob Brown gets the shooters roll and makes his free throw. They've both hit 50 in a row to avoid losing to one another because their will to win was unrelenting. 
The coach says, "That was one of the most impressive things I've ever seen on a basketball court. And why do I know it wasn't good enough for either one of you? Shower up and get out of here." The Grizzlies have made it further than any other incarnation of this team has ever gone. They should be happy to get there. They're going to face either the San Antonio Spurs or the Golden State Warriors. But why do I feel it won't be good enough for either team involved? Also, it shouldn't be. This is the mentality the Grizzlies have to have to continue to advance, and you can't convince me right now that they are even close to satisfied. 
Kidd was fired by the Bucks on Monday afternoon

We've got all the scores, highlights and news from an NBA Monday

Leonard was recently shut down again to rehab the nagging quad injury
Durant, who joined the Warriors, says that Capela, the league's most efficient player, has...

Jason Kidd's firing gets the celebratory balloon treatment on Milwaukee's Twitter page

Milwaukee has parted ways with its coach in the middle of his fourth season