Series in Review: Miami Heat put away the scrappy Chicago Bulls
The Miami Heat managed to handle their business and defeat the Chicago Bulls in five games. Where do these two teams go from here?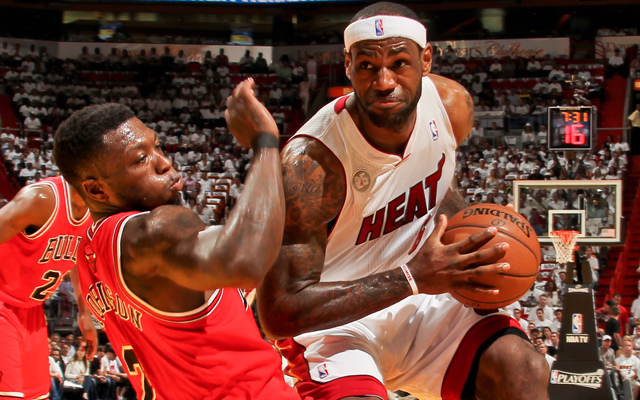 The saga of the 2012-13 Chicago Bulls is finally over and they can go back to being a normal team again. The cloud of Derrick Rose hung over this team all season long and as they inched toward the playoffs, they wondered if he'd come back and help try to take down the kings of the Eastern Conference. They made it past the Brooklyn Nets with a hobbled team. They faced off the defending champion Miami Heat and never did get that boost from a return. 
Really, it was for the best. Putting Rose on the court for the first time in a series like that would have probably been detrimental to the process of bringing him back to being a superstar. It could have brought inspiration, but inspiration can be fleeting. And what the Bulls needed was focus against the Heat to win the series. That wasn't happening with a return from Rose and it wasn't happening with Rose sitting out. It was going to be a distraction regardless of what his active status for the series was. 
So it was decided that it was better for him to sit and come back next year; it was the right call. The Miami Heat closed this out in five games, after dropping the first one to a Chicago team that refused to lay down to the superior team. They were going to be forced into the offseason and they were going to go kicking, slapping, and screaming (whilst getting whistled for technicals). The Heat blew them out in Games 2 and 4. They grinded out victories in Games 3 and 5. And they will move on to play the winner of the Indiana Pacers and New York Knicks in the Eastern Conference Finals.
Series MVP
LeBron James is the MVP of the league and this series. But what's weird is he wasn't that good against the Chicago Bulls. Even without Luol Deng, they managed to bottle him up with Jimmy Butler and a slew of rotations from the weak side to try to prevent him from living at the rim. Now, when I saw he wasn't that good, I mean in relative terms. He averaged 23.6 points, 7.8 assists, and 7.0 rebounds for the series. He drew 8.2 fouls per game. However, LeBron didn't shoot the ball all that well, at least not by the standards he set this season.He made 43.8 percent of his shots and 35.3 percent of his 3-pointers. Half of his shots for the series came in the restricted area and he made 60.0 percent of those shots. He was just 27.5 percent from everywhere else. 
X-Factor
Norris Cole and Chris Andersen get to share this honor. A lot of stats are hard to learn from in such small sample sizes and fives games is a pretty small sample size in the grand scheme of things. But Cole and Birdman were huge difference-makers throughout this series. When they were on the floor, the Heat blew away the Bulls with their effort. They were pests on both ends of the floor. Andersen had a team best +23.2 net differential when he was on the floor. Cole was second on the team with a +22.1 net differential when he played. This can be skewed by the two blowout victories. This can be very random. But you can't deny these guys came in and were noticed for their hustle and effort. 
The series was over when ...
Derrick Rose tore his ACL over a year ago. This Chicago Bulls is a lot of things but they aren't some Disney movie where happy thoughts and an inspirational speech can overcome such adversity. They were never going to beat the Miami Heat without Derrick Rose and Derrick Rose was never going to come back unless he could be confident that he didn't miss a beat. That's not really how ACLs work though. Therefore, the Bulls were without their best player against the best team in the league.
Key moments
This sequence ended up including this incredible photo that set the internet on fire more than any other play in this series. Not even the Nazr Mohammed push of LeBron James could outdo this lady flipping Joakim Noah the middle finger. We may not have had a great Bulls-Heat series, but we'll always have the joy of learning about this lady's possibly shady past.
Looking ahead for Chicago
The Chicago Bulls now try to heal and get their players ready for next season. The roster is pretty much set unless Jerry Reinsdorf wants to amnesty Carlos Boozer. What would this accomplish? Not a lot. Even amnestying Boozer probably wouldn't get the Bulls under the projected salary cap (if another team bids to pick him up), and while it would give them more flexibility with the roster, they aren't bringing in a bunch of players via a trade unless they get rid of Luol Deng. This is doable because of Jimmy Butler's emergence, but would you rather have Jimmy Butler and lower priced role players or would you rather have Boozer, Deng, and Butler all flanking Joakim Noah and Derrick Rose?
The Bulls can waive Richard Hamilton and get rid of the majority of his $5 million salary for next season. They have Marco Belinelli, Nate Robinson, Nazr Mohammed, Vlad Radmanovic, and Daequan Cook as unrestricted free agents. Considering they gutted their bench last offseason to presumably save some money, will they now try to go out and bolster the bench with Rose's return to the lineup? They'll have Luol Deng and Kirk Hinrich as expiring contracts they may want to deal. 
Mostly though, they just need to get healthy and get Rose back on the court for next season. There shouldn't be any problems accomplishing this; it just needs to happen to put this tough and disappointing season behind them.
Looking ahead for Miami
The Miami Heat have to wait and see if the Indiana Pacers can close out the New York Knicks in Madison Square Garden on Thursday night. If they do, they'll await the arrival of the best defensive team in the league that will try to improve upon the scare they put into the Heat last season. The Pacers nearly took advantage of Chris Bosh's injury in the 2012 playoffs by pushing Miami to a Game 6. This season, they have a better team and their defense and rebounding are top notch. 
The Heat have to get Dwyane Wade healthy for the rest of the playoffs. His bad knee is looming over their title chances, and they might not be able to afford going with just two-thirds of their Big Three moving forward. If Wade is healthy, he complements James. Bosh then complements Wade and the 3-point shooters around them complement everybody. 
If the Pacers aren't able to close out the Knicks and New York miraculously comes back to force a Game 7 and win the series, the Heat will wait for an exhausted but rolling Knicks team to head to South Beach. They'll try to keep the 3-point attack of the Knicks at bay while tricking J.R. Smith and Carmelo Anthony into thinking this is a one-on-one contest. A Knicks-Heat Eastern Conference Finals would mean the Heat get a lot of rest between now and Game 1 of that series. Either way, they have to be ready to continue defending their title.
Larry Hartstein is on quite a run in picks involving the Suns and the Trail Blazers

Rodman's agent says he is urging the ex-NBA star to check into rehab

The players and referees are working to fix a relationship that has recently been deterior...
The locker room heist is going to lead to plenty of fines and maybe some suspensions from the...

Larry Hartstein has his finger on the pulse of Boston basketball and locked in a pick for...

The always consistent Spurs take on the rebuilding Lakers in a national TV contest.