Series in Review: Pacers prevail over Washington, advance to meet Heat
It wasn't always pretty, but Indiana took care of the Wizards in six games and will be back in the conference finals.
• 3 min read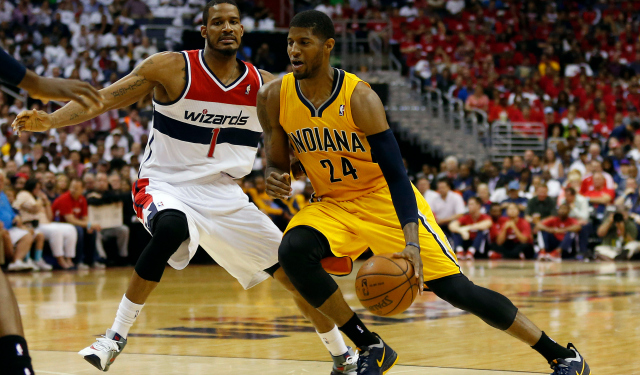 More postseason coverage: Playoff schedule, results | Latest news, notes
The Indiana Pacers' late-season collapse was one of the strangest stories in recent NBA history. Pairing historically dominant defense with a pretty potent offense, they started the season looking like a good bet to finish with the best record in the league. Then Indiana lost its magic, regressing embarrassingly when it came to putting the ball in the basket.
The Pacers entered the postseason as the biggest question mark in the Eastern Conference and perhaps the league. They had the No. 1 seed, and at full strength they clearly posed the biggest threat to the Miami Heat, but the inconsistency they displayed in the two preceding months meant no one was sure how seriously to take them. Their seven-game series against the mediocre Atlanta Hawks didn't exactly inspire a ton of confidence.
When Indiana started the second round by putting up 15 points in the first quarter against the Washington Wizards and surrendering home-court advantage, it was easy to envision things going seriously wrong. The Pacers responded, though, winning the next three games. Tuesday's 102-79 Game 5 loss was another low point, but their 93-80 victory on Thursday proved once again that Indiana can fight back from adversity.
SERIES MVP
Paul George. He wasn't excellent in every game offensively, but on balance he was the best player in the series. He averaged 19.7 points and 6.3 rebounds while making 44 percent of his 3-pointers and spending significant time chasing Washington's Bradley Beal. George's Game 4 explosion was easily the most sublime Pacers performance of the postseason — in a contest where Indiana trailed by 19 just after halftime, he led his team back. He had 39 points and 12 rebounds in the 95-92 win, shooting 12 for 20 from the field and making seven of his 10 3-point attempts. That gave the Pacers a 3-1 series lead, and might have saved their season. 
X-FACTOR
Roy Hibbert. The 7-foot-2 center failed to record a point or a rebound in Indiana's Game 1 loss, and shot 2 for 7 for four points and two rebounds in Game 5. In contrast, he averaged 17.5 points, 7.5 rebounds and shot 62 percent in the Pacers' four wins. Indiana is a far more imposing team when Hibbert is able to play big minutes and be a force on the inside. His defense obviously makes the most difference, but he also changes things when he is an offensive threat.
THE SERIES WAS OVER WHEN...
Indiana's defense locked up Washington down the stretch on Thursday. Yeah, there's an argument that it was over after George's incredible Game 4, but it briefly looked like the Wizards were going to force a seventh game when Beal ripped a rebound out of Hibbert's hands and then hit a go-ahead three-pointer with 8:31 left in Game 6. The Verizon Center went nuts, but the Pacers picked up their game. Washington only made two field goals the rest of the way.
KEY MOMENTS
Two stick out, and both involve the aforementioned X-factor. First, all the talk about Hibbert's scoreless game immediately following Game 1 -- Tracy McGrady and Gilbert Arenas made fun of him, while his teammates challenged him to be better the next game. Second, Hibbert's post-game press conference after his 28-point performance in Game 2, where he talked about his fishing trip with George. 
LOOKING AHEAD FOR INDIANA
On Sunday afternoon, the Pacers will start the conference finals rematch everyone has been talking about since the start of the season. After all of the maddening losses, depressing quotes and rumors of off-court problems, Indiana is exactly where it wanted to be. The drama should now be confined to the court, where the Pacers will have to prove they can find some sort of consistency against a Heat club that has lost only one game this postseason. They have home-court advantage, but in no way are they the favorites.
LOOKING AHEAD FOR WASHINGTON
The future is bright for the Wizards' burgeoning backcourt of John Wall and Beal. Wall was an All-Star this season, and Beal played like one in the playoffs. This was obviously a successful year for a team that hadn't made the playoffs since 2008 and hadn't won a round since 2005. The young guards will grow from this experience, and this will be a big summer for rookie Otto Porter, the No. 3 pick who didn't crack Washington's playoff rotation. The front office has a decision to make on center Marcin Gortat, though — the Wizards wouldn't have gotten this far without him, but would it be wise to give the 30-year-old a large, long-term contract? 
The Nets guard defeated the Bulls' Lauri Markkanen, ending the bigs' reign in the Skills C...

Tensions between refs and players have been high this season, so it was time for a sit-dow...

Irving is known for his controversial flat-Earth comments
George will be an unrestricted free agent in the summer

Durant said playing good basketball is more important than ending up with the best record

Follow along with all the news, notes and highlights from All-Star Saturday night