Series in Review: Spurs storm past OKC in Western Conference finals
San Antonio is back in the NBA Finals after a six-game series against Oklahoma City.
• 3 min read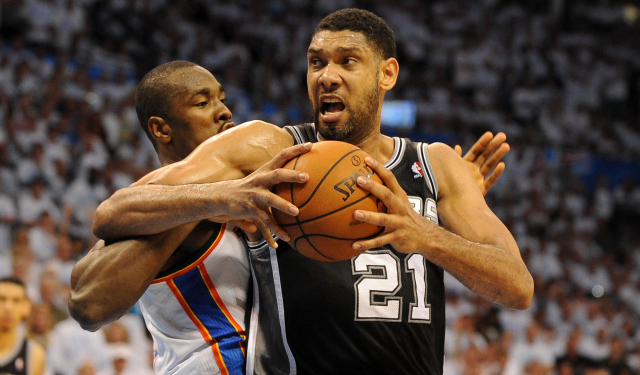 Spurs win WCF: GameTracker | Instant reaction | Court Vision | Duncan finishes job
SERIES MVP
Tim Duncan. We always say he's not the same player he used to be, and that's true, but he sure is able to rise to the occasion. Duncan started the series with a dominant 27-point performance when Serge Ibaka was out of the Thunder lineup. He ended it with a combined 41 points and 27 rebounds in Games 5 and 6. 
Duncan wasn't the Spurs ' best player in every game against the Thunder, and he likely won't be in the Finals, either. On balance, though, he was as excellent as we've come to expect him to be in the postseason, anchoring a balanced San Antonio game plan on both ends.
X-FACTOR
Boris Diaw. The backup forward's skillset is not quite like anybody else's in the league. He's a versatile defender, a 3-point threat and a brilliant passer. Oklahoma City couldn't match up with him properly -- his ability to draw their defenders out of the paint was huge in Game 5, and his ability to post up smaller guys might have made the difference in Game 6. 
Diaw scored 26 points in the clincher, the most he's ever managed in a Spurs uniform. He did it efficiently, too, shooting 8 of 14 from the field. If not for that performance, there would probably be a Game 7 coming up.
THE SERIES WAS OVER WHEN...
Some might say it was over when San Antonio took a 3-2 lead. Game 5 was obviously pivotal, and the Spurs made a statement that they wouldn't let the Thunder run them to death. It was always going to be difficult for Oklahoma City to come back from that deficit against a team like this. 
But, honestly, it was only over on Saturday. It was only over after Kevin Durant's 3 rimmed out near the end of overtime. He got as clean a look as you can asked for off an inbounds play, and he just missed it. The Thunder presented a unique challenge to the Spurs, and they came oh-so-close to extending this thing. No one knows what could have happened in a seventh game.
KEY MOMENTS
The key moments mostly revolved around Ibaka. Before the conference finals started, he was ruled out for the playoffs, but the Spurs were not convinced. The first two games of the series will be remembered for how easily San Antonio scored at the rim in his absence.
Oklahoma City announcing Ibaka would be back was another memorable moment, as was the energy in the building in Game 3 when he hit his first few shots of the game and totally changed the series.
There were also the two times Kawhi Leonard dunked on him:
LOOKING AHEAD FOR SAN ANTONIO
A rematch with the Miami Heat, the team they came a couple of possessions away from beating last season. People doubted the Spurs could come back from such a heartbreaking defeat, and once again they proved everybody wrong.
The fact they're returning to the same stage is a testament to their culture, their collective character and all of the things we always talk about when we talk about San Antonio. It's also a testament to emotional maturity and mental toughness, and to Gregg Popovich being the best coach in the league.
Duncan said after the game that he was happy it was the Heat again. It's going to be at least as difficult as it was last year, but they are welcoming the challenge. 
LOOKING AHEAD FOR OKLAHOMA CITY
If you're the Thunder, you just soldier forward. You try to add depth on the fringes and rely on more internal improvement. You hope Russell Westbrook can remain healthy for a full season, and you can lock up the top spot in the conference next time. The West isn't getting any easier, but there's no reason to think this team will be anything less than a championship contender this time next year.
Thabo Sefolosha, who was banished to the end of the bench against San Antonio, will almost surely leave in free agency. Derek Fisher will probably get into coaching. If the front office lets Caron Butler go and finally amnesties Kendrick Perkins, coach Scott Brooks will have no choice but to let the young guys play and grow. Opinions vary wildly on how good Steven Adams, Jeremy Lamb and Perry Jones III are and can be, but it makes sense to use the regular season to see what's there. 
It's telling that Oklahoma City's bench only scored five points in the final game of its season, and that all five were scored by Fisher. Durant, Westbrook, Ibaka and Reggie Jackson accounted for the rest of the Thunder's offense, and it's clear by now that they need some more help. General manager Sam Presti will surely try to get creative, but the biggest boost might come the traditional Thunder way: development.
Right before Wiggins hit his shot, Carmelo Anthony hit a 3 to put the Thunder in front

The Suns firing Earl Watson three games into season is second-quickest firing in NBA histo...

Bledsoe tweeted, "I Dont wanna be here"
Giannis had his hand on McCollum's hip when he poked the ball away

Teodosic had to leave the Clippers' game Saturday night against the Suns

Irving said recently that he does not regret the profane outburst