Series in Review: Thunder eliminate the Rockets in six
The Thunder staved off history by finishing the Rockets off in Game 6. Here's your series MVP, X-Factor, top moments and what's next.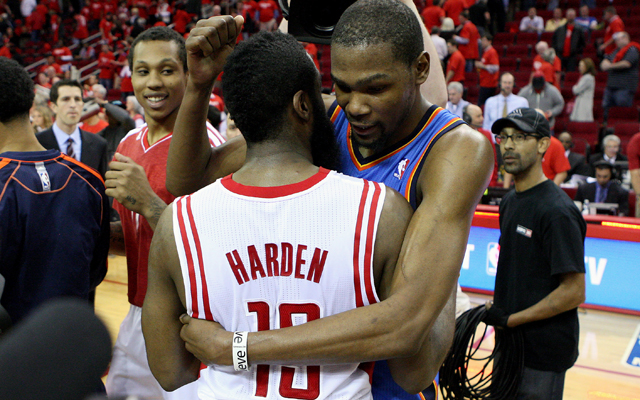 The Thunder staved off history by finishing the Rockets off in Game 6. It was an unexpected grueling battle for OKC, something that escalated because of the injury to Russell Westbrook.
But they got through it. The Rockets scrapped and battled, but eventually, the Thunder made more plays and had a finishing poise the Rockets lacked. 
MVP
Kevin Durant's series: 32.5 points, 48.5 percent shooting, 7.8 rebounds and 6.0 assists. Durant's final four games (or, without Westbrook): 35.5 points, 51.1 percent shooting, 9.3 rebounds and 5.8 assists. 
That's called going to another level when your team needs you. In the fourth quarter of the clincher, Durant scored or assisted on 16 of the Thunder's 25 points. The Thunder without Westbrook are obviously now more Durant's team than ever, and he embraced and excelled. It was a challenge at times as his teammates failed to hit open shots and he had to adjust to being doubled and tripled at times. 
But Durant did all he could and eventually his teammates caught up to him some. That's what Durant is going to have to do for the Thunder. He's going to have to play near perfect, and take his teammates to a higher place while he's at it. Quite a burden.
X-Factor
Derek... Fisher? Yep, Derek Fisher. In the clinching Game 6, Fisher hit three big 3s and played some tremendous defense on James Harden.
Also, yes, I realize that is a paragraph that I just typed. But it's real. Fisher was fantastic for the Thunder. They don't win this series without him. 
Top moments
You have to start with Patrick Beverley's unfortunate steal attempt that led to changing the perspective and landscape of the entire postseason. 
Durant's bounce from God that decided Game 3.
Durant going 1-on-4 and dunking. And it looked so easy. 
James Harden super smooth 2-for-1 in Game 5. Plain nasty. 
Looking ahead for Oklahoma City
The Thunder draw the Grizzlies for the second round which will surely be a nasty, tough, physical series. The Thunder went 1-2 against Memphis in the regular season, with the third game being a tight one-point overtime loss. 
But of course the Thunder don't have Westbrook so breaking down the Grizzlies' staunch defense could be a major struggle. Fun fact though: Westbrook actually had most of his struggles against the Grizzlies, more than any other team. Is that something to read into and can the Thunder get by on Durant being the primary focus? 
Looking ahead for Houston
It's a disappointing finish because the Rockets looked a real threat to pull the stunner and win four straight. But the tested Thunder knew how to finish while the Rockets failed to come up with big plays when they needed them late. 
But the Rockets are young and this was not only a tremendous experience for them, but a great showing. Something to learn from, something to grow off of. The Rockets have offseason cap room to improve themselves more and you know Daryl Morey will be as active as anyone. They have a franchise cornerstone in James Harden and with Jeremy Lin, there's the makings of a good backcourt. Omer Asik is a premier interior defender and Chandler Parsons is a budding star. The Rockets aren't far off and pretty soon, they may be in the position of the Thunder.
Based on Gentry's tongue-in-cheek price, Boston is highly unlikely to acquire the big man

Larry Hartstein is 22-11 in ATS picks for or against the Timberwolves and has a play for T...

First they were fragile, now they're dealing with 'rotation' challenges
You could say the Brazilian big man marches to the beat of his own drum

Rivers says Ariza called him to hash everything out following the heated skirmish between both...

Larry Hartstein has his finger on the pulse of Philly basketball and locked in his pick