Seven games for World Peace: A reasonable outcome
The seven-game suspension the NBA handed down to the Los Angeles Lakers' Metta World Peace Tuesday for elbowing the Oklahoma City Thunder's James Harden in the head was fair and didn't represent an overreaction. It could've been much worse for everybody.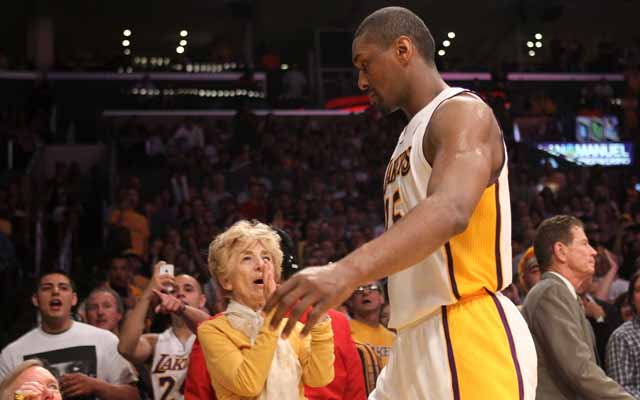 Metta World Peace will be missing seven games for elbowing James Harden in the head.
(Getty Images)
Seven games. Fair, in my opinion.
The
seven-game suspension handed down Tuesday
for the
Lakers
'
Metta World Peace
for elbowing
Oklahoma City
's
James Harden
in the head sent the appropriate message that such dangerous acts cannot be tolerated.
But the
NBA
also did something else very important: It didn't overreact.
The play I kept thinking about in mulling over the past two days how hard David Stern and Stu Jackson would come down on World Peace was
Andrew Bynum
's forearm that blasted J.J. Barea out of midair during the playoffs last season. Bynum got five games for that reprehensible act, and I thought that was a fair point of reference in dishing out punishment to World Peace.
One could make credible arguments that each play was worse, more dangerous and warranted the stiffer penalty. Bynum's hit was in the course of a basketball play, as Barea drove to the basket. But it was not a basketball response; it was an act of violence and frustration. Plus, Barea is, oh, half Bynum's size and was defenseless in midair.
World Peace's wildly swinging elbow, in the midst of an emotional outburst following a dunk, was not a basketball play in any way. Nor was it rational. And it arguably was more dangerous than Bynum's offense, since World Peace's elbow bad contact at a high rate of speed with Harden's head. Artest wound up and followed through on the blow. Harden, as you'd imagine, suffered a concussion that has caused him to miss time -- and could have caused him to miss a lot of time.
You can't have that in basketball, period.
You especially can't do that if your name used to be Ron Artest, and you are the man who was at the center of the most disgraceful brawl in NBA history when you went into the stands at the Palace of Auburn Hills in 2004. But Stern, who has had a good relationship with Artest since the 73-game suspension that followed the Malice at the Palace, did not turn the clock back eight years and try to punish World Peace all over again for something he'd already served his time for.
This was rational, and appropriate. And fair. Stern, the renowned dictator, meted out punishment that fit the crime -- and didn't overreact based on World Peace's past history.
World Peace did himself a couple of favors here. First, he was immediately apologetic after the game Sunday. Whether you believe his yarn that it was an accident or not, at least he was remorseful. And he wasn't remorseful a day later after conferring with his agent, manager and other spin doctors. He knew he'd done wrong, admitted it, and said he was sorry.
Also, a person in World Peace's camp took the time to write a pre-emptive letter to the league office explaining his remorse and some of the circumstances surrounding the incident. Absent the immediate remorse World Peace showed, this would've done no good. But overall, World Peace and his camp put forward the right message.
So what happens now? The Lakers will be without World Peace for their final regular season game, which means little, and six playoff games. Since World Peace actually has been playing better lately, there's a real cost here to the Lakers. But it's a cost that's reasonable, one that will send a message in the days before the playoffs begin that you cannot lose your cool and make violent contact with anyone's head.
If anything, World Peace -- owner of the longest non-drug suspension in NBA history -- could've reasonably expected worse. 
So could James Harden, who by all indications will be able to play in the postseason once he passes the NBA's new and necessary post-concussion protocol.
And that's what everybody needs to understand from this incident, what every player must realize. It could've been a lot worse for everybody.
Galin Dragiev has his finger on the pulse of Cavs basketball and just locked in a play for...

Coming off a win over the Spurs, the last-place Mavericks will try to get another upset victory...

Lonzo Ball and LeBron James will meet for the first time
Toronto looks different this season thanks to a new system and the emergence of several young...

December 15 marks the day that teams can begin trading their newly acquired free agents

Magic Johnson and Rob Pelinka wanted Ball to tone down his criticisms of Lakers coach Luke...