Shane Battier reflects on what could be his last NBA game in Game 5
Heat forward Shane Battier set to retire after this season, faces what may be his last NBA game in Game 5 of the Finals.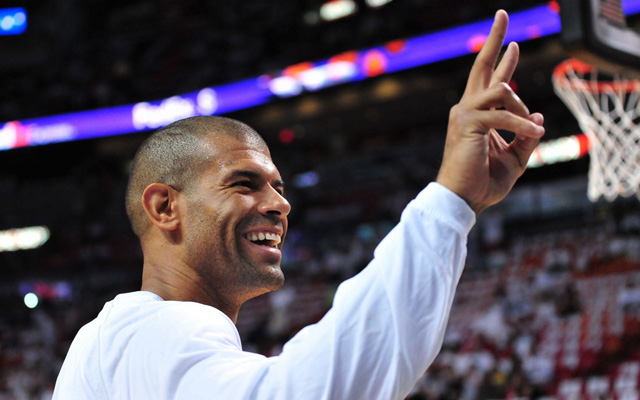 More postseason coverage: Playoff schedule, results | Latest news, notes
SAN ANTONIO -- If this is it for Shane Battier, he's not going out with any regrets. Battier, often thought of as perhaps the smartest defender in the league over the past decade, is set to retire after this season. With the Miami Heat down 3-1 headed into Game 5 Sunday, Battier was a mixture of contemplative and content Sunday at shootaround. When asked if he was aware in his mind that this could be his last NBA game, Battier laughed. 
"That's the rumor," the 12-year veteran told CBSSports.com. "That is a possibility. I've never approached a game thinking about the consequences. You think about the process and you let the results fall where they may. I'm not going to change that." 
Battier was a useful player in every season he played. He made a reputation as a "No-Stats All-Star" for his defense and the way he merged statistical analysis with his scouting reports to help him prepare for how to defend an opponent. But the legacy he said Sunday he hopes he leaves with fans was simpler. 
"I would like for people to remember me as a guy who always made his team better. A guy who gave it his all and played to win," he said. 
Battier's 12 years featured ten playoff appearances, including the Houston Rockets' run to the playoffs behind a 22-game winning streak in 2008, the Memphis Grizzlies' first-ever franchise playoff game and series win in 2011, and consecutive championships with the Heat in 2012 and 2013. He's set to become an announcer with ESPN this summer after his contract is over.
Battier said that after he's done, he'll still be a part of the NBA culture, always around the game. 
"This is in our blood. You can't dedicate your life to a craft for 25 years and then walk away without any connection. I love the game ..."
Battier paused.
"I also don't want to play the game anymore," he said with a laugh. 
Battier said that Game 7 against the Spurs last year stands out above all others in his career. "That's not a bad one to recollect," he said. "But I've had so many great teammates and people around me in this game. Too many to list." 
A Game 7 against the Spurs seemed like a sure thing after Game 2, but consecutive blowout wins by the Spurs have given a sense that this is the end for the Heat team as currently constructed, facing a Game 5 in San Antonio that has shot 58 percent from the field in the past two games. Battier was still hopeful that a regression to the mean was due for San Antonio.
"Being a numbers guy," he said, "it's a little late, but if (regression) shows up to the party, we'll forgive her. But part of that is us. We need to make them miss shots. We're due for a Miami Heat game, a game like the ones that got us to this point."
Whether the unlikely happens or not, Battier said that even as so much about the NBA conversation is about business, contracts, injuries and rumors, his ride was still well worth it all. 
"Greatest job in the world," he said. "I wouldn't trade a minute of it for anything. I've played without any regrets."
Battier pointed to his teammates who were still shooting in a small Texas gym. "We're playing the game that we'd be at the YMCA after work, same exact thing if there was no NBA. We'd be sweating, complaining about fouls, spraining ankles, somewhere, if there was no such thing as the NBA.

"To be able to do this for as long as I did and live my dream, it's a moment to make you pinch yourself."
If Battier pinches himself and wakes up Monday with his NBA career over, you get the sense he'll appreciate what he accomplished, and be ready to start whatever comes next. 
Kris Dunn somehow took a chunk of the Bulls court out with his teeth, but didn't lose any in...

The fallout from the Rockets-Clippers tussle continues; no Clippers were disciplined

DH12 is picked for free throws after a teammate gets ejected. He makes both, and lets Scott...
Bell was injured defending a Robin Lopez dunk and had to be taken off the floor in a wheel...

Trevor Ariza and Gerald Green are reportedly both suspended two games

We've got all the scores, highlights and news from Wednesday night