Shane Battier says it would 'take an act of God' for him to not retire
Shane Battier was pretty adamant Friday about his future, saying he intends to retire after this season.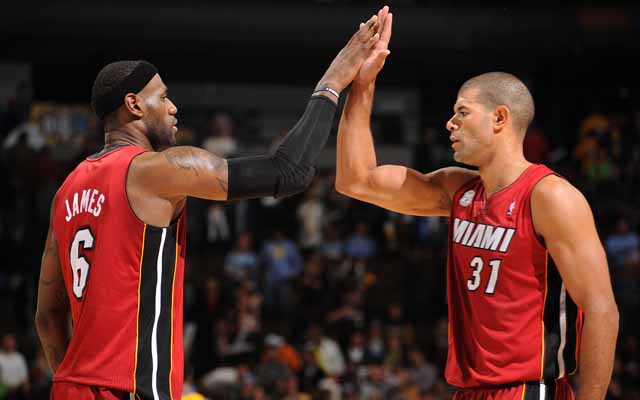 More NBA: Power Rankings | Expert Picks | Latest news & notes
Shane Battier is pretty sure of how his season will eventually end -- with his retirement. 
Battier told reporters on Friday that he's certain of retiring at the end of this season, unless someone intervenes. 
"It would take an act of God to change it and that act of God hasn't come," he said. 
Battier had been hinting at the possibility of him calling it quits after this season, but this was definitely he clearest answer yet.
Battier's contract is up at the end of the season and at 35 years old, he's not interested in trying to seek out a new one. He said last summer he preferred to retire with the Heat and with a summer of uncertainty ahead, he'd rather not worry about where he'd land.
For Battier, this will be his 13th season but you have to calculate those in Battier years. Because the guy throws his body around, taking charges, defending bigger players, diving for loose balls -- all that stuff. 
Battier's clearly lost a little bit, shooting just 37.8 percent from the field and 33 percent from 3. He's averaging a career-lows in points, rebounds and assists. 
The Pistons put out a long list of details regarding their new uniforms

The Pacers traded the forward to OKC for two former lottery picks who have yet to reach their...

Gilbert said what was expected, but didn't necessarily sound all that confident
Altman addressed the media about Irving during his introductory news conference

Toronto's center has an uncertain future; can we still talk about this 25-year-old's poten...

Oakley was vague with his response on when he'd attend another Knicks home game