Shane Battier wins Twyman-Stokes Teammate of the Year award
Miami Heat forward Shane Battier has won the second Twyman-Stokes Teammate of the Year award.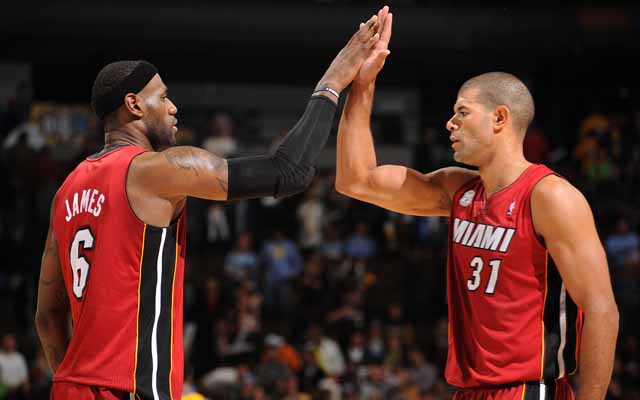 More postseason coverage: Playoff schedule, results | Latest news, notes
During last year's NBA playoffs, the league debuted the Jack Twyman-Maurice Stokes Teammate of the Year award. Chauncey Billups received the first honor to celebrate the teammate who goes above and beyond expectations with selfless play, commitment and dedication to his teammates, and shows both leadership on and off the court. Six players from each conference are nominated by a committee of NBA legends and then NBA players vote for the winner.
This year's winner is Shane Battier of the Miami Heat. He received 67 first place votes, more than double what second place vote-getter Al Jefferson of the Charlotte Bobcats received, en route to the most second place votes and the most points from voting overall. There will be a donation of $25,000 made by the NBA to the Shane Battier Take Charge Foundation. From the Heat: 
The NBA announced today that HEAT forward Shane Battier has been selected as the 2013-14 Twyman-Stokes Teammate of the Year. The award is voted annually by NBA players after a panel of NBA legends nominate six players from each conference that recognize the best teammate based on selfless play, on and off-court leadership as a mentor and role model to other NBA players, and his commitment and dedication to his team. Battier becomes the second winner of the award after Chauncey Billups was awarded the honor in its inaugural year during the 2012-13 season. As part of its support for the Twyman-Stokes Teammate of the Year Award, the NBA will make a $25,000 donation to The Battier Take Charge Foundation.

Jack Twyman and Maurice Stokes, whose storied friendship transcended their on-court Hall of Fame accomplishments, are permanently honored with an annual NBA award in their names that recognizes the ideal teammate. Twyman and Stokes were friends and teammates on the Rochester/Cincinnati Royals from 1955 to 1958. In the last game of the 1957-58 regular season, Stokes suffered an on-court injury that led to him falling into a coma days later, leaving him permanently paralyzed. Diagnosed with post-traumatic encephalopathy, a brain injury that damaged his motor-control center, Stokes was supported for the rest of his life by Twyman, who became his legal guardian and advocate.
Ten points are awarded for a first place vote, seven for a second, five for a third, three for a fourth, and one for a fifth. Battier, Jefferson, Dirk Nowitzki, Chris Paul, Pau Gasol, Manu Ginobili, Channing Frye, Andre Iguodala, Jameer Nelson, Elton Brand, David West, and Mike Dunleavy were all nominated by the NBA legends panel for the award. They finished in the order above with Paul getting the second most first place votes, but the fourth most points from the voting. 
Zack Cimini is 12-3 on picks for or against the Pistons ATS and locked in a play for Frida...

Both Washington and Detroit will try to snap losing streaks Friday night

The Hornets are reportedly looking to move their franchise point guard
We've got all the scores, highlights and news for Thursday night

The Sixers big man got his first All-Star selection -- and maybe some revenge -- on Thursd...

It appears some players are not entirely taking the All-Star voting process seriously