Shaq and Alonzo Mourning lament the 'death' of the dominant center
A look at the modern NBA big man; is there any hope for a new great king of the dinosaurs down low to rule the earth?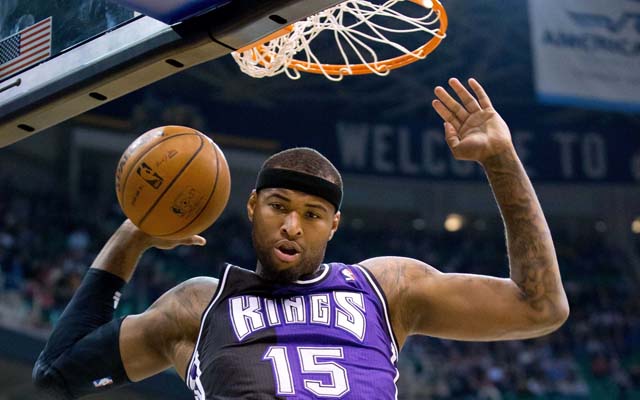 The NBA is a perimeter game more than ever. The Miami Heat won two titles in part by moving self-admitted non-banger Chris Bosh to center and stretching him to the perimeter. Kevin Durant is listed at 6-foot-9, which is hilarious, since on the court he plays as tall as some 7-footers, but is as pure an outside shooter as has ever played in the NBA. Stretch fours are in, dominant centers are out. 
Some of it is a move toward analytics and the value of the perimeter shot, some of it is the influence of Mike D'Antoni and Don Nelson on the current crop of coaches (Gregg Popovich has stated in the past he's implemented a lot of D'Antoni's concepts) and some of it is just that the talent isn't there. 
After Shaquille O'Neal lost prominence (you can argue the year, but 2007 is the last time he was truly dominant, despite playing only 40 games -- in 2009 he averaged 17.8 points and 8.4 rebounds though, so ...), the big-man game never really recovered. Yao Ming really had the possibility of getting to the pantheon, but injuries derailed him. (Go back and watch what he was doing to the Lakers in their second-round series in 2009 sometime. Chewed 'em up.) 
Dwight Howard is currently the best center in the league, but he's seen as a disappointment by many. This is almost entirely because of the standard set by O'Neal, Hakeem Olajuwon, Wilt Chamberlain, and Kareem Abdul-Jabbar. The criticism of Howard gets ridiculous, especially when you consider how phenomenal he is at defense, something that both Chamberlain and Kareem tended to turn their noses at. But it's true that he's not the dominant figure that his historical peers were. (This is in part due to his obsessive desire to try and post up the way they did instead of destroying teams with his mobility and athleticism in the pick and roll, but I've already beat that horse to death a hundred times.)
It can be true that Howard is phenomenal among his peers in the league and that he can't really be compared to the great big men of all time. Those are both accurate, within context. 
Recently, both Shaq and his longtime "rival" (it wasn't particularly close, career-wise) and eventual teammate Alonzo Mourning spoke out about the big man problem in today's NBA. O'Neal, naturally, credits himself with the absence of dominant centers, saying he "killed" them all off, like they were the buffalo or something. 
From Sports Illustrated: 
SI.com: Okay. Now you're one of the last true big men, and since you've left the league the landscape has changed a lot. There's a lot more versatile—

SHAQ: That's my fault. It's my fault because I used to punish them so much when they'd come down into that paint.

SI.com: Well, now the 76ers seem like one of the few teams that are looking to build their franchise around big men through the draft—

SHAQ: Yeah, but, there's two types of big men. There's the Dirk Nowitzki big man and there's the real physical big man, which is good. That's not a knock on Dirk Nowitzki, he's one of the top players in the game. That's just how he plays. But me personally, I don't like seven footers shooting three-pointers.

SI.com: So do you think centers like you are extinct in the league?

SHAQ: Oh, they're gone. I killed them off.
via Shaquille O'Neal Q&A: Rucker Park, Sacramento Kings, FIBA and more - NBA - SI.com.
As with anything Shaq, there's some truth in this ... and some complete lunacy in it. Nerlens Noel and Joel Embiid are not Dirk Nowitzki prototypes. (Also, Dirk won a ring and has cemented his place in NBA history -- what's it going to take to get Shaq off the dude? Even when he qualifies it as not a knock, it's a knock.) Those guys are pretty prototypical big men. Noel's working on his face-up shot, and Embiid has a certain deftness to his game... so did Olajuwon. If you want to compare every center to Shaq's "back-your-ass-all-the-way-into-the-restricted-area-without-drawing-offensive-fouls" style, then no, there aren't any like him, but there also weren't any like him before. The closest to come to that model was Moses Malone. 
But O'Neal did shift the dynamics of the league. There was a move by teams to simply say "Well, we're never going to compete with that, so we had better play outside in." The talent also hasn't been there. But there are some signs of life. 
Hall-of-Famer and former Hornets and Heat great Alonzo Mourning also spoke on the subject recently and his take had more to do with how players are taught when they're young. In his view, AAU is preaching to them to play from the outside-in, and that's a problem. 
"I wouldn't say it's leaving because if another great center comes along, he'll be the first pick in the draft," he said. "[Joel] Embiid would have been the first pick in the draft if not for his health.

"Basketball is played from the inside out. San Antonio beat us [Miami in the NBA Finals] because they dominated us in the paint. So if you can get somebody in the draft that's dominating in the paint, they're going to go first."

Mourning believes that AAU basketball has adversely affected bigger players.

"They're not teaching fundamentals of the game," he said. "They're not teaching the game inside out. Why do you think Tim Duncan is still dominating the game. He's literally still having an impact on the game at his age because he's so fundamentally sound. The game is changing because the game isn't being taught the way it was being taught back in the day. You don't have as many qualified coaches as you did. You don't have your John Thompsons, your Nolan Richardsons, your Dean Smiths, your Bobby Knights.

"The last of them all is Coach K [Mike Krzyzewski]. But those coaches know the game is played from the inside out. The best shot in the game is a layup."
via Notes: Celtics' Avery Bradley keeping a healthy outlook - Sports - The Boston Globe.
That sentiment about the game not being taught right is shared by many. Nets coach Lionel Hollins mentioned the same to me two years ago and Nuggets coach Brian Shaw indicated the same recently. Much of that likely has to do with the de-emphasis on the college game. You have to wonder if Adam Silver's quest to increase the age limit could change things dramatically on that end. 
Mourning stands as an iconic defensive figure. Howard can challenge Mourning, and Andre Drummond has potential. But finding players with his combination of grace, touch, and power with the willingness to completely shut things down inside is pretty rare, which is what made him a Hall of Famer. 
Basketball-Reference tracks a statistic called Win Shares, which basically indicates how much value a player contributes. It's messy, it's noisy, there are about a million ways to criticize it, but it does, on the very surface level, give an indication of what kind of season a player had. Last year, among the top 20 players in Win Shares per 48 minutes, six centers made the list. (Anthony Davis*, Joakim Noah, DeAndre Jordan, Andre Drummond, Andrew Bogut, and Robin Lopez.) PER had eight in the top 20 of players playing 30 minutes per game.** (Davis, DeMarcus Cousins, Brandan Wright,  Al Jefferson, Andre Drummond, Dwight Howard, Nikola Pekovic.)
And yet, you certainly can't put any of those guys in the same category as Shaq, Olajuwon, Kareem, or Wilt. Davis is a power forward (see below), Drummond is athletic and powerful but isn't someone you give the ball to and let him go to work. Brandan Wright ... nope not even gonna start down that road. Howard we already discussed. Pekovic nuh-uh. Bogut never lived up to his potential due to injury, DeAndre Jordan is somehow a bigger liability due to free throws than O'Neal was (and doesn't have the touch around the basket). Robin Lopez -- nope. 
So is there any hope? Well, yeah, there's always hope. But specifically, there are a few names to look at and a few ideas to keep in mind long-term. 
In the short-term, if you consider DeMarcus Cousins a center, and with his bruising play style and inside game, he's got a pretty good case. Cousins is known for his attitude problems and crappy demeanor, but his season last year was completely overlooked. 
For instance, Cousins averaged 23 points and 11.7 rebounds on 49.6 percent shooting with 1.7 steals and 1.4 blocks. His 26.1 PER led all centers (non-Anthony-Davis). And per 100 possessions, which accounts for pace, among players who played 30 minutes per game for at least 20 games ... OK, hold on to something, this gets a little nuts. 
Cousins, crazy, crazy, frustrating, petulant Boogie Cousins, had the 17th most points per 100 possessions, and the 24th best rebounding mark per 100 possessions since 1974 when modern possession stats were able to be calculated. (You can bet Wilt, Russell, and a whole bunch of ABA guys would have messed with those figures, but don't let that discourage you from realizing how awesome Cousins was.) Oh, and Cousins is 24. 
And then there's Davis, who is truly a power forward and will play there next season. But if he adds bulk and does convert to center, there's no reason he can't eventually be used like the Spurs have used Tim Duncan off and on throughout the years.
Drummond is a candidate, but the best hope for him is that he becomes what Dwight Howard never seemed to reach, that his touch and versatility improve to allow him to be the rebounding force along with a dominant physical offensive set. Jordan is likely to be good but it would take an acceleration of his talent well beyond any reasonable projection to put him in line with "great." Noah's passing, rebounding, and defense put him in line for MVP runner-up status last season, but his offense will never get there. 
The future, though, is both uncertain and bright. In the more immediate, there's Noel and Embiid in Philadelphia. There's Jahlil Okafor, the projected No. 1 pick next year. And beyond that, there's the fact that the league is cyclical. It rotated from the dominant inside play in the early 80s with Kareem and Moses Malone to the perimeter era of Bird, Magic, then Isiah Thomas, then Jordan. It became big man dominant again with O'Neal and Duncan, before drifting back into the new perimeter era with the combo forwards of doom (LeBron James, Durant, and the like, along with Kobe Bryant's mid-00's brilliance). 
So the game is likely to come around again. There's a ground swell of good center talent, and whether the next legend has already been drafted or is on his way, you can bet that even if Shaq killed off the big man like a meteor wiping out the dinosaurs,*** it's just like "Jurassic Park." Life, and dominant big men, find a way.  
*Davis played center last year. He's a power forward in his most pure archetype and will move back to that position next season with the addition of Omer Asik, but he did play center so he counts here.
** Tim Duncan was also on that list, but he played nearly every game starting next to Tiago Splitter. I don't know how you call him a center given how the Spurs used him last year. 
*** One last note on Shaq. At age 36 in his second and last year in Phoenix in 2009, O'Neal appeared in 75 games, averaging 17.8 points per game and 8.4 rebounds. That would have made him fourth among centers in points per game behind Cousins, Pekovic, and Howard. Say what you want about O'Neal's conditioning late in his career, but at 36 the man was still elite. He's got a right to crow. 
The Cavaliers won the much-anticipated matchup, 121-112

Two of the league's most interesting teams will meet on national TV on Friday night

A mic on the court evidently picked up what the Cavs superstar had to say to the Lakers ro...
The idea was to bring Bell along slowly, but he's making it harder and harder to keep him on...

Donovan Mitchell kept the top spot in the rankings, but there was plenty of shuffling below...

Stephen Oh is 23-7 picking Rockets and Spurs games and just locked in a play for Friday