Shaq says he's 'sure' Kobe Bryant returns early from injury
Shaquille O'Neal says he's "sure" Kobe Bryant will come back from his Achilles injury early.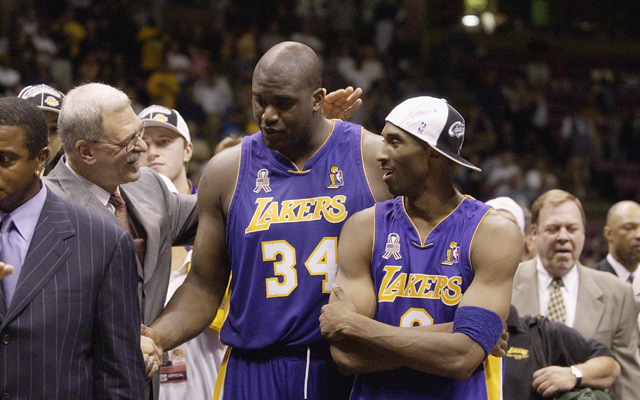 In an interview with Time Warner Sportsnet in LA, former Laker great Shaquille O'Neal said that he's "sure" Kobe Bryant is going to come back "early" from his Achilles tendon injury. From the LA Times' transcript: 
"I'm sure Kobe is going to come back early," said Shaquille O'Neal in a video interview with Time Warner Cable SportsNet on Friday.  "Anything before nine months is early.  Him making the first game, I wish him well.  He's a very, very competitive kid.  He loves the naysayers.  He loves proving people wrong.

"When he put the rumor out there that he may be back the first game, best believe he's trying to come back the first game," continued O'Neal.
via Shaquille O'Neal: Kobe Bryant trying to be ready for season opener - latimes.com.
While trying and doing are two different things, O'Neal knows as well as anyone the depths of dedication Bryant will go to in order to overcome physical challenges. 
You also have to love O'Neal calling the soon-to-be 35-year-old Bryant a "kid." Bryant will never escape that relationship where he was the brash upstart next to O'Neal. 
Bryant recently said that his Achilles is feeling "really good" while in China. I broke down why I think he's back for opening night here. 
The Pistons put out a long list of details regarding their new uniforms

The Pacers traded the forward to OKC for two former lottery picks who have yet to reach their...

Gilbert said what was expected, but didn't necessarily sound all that confident
Altman addressed the media about Irving during his introductory news conference

Toronto's center has an uncertain future; can we still talk about this 25-year-old's poten...

Oakley was vague with his response on when he'd attend another Knicks home game