Shaq to Kobe: 'I just want people to know that I don't hate you'
Shaquille O'Neal called his trouble with Kobe Bryant a "work beef" on his podcast.
• 2 min read
Kobe Bryant's appearance on Shaquille O'Neal's podcast will finally be released on Monday, but for now there are some more excerpts from the next episode of "The Big Podcast with Shaq." Here's how O'Neal began the conversation about their Los Angeles Lakers days, via the Los Angeles Times' Broderick Turner:
"I just want people to know that I don't hate you, I know you don't hate me. I call it today a 'work beef,' is what we had," said O'Neal, who retired after the 2010-11 season. "I was young, you was young. But then as I look at it, we won three [championships] out of four so I don't really think a lot was done wrong. So I just wanted to clear the air and let everybody know that, no, I don't hate you. We had a lot of disagreements, we had a lot of arguments. But I think it fueled us both."

Bryant, 37, recalled the time when he and O'Neal almost came to blows in 1999.

Bryant was 21 at the time, but he wasn't going to back down to the 7-foot-1, 330-pound O'Neal.

"In '99, I think Shaq realized that this kid is really competitive and he's a little crazy," said Bryant, who is heading into what could be his final NBA season. "And I realized that I probably had a couple of screws loose because I nearly got into a fistfight and I actually was willing to get into a fight with this man. I went home and I was like, 'Dude, I've either got to be the dumbest or the most courageous kid on the face of the Earth.'"
O'Neal and Bryant agreed that they missed an opportunity to win more titles together and they didn't need to air their greivances to the media. It is public knowledge that the two of them had their issues, and "work beef" is probably the best way to put it. In retrospect, these two things are probably both true:
1) Bryant seemed a little crazy to pretty much everyone as an 18-year-old rookie and, later, his brand of leadership rubbed more than one teammate the wrong way.
2) Bryant had a right to be annoyed with O'Neal if the big man wasn't working as hard as he should have been, especially considering how seriously the guard was taking his craft.
Since they were both "alpha males," as O'Neal put it on the podcast, there was bound to be some tension, but that doesn't mean they ever hated each other. If they were more mature at the time, perhaps they could have figured it out. A podcast about two superstar teammates in perfect harmony wouldn't be as interesting, though, would it?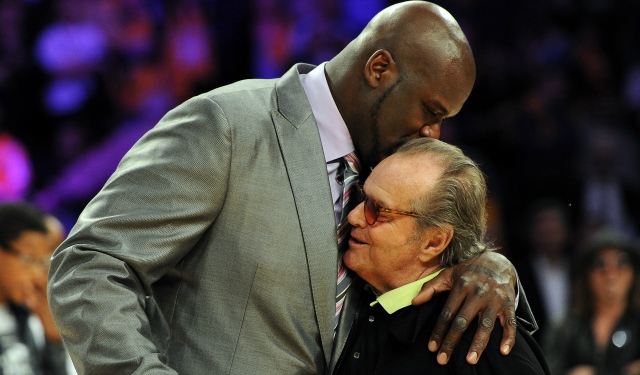 Johnson had a career-high 31 points, while Olynyk had 30 points, eight rebounds, five assists...

Green's injury left the Warriors without all four of their All-Stars

Giannis showed off his incredible length to throw this one down
We've got all the scores, top plays and news from Monday's NBA games

Love has been sidelined since late January with a broken hand

Green retaliated after Gorgui Dieng pushed Paul to the floor on Sunday