Shelly Sterling announces deal to sell Clippers to Steve Ballmer
The NBA, Steve Ballmer and Shelly Sterling are reportedly confident that the sale will be approved despite expecting a legal challenge from Donald Sterling.
• 2 min read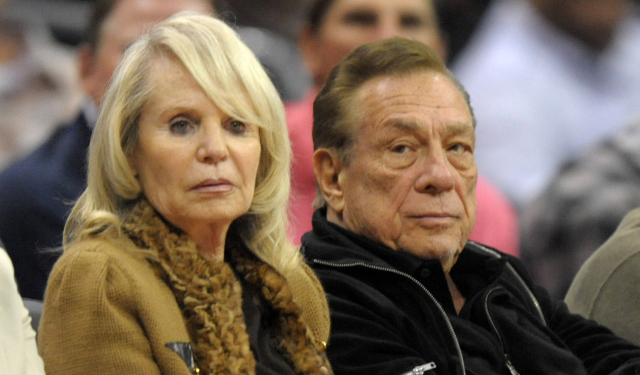 More: Sterling banned for life | Latest updates | NBA news
UPDATE: The NBA released a statement on the potential sale on Friday afternoon: 
"Commissioner Silver has consistently said the preferred outcome to the Clippers proceeding would be a voluntary sale of the team.  Shelly Sterling advised the NBA last night that an agreement had been reached with Steve Ballmer, and the NBA Advisory/Finance Committee met via conference call this morning to discuss these developments.  We await the submission of necessary documentation from Mrs. Sterling.  In the meantime, the June 3 special meeting of the NBA Board of Governors remains as scheduled."
----
Shelly Sterling released a statement late Thursday night that she had signed a binding contract to sell the Los Angeles Clippers to former Microsoft CEO Steve Ballmer, via the Associated Press:
Ballmer "will be a terrific owner," Sterling said, "We have worked for 33 years to build the Clippers into a premier NBA franchise. I am confident that Steve will take the team to new levels of success."

…

Ballmer said in a statement that he is honored to have his name submitted to the NBA for approval and thanked the league for working collaboratively with him throughout the process.

"I love basketball. And I intend to do everything in my power to ensure that the Clippers continue to win — and win big — in Los Angeles," Ballmer said. "LA is one of the world's great cities — a city that embraces inclusiveness, in exactly the same way that the NBA and I embrace inclusiveness."
Ballmer reportedly visited Sterling for more than an hour on Sunday and they had a "good connection," a source told the AP. He also reportedly made an offer of $2 billion, which would make this easily the largest sale in NBA history, as first reported by the Los Angeles Times.
Sterling's statement made no mention of Donald Sterling, and said that she was acting as the sole trustee. Donald Sterling was found "mentally incapacitated," clearing the way for her to send an agreement to the NBA without his signature, according to ESPN's Ramona Shelburne, who also reported that Shelly Sterling and Ballmer signed the final agreement late Thursday night at her law firm.
The league, Ballmer and Sterling have been "working closely" on the sale, according to Shelburne, and believe it will go through despite expecting Donald Sterling to challenge it. 
"Sterling is not selling the team," said his attorney, Bobby Samini, via the AP. "That's his position. He's not going to sell."
Donald Sterling sent a letter to the NBA on May 22 authorizing Shelly to negotiate a sale, but has since changed his mind. Another of Sterling's attorneys, Max Blecher, told ESPN that "he's come to a much more hardline position."
The league still has a hearing scheduled for Tuesday, where the other 29 owners are scheduled to meet and vote on terminating the Clippers ownership. This agreement could result in postponing it, a league source told CBSSports.com's Ken Berger.
LeBron and Durant both responded to a newswoman's recent comments, telling them to 'shut up...

Mitchell's Slam Dunk Contest win was the icing on the cake of an incredible run of success

Dennis Smith Jr. had a great dunk contest, but the judges didn't feel the same way
Mitchell was awesome, but Larry Nance Jr. and Dennis Smith Jr. had some serious moves of their...

Silver noted that there are many factors at play with the issue affecting both the NBA and...

Jazz rookie Donovan Mitchell came in as a replacement and ended up winning the whole thing