Shelly Sterling intends to fight NBA's efforts to remove her
Wife of Donald Sterling says she intends to file for divorce and fight the NBA's effort to remove her from ownership.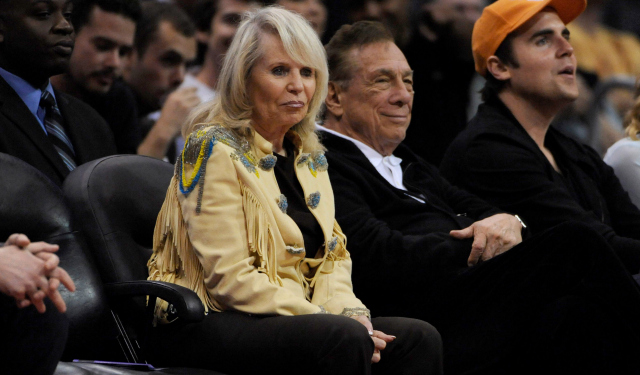 More: Sterling banned for life | Latest updates | NBA news
Shelly Sterling, the wife of banned Clippers owner Donald Sterling, told ABC in an interview that she intends to file for divorce from her husband and will fight the NBA on any efforts to remove her stake of ownership.
Shelly Sterling said today that "eventually, I am going to" divorce her estranged husband, Donald Sterling, and if the NBA tries to force her to sell her half of the Los Angeles Clippers, she would "absolutely" fight to keep her stake in the team.

"I will fight that decision," she told ABC News' Barbara Walters today in an exclusive interview. "To be honest with you, I'm wondering if a wife of one of the owners, and there's 30 owners, did something like that, said those racial slurs, would they oust the husband? Or would they leave the husband in?"Sterling added that the Clippers franchise is her "passion" and "legacy to my family."
via ABC News Exclusive: Shelly Sterling: 'Eventually, I'm Going to' File for Divorce - ABC News.
There had been conflicting reports over the past 72 hours about whether Shelly Sterling intended to fight the NBA's efforts or not. Meanwhile, a report surfaced last last week that the NBA believes it has grounds to remove her from ownership on account of her having never been approved by the Board of Governors as majority owner.
Magic Johnson said last week that the Clippers players would not play for "anyone named Sterling."  The NBA removed Andy Roeser as President of the team this week and installed Dick Parsons as CEO while giving Doc Rivers wide powers over basketball operations.
The NBA released a statement Sunday night in response to Shelly Sterling's comments:
"Under the NBA Constitution, if a controlling owner's interest is terminated by a 3/4 vote, all other team owners' interests are automatically terminated as well.  It doesn't matter whether the owners are related as is the case here.  These are the rules to which all NBA owners agreed to as a condition of owning their team."
That's the NBA's way of saying "we've covered our bases."
Larry Hartstein is 14-6 on Sixers picks and 16-8 on Timberwolves picks and has a strong play...

The kid just about lost his mind after getting Durant's game-worn sneakers

The revamped Thunder lost on Monday night, dropping to 12-14 on the season
Two of the league's young, up-and-coming squads will square off on Tuesday in Minneapolis

Kawhi Leonard is set to make his season debut for the Spurs

Lonzo Ball will make his Madison Square Garden debut