Shelly Sterling intends to remain Clippers owner
The Sterlings will not go away, it appears.
• 2 min read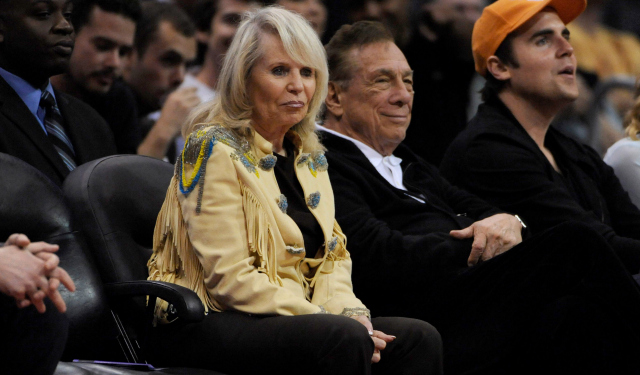 More: Sterling banned for life | Latest updates | NBA news
UPDATE: Shelly Sterling's lawyer, Pierce O'Donnell, told the Associated Press on Thursday that he will be fighting "vigorously" to defend her property rights, she has been separated from her husband for a year and she is considering divorce. "We abhor guilt by association in America," O'Donnell said. "The sins of the husband cannot be imputed to the wife or children."
Shelly Sterling and her representatives told the Los Angeles Times on Wednesday that she intends to remain an owner of the Los Angeles Clippers despite the league banning her husband, Donald Sterling, for life:
Sterling described her long tenure as a "die-hard" fan of the Clippers and said she believes that the sanctions against Donald Sterling — which included a lifetime ban and $2.5-million fine — do not apply to "me or my family."

Shelly Sterling's position presents a "wild card" for the pro basketball league as it faces its biggest crisis in memory, said a league official, who declined to be named because he was not authorized to speak publicly about the matter. Her intention to hold on to the team is a wrinkle apparently not contemplated by NBA officials when they moved nine days ago to strip her estranged husband of ownership.
She has retained the services of a law firm "to guide her in her ownership quest," according to the LA Times. After NBA commissioner Adam Silver said at the press conference announcing Donald Sterling's ban that his ruling applied to only Donald and not his family, Shelly Sterling has publicly distanced herself from him.
In the days since the furor around the team began, his wife has been positioning herself as a separate center of power within the Clippers organization. After remaining mostly in the background for decades, she has issued several statements as the "co-owner" of the team.

She lashed out, in a prepared statement, at her husband's "small-mindedness" and "racist comments."
The report also states that the NBA has urged her not to attend Clippers playoff games, but league officials are unsure of how to stop her from doing so if she does not want to comply.
As noted in the story, Shelly Sterling defended Donald to TMZ on the same day that she released her statement against him. Despite what is being said publicly, they are reportedly still close:
Shelly Sterling was with Donald Sterling last week. They're together or estranged whenever it is convenient or beneficial to them.

— Arash Markazi (@ArashMarkazi) May 8, 2014
Porzingis is questionable for Carmelo Anthony's return to MSG on Saturday

The Spurs and Rockets will renew their in-state rivalry on Friday night

Anthony will play at Madison Square Garden on Saturday for the first time since being trad...
SportsLine's Mike McClure, a DFS pro with more than $1M in winnings, gives optimal lineup...

The Cavaliers won the much-anticipated matchup, 121-112

Two of the league's most interesting teams will meet on national TV on Friday night