Should the Spurs re-sign center Tiago Splitter?
The Spurs have a decision on their hands with Tiago Splitter. Should they re-sign him in free agency?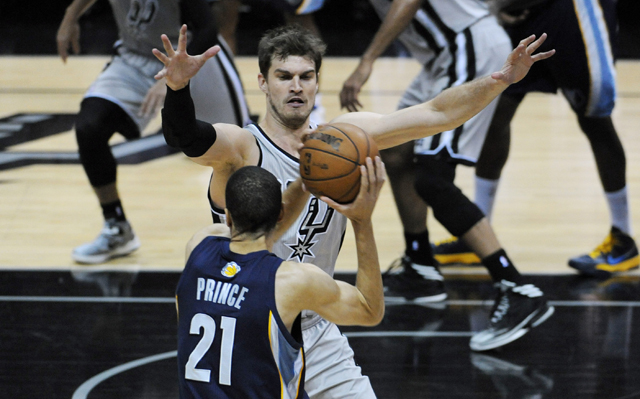 At Spurs blog Pounding The Rock, they dive into a key question. Should the defending Western Conference Champion San Antonio Spurs re-sign restricted free agent Tiago Splitter ? First, they ask a very good question. Can Splitter at age 28 improve in the areas he needs to? 
The problem is I don't think Tiago can realistically get much better at this point. He doesn't have a jump shot and, while his improvement from the line could be taken as an encouraging sign, won't likely develop one in the near future. He has very good footwork in the post but he lacks the lower body strength to back guys down and his awkward release has him scoring on a solid but unspectacular 43.2% of his post ups. He's a good passer out of the low block and can find cutters, but if the other team pressures him, he can be turnover prone. And he mostly plays below the rim, which means he gets blocked a fair amount.

He could get better on the things he does now, namely screen setting, pick and roll scoring and finishing at the rim, but he is already pretty good there, so the potential for improvement is limited. Similarly, Splitter is a very good overall defender and near elite in the post (opponents only score on 32,8% of their attempts), but he won't suddenly become the type of disruptive shot blocker that changes the other team's game plan. And while he is deceptively good guarding in the perimeter on switches or pick and rolls, he doesn't have the foot speed or instincts to do it for more than small stretches.
via Tiago Splitter: Should He Stay or Should He Go? - Pounding The Rock.
Oh, OK, so they shouldn't re-sign him, right? Well, actually... 
But what are the options, really? Josh Smith and Andre Iguodala would likely provide more lineup flexibility when going small but are probably looking for bigger paydays. Not to mention that neither of them could replace Splitter's ability to guard centers. At this point in his career, Al Jefferson could leave some money on the table to sign with a contender, and players like Paul Millsap and David West could be likewise attracted to a team with legitimate championship aspirations, but those guys are nothing like Splitter, especially on defense. While they could prove a great fit on offense, the trade-off might be too significant. Defense was largely what allowed the Spurs to be in the Finals this season, after all.

That's right, the Spurs made it to the Finals. That has to factor in any decision the Spurs make. They came out of the West with relative ease and, provided Duncan's production doesn't fall off a cliff, they will be among the league's elite next season as currently constructed. Splitter was a big part of why they got there in the first place, so maybe maintaining the status quo is the way to go, even if adding a better overall player might raise the team's ceiling.
OK, so they should re-sign him? I'm confused. 
Re-sign Splitter even if you have to overpay a bit, unless there is a clear sign that one of the big time free agents will join the team. By clear sign I mean a deal already in place at least in principle. No gambles. With such a small window and so many teams looking to add someone, the Spurs need to be absolutely sure that they can get a player that can bring at least what Splitter provided as a defender, or add another dimension to the team, before letting the Brazilian go.
Now, that makes sense. 
Except it doesn't. 
Kind of. 
Here's the deal. Splitter last season operated in the exact same manner as so many great Finals big men for the Spurs in years past. Fabricio Oberto. Rasho Nesterovic . Nazr Mohammed . Basically, if you're able to tie your own shoelace, you can thrive next to Tim Duncan and the team can contend. In many ways, Splitter was a skill and athleticism upgrade over those players. 
But he was also a toughness and raw strength downgrade. An iconic moment of the Finals was LeBron James blocking him to Kingdome Come and while James' solitary moment of athletic superiority can't be used as a defining reason for anything, it is emblematic of who Splitter is. He's a role guy, a 28-year-old one, and and a limited one at that. 
He's going to get overpaid, because that's what happens with centers nowadays, and that's not a complaint, it's just a fact. It's actually good to overpay for a capable center, because so few teams have them. Look what the Indiana Pacers did to the Miami Heat , or what the Memphis Grizzlies were able to do with Marc Gasol vs. the Oklahoma City Thunder and Los Angeles Clippers . 
But Tiago Splitter is not Roy Hibbert of Marc Gasol. And while DeAndre Jordan and JaVale McGee are labeled as overpaid, both of those guys are nowhere near their peak as NBA players. Splitter likely is. 
The Spurs can re-sign Splitter and be fine, and if they don't care about the luxury tax (which they do) they can give him a big deal. But the Spurs have always cared about value, and the truth is they can get any other veteran center for cheaper and get the same results. Splitter isn't the center of the future as he was touted two seasons ago. He's just another guy.
The Pacers believe the Lakers tampered with Paul George before they traded him

Among the questionable decisions by Jackson was signing Noah to a long-term, lucrative dea...

This Akron store doesn't want their hometown hero to leave again
Milwaukee's star did not get cleared to play for his national team due to a painful knee i...

Ball, the second overall pick in the NBA Draft, is receiving even more hype

Rap mogul supports the vision the outspoken father has for his brand and sons