Simulation says '72 Lakers would beat the Heat, but is it true?
After a simulation of 50,000 games between the 1972 Los Angeles Lakers and the 2013 Miami Heat, we know who would win. Or at least we think we do.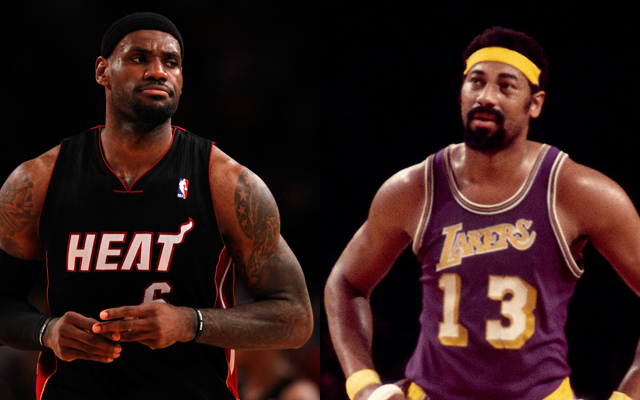 Now that we know where the Miami Heat's streak ended, the question inevitably becomes whether 27 wins in a row in today's game is more impressive than the 1972 Los Angeles Lakers' streak of 33 straight wins. 
There's a lot to factor in with a discussion like this. The Lakers had their streak in a time in which 3-point shots didn't exist and the NBA/ABA merger hadn't happened yet. Basketball was played at a faster, more reckless pace than what we see today. And training was in it's infancy at best, and so rudimentary that any player ahead of the basketball evolutionary curve was set to dominate.
The Heat on the other hand play in a time in which strategy and skill has never been higher. But there are also more teams and what can be considered a watered-down league in terms of spreading out talent to every team. Does that make it easier to do what they did in their 27-game winning streak?
Many people have many different opinions on the basketball eras of yesteryear compared to the game today, so it's going to be nearly impossible to get a consensus on this subject. However, it sets the stage for a different type of question. If we had access to the time machine being built in Kris Humphries' Foot Locker commercial and we used it to transport the 1972 Lakers to today, could they beat the current edition of the Heat?
PredictionMachine.com decided to try to find out. By running a simulation of 50,000 games between the two teams and factoring in the relative skill level of their respective times, it looks like the more historic team from 1972 would get the better of LeBron James and his teammates.
So who wins this matchup? After simulating the 1971-72 Lakers vs. the 2012-13 Heat 50,000 times on a neutral court, the Lakers win over the Heat 54.4% of the time. The average score is 103.1-101.6. In a best-of-seven series the Lakers beat the Heat 57.7% of the time.

(Note: The simulation takes into account the talent of competition. This is important because some might worry about the talent level on current NBA rosters with 30 teams in the league or that many of the elite players in the 1970s were in the ABA.)
The tricky part of this whole thing is two-fold:
1) If we have a time machine, is this really what we're going to use it for?
2) What rules are these two teams using when they play?
Are there 3-point shots? How do we know if any of the '72 Lakers are good at shooting 3-pointers? You can assume Jerry West can make it from anywhere, and Gail Goodrich is probably going to be able to shoot as well. But none of these guys played during the 3-point era and the Heat have grown up in it. They certainly know how to utilize that strategy much better than the Lakers would.
Is hand-checking and/or zone defenses allowed? You could be much more physical in the old days, but you also had to be careful about where your help defenders were. Today, you can't be physical on the perimeter, but you can stack the strong side and possibly zone Wilt Chamberlain out of being a primary option. 
Not to mention, aside from Wilt and Leroy Ellis, there isn't a single member of that team over 6-foot-7 or weighing more than 225 pounds. That's the size of the average player today, or close to it. That means Shane Battier would probably be a power forward compared to those guys, instead of a small forward masquerading as a stretch-4. How could those guys possibly keep James out of the lane, or even be strong enough and quick enough to body up Dwyane Wade? 
Would Chris Bosh flat-out dominate the paint when Wilt checked out of the game?
I'm not smart enough to know how the simulation works and what factors into it, but there are plenty of questions about basketball strategy, rules and culture that come up instantly in my mind. Maybe the '72 Lakers could ride Wilt's size and West's shooting touch to victory, but the game has evolved into making me doubt this being a likely scenario.
We've got all the scores, highlights and news for Thursday night

The Sixers big man got his first All-Star selection -- and maybe some revenge -- on Thursd...

It appears some players are not entirely taking the All-Star voting process seriously
There were some weird discrepancies between the fan, media and player votes

LeBron and Steph will be the captains for the 2018 NBA All-Star Game

Arron Afflalo was involved in an altercation with Timberwolves big man Nemanja Bjelica on...