Sixers-Bulls Game 6: Where do the Bulls go from here?
The Bulls fell to the Sixers in Game 6 Thursday, ending their season. Where does the top seed in the East two years in a row go from here?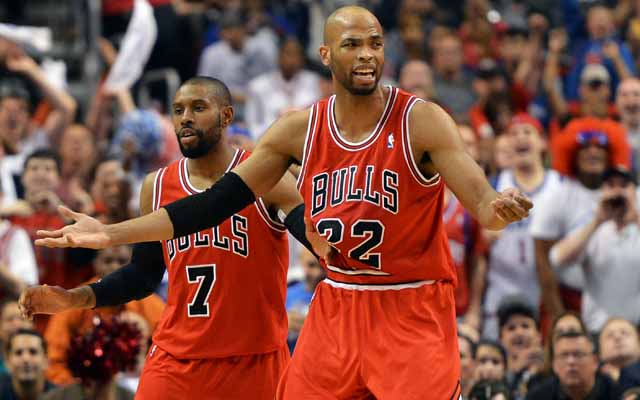 Bulls' reserves is anything but certain.

(Getty Images)
It mercifully ended
for the Bulls Thursday night. It's always disappointing when your season ends in a loss. But this one needed to end. The healing needs to begin. In more ways than one.
All year long the Bulls fought through adversity.
Luol Deng
tears a ligament in his right wrist, he plays through it.
Derrick Rose
goes down, the Bulls step up and wait for him to get back. Derrick Rose goes down, the Bulls step up and wait for him to get back. Repeat. Repeat. Repeat. And it was all set.
And it all fell apart.
As the Bulls rip the confetti of the Sixers' win from their clothes and the debris from their most disappointing season since 1995 from their souls, the future seems to hold a tremendous amount of uncertainty. Where do the Bulls go from here, when everything has been torn away, not by failure, but by fate?
Bulls
ownership has a huge dilemma in front of it
. Despite being one of if not the most profitable team in the league, Jerry Reinsdorf has always resisted the luxury tax. With the repeater tax looming over it, he's going to have to make some decisions. Derrick Rose,
Carlos Boozer
, Luol Deng, and
Joakim Noah
comprise $56 million in cap space for 2012-2013. Throw in
Richard Hamilton
's guaranteed $5 milion and rookie-scale contracts for
Taj Gibson
and
Jimmy Butler
and you're looking at over $65 million before
Omer Asik
's qualifying offer, and that's not counting non-guaranteed money for
Kyle Korver
,
C.J. Watson
, and
Ronnie Brewer
.
The Bulls have to either bring Asik back or risk losing him (and replacing him with first-round pick Nikoa Mirotic). They have to try and find room to improve the team without throwing their chemistry, which has been incredible, away. Or do they? Do they hang with what they got and pretend this season never happened?
So much rests with Carlos Boozer. Essentially from the moment he signed, there's been talk from Bulls fans about trading Boozer, which has morphed into the idea of amnestying Boozer. Would an ownership group that prides itself on getting the absolute most it can from any business transaction really subject itself to the risk of paying the majority of Boozer's remaining $40 million contract? Unlikely, especially given Boozer's play in the regular season.
So in reality, the Bulls have to hope that Rose comes back at 100 percent, that Boozer doesn't lose a step turning 31 next season, that Deng recovers from wrist surgery, that the backup center question is answered, and that C.J. Watson or
John Lucas
can improve.
It's a lot of hope, but it's also not impossible. It's hard to see management making any significant changes based off this season. That's the trouble with seasons like this. A terrible showing that reveals changes must be made hurts, but it invokes progress. But a season like this forces you to convince yourself it would have been enough, that everything is fine, that you just have to pretend none of this ever happened.
Easier said than done.
An Alabama native, Barkley campaigned for Jones leading up to Tuesday's election

Kerr knew just what to say after Jones pulled off an upset in Alabama

The future of the league was on display on Tuesday night
Check in throughout the night for the latest news and highlights from NBA games

The Lakers legend details why the NBA popularity will continue to rise

SportsLine's Mike McClure, a DFS pro with more than $1M in winnings, gives optimal lineup...