Sixers-Celtics Game 7: You don't get Rajon Rondo
The Celtics face the Sixers in a Game 7 of their Eastern Conference Semifinals matchup Saturday night. It could come down to how Rajon Rondo delivers for the Celtics. We take a look at the enigmatic point guard.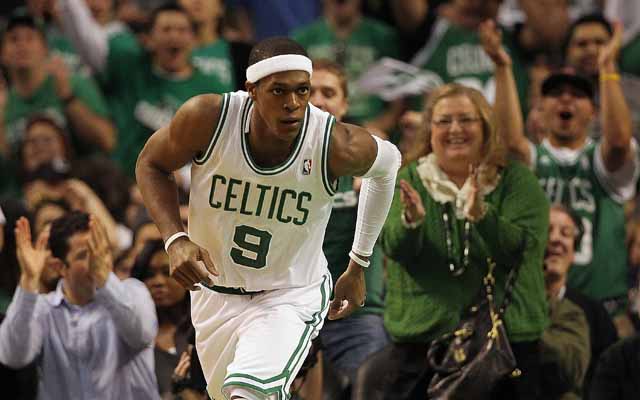 Rajon Rondo is a mystery to fans, a blessing to the Celtics and a nightmare to opponents.
(Getty Images)
We're never going to get
Rajon Rondo
.
Not you, certainly not me, not the media, not the fans, not most of his teammates, probably some of his coaches eventually, though Doc surely does, not the world.
You don't get to have Rajon Rondo.
Whether that's a decision that Rondo made when he entered the league or him emulating
Kevin Garnett
, who feels much the same way, we won't know. Again, we don't get to have that, either.
Here's what we do get from Rondo. Here's a list of the leaders in playoff triple-doubles since 1986.
Rondo is also the leader in triple-doubles of any player by age 26. The only player comparable is LeBron James. Noted playoff triple-double machine Magic Johnson had just 3 before he was 27.
But heavy is the head so to speak. Despite the Big 3 having never really been healthy or their old selves since 2008, the
Celtics
' successes are attributed to Kevin Garnett, to
Ray Allen
, to
Paul Pierce
. Rondo shares in that glory, but often as a side story, the brash young playmaker who ties the room together, so to speak.
It's not that Rondo gets an unfair amount of criticism, it's just that all of his praise comes with caveats while all his criticism is breached with the worst words you can use about a player.
"Disengaged."
"Drifting."
"Careless."
"Hotheaded."
Somehow Rondo manages to be all these things and still often drop triple-doubles in the same game. He can let his emotions get the best of him, as they did in the first round when contact with an official had him suspended for a game vs. Atlanta. He threw Kirk Hinrich into a table.
He rollerskates
. His
teammates love him
,
after they hated him
. He controls the game. Doc Rivers constantly praises him. He's become a vocal leader. He's everything you want him to be, good and bad.
Game 7 on Saturday is yet another chance for the Celtics to advance to the Eastern Conference Finals, another chance for them to close out an inferior opponent (at least in the eyes of many) at home, another chance for the Celtics to outclass the Sixers. But in large part, though the Celtics have relied on Rondo for years, Game 7 is about the Celtics' future as much as it is about the present.
If Kevin Garnett can hulk out, that will probably win it for Boston. If Paul Pierce can have a vintage Truth performance, the Sixers are probably done. But the expectation is not on either of those players at this age. The expectation is on Rondo.
Rajon Rondo is expected to carry the Boston Celtics to the Eastern Conference Finals in a Game 7. This is where his career path has come to. From enigmatic fireball to seasoned veteran leader at age 26. Rondo is expected to set the tone, set the table, set the Celtics up for victory. And while he does it, he'll have the same disdainful look on his face, the same calm demeanor hiding a fury that can be unleashed at any moment.
There are times when Rondo slices through the lane, and delivers a pass that you assume has to be a turnover, it's sent so fast and so loose. But then the Celtic its intended for catches it and smoothly goes into his shooting motion, as Rondo is often already headed back, nodding to his teammate for the make.
He's arguably the most creative point guard in the Eastern Conference, and outside of Steve Nash, maybe in the entire league. He has adopted and embraced the mindset of the Big 3, stepped into their world, absorbed their wisdom and professionalism. His temper gets him in trouble but never boils over. His frustrations with trade rumors spark his tongue but never a freakout.
I'd love to tell you what Rondo's approach will be to the pressure of a Game 7, after facing down five previous contests in his career (with a career average of 10 points, 6 rebounds, and 9 assists in those five games). I'd love to tell you what he'll try and do to punish the Sixers, or what advancing to the Eastern Conference Finals with this group one more time means to him. I'd love to tell you how he'll feel when he steps on the floor, what he's thinking when he delivers that pass, what this game means to him.
But I can't.
We don't get that from Rajon Rondo, because we don't get to have Rajon Rondo.
But the Sixers?
They're going to get Rajon Rondo.
We've got all the latest scores, highlights and news from Wednesday's NBA games

LaVar Ball also made it clear he thinks his sons are being placed in 'a great situation'

The Thunder are just 12-14 on the season, despite the addition of Paul George and Carmelo...
The then-Heat teammates squared off during the 2011 ECF, but Erik Spoelstra put a stop to the...

SportsLine's Mike McClure, a DFS pro with more than $1M in winnings, gives optimal lineup...

Stephen Oh has his finger on the pulse of the Rockets and just made a pick for Wednesday night's...