Sixers CEO says Doug Collins is 'under no pressure' for this season
The Sixers' CEO says coach Doug Collins is not on the hot seat.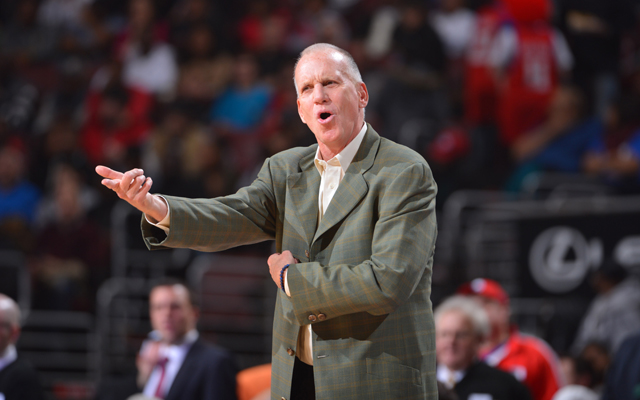 At a town hall meeting with season-ticket owners, Sixers CEO Adam Aron told fans that Doug Collins is under "no pressure" from management regarding his situation after this disaster of a year. 
"Doug Collins is absolutely under zero pressure from ownership." -Adam Aron on Collins' future

— Corrado Aponte (@mrdangdang) March 27, 2013
Collins has suffered without having Andrew Bynum the entire season, losing Jason Richardson for half the year, an extended absence from Thaddeus Young and a very underwhelming roster. The Sixers are on course to miss the playoffs this season following last year's first-round upset of top-seeded Chicago.
That said, Collins has also designed an inefficient, ineffective offense that relies on mid-range jumpers and Spencer Hawes too much. He has helped develop Jrue Holiday and put him in a position to suceed and built a solid defense that might have been elite if not for the injury issues. But he has also questioned the team's effort and performance, and has always been known as a coach who eventually wears on his players.
But this is what injury seasons do. They limit your ability to make assessments based on performance and force you to essentially scrap the year and waste the money that you spent. You can't say Collins has done a great job based on the team's record and performance. But you can't say Collins has done a bad job due to the injuries. 
Collins is also very popular with management, and they built their marketing campaign around him this season. 
And so the Sixers once again remain in limbo, neither rising nor falling, neither rebuilding nor contending, in an endless cycle. 
The Lakers will be retiring Kobe Bryant's No. 8 and No. 24 jerseys at halftime

The Nuggets will look for their second-straight win with Nikola Jokic back in the lineup

This composition is absolutely amazing
Stephen Curry, who grew up in North Carolina, wants to be part of the next Panthers ownership...

Vince Carter is destined for a Raptors reunion; he doesn't know when it'll happen

Thomas has a target date for his return, and with the Cavaliers scorching, this could be h...