Slowly but surely, Rivers molding Clippers into true contenders
The Clippers have often been a punch line. Doc Rivers wants them to be champions, and he intends to deliver by instilling a winning culture one step at a time.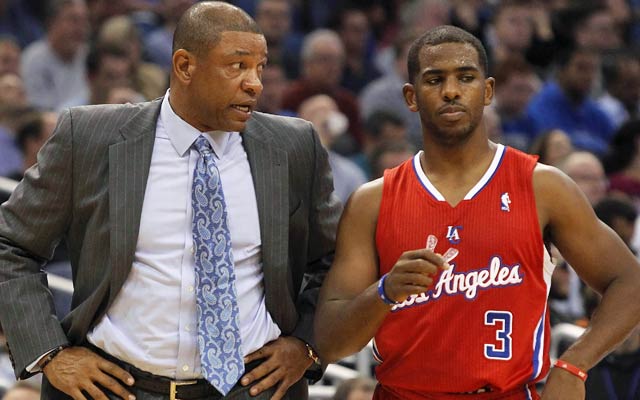 HOUSTON -- Doc Rivers loaded up a to-go box with food, grasped his rolling suitcase and strolled out of the visiting locker room. Earlier, the seventh game of this new journey with the Clippers had ended with Rivers' new team poking its head above .500.
As the Clippers were pulling away from the Rockets in the second half on Saturday night, Rivers' old team was pulling off some magic of its own. Jeff Green had caught a crosscourt pass in the corner and drilled a winning 3-pointer as Brad Stevens' Celtics beat the Heat by one point in Miami -- with a crafty inbounds play that looked an awful lot like the ones Rivers used to draw up there.
"I saw that; that was great," Rivers said on his way out of the Toyota Center, a 107-94 victory over the Rockets behind him and a long journey ahead. "Brad's going to be good."
So will Rivers. So, too, will the Clippers.
"At the end of the year," Rivers said, "I hope we're going to be a hell of a basketball team."
In another faraway arena, two of Rivers' Hall of Famers from the Celtics, Paul Pierce and Kevin Garnett, had lost to the 7-0 Indiana Pacers in Brooklyn. Here was Rivers, the other point on the triangle forged from the Celtics' breakup, feeling his way through a new start of his own.
The championship pedigree that Rivers brought from Boston to the Clippers hasn't exactly taken hold yet. The Clippers are 4-3. Their oldest starter is J.J. Redick, who is 29. They've shown an ability to score with frequency and devastation, yet by Rivers' own admission, play defense only occasionally.
This is only the beginning, and Rivers didn't go to LA for the beginning. He went to the Clippers for what he hopes happens at the end.
"If we can do this as a group, it'd be sensational," said Rivers, all alone now on the exit ramp of the arena -- on his way home after salvaging the last game of a 1-2 road trip. "I just want them to do it. I think we can."
With Rivers, you don't have to wonder what "it" is. Even for the Clippers, a franchise that has been to the playoffs six times in 29 years since moving to Los Angeles in 1984 -- and has advanced beyond the first round only twice -- "it" is a championship. From his very first team meeting in a San Diego hotel on the eve of training camp, Rivers made that abundantly clear.
"I'll never forget it," Jamal Crawford said. "The first meeting I told everybody, 'The only person who could've had a better speech than that is in Washington in the White House.' He's unbelievable. He had our antennas up. Every single player was sitting on the edge of his seat looking at him, hanging on every word he said."
Rivers told the Clippers that night, before the first whistle had been blown in the first practice, that he believed in them. Coming from him, it meant everything. Being delivered to the Clippers, a franchise that for decades couldn't get out of its own way -- or out of the Lakers' shadow -- it meant even more.
Those in LA who didn't know this yet might've been surprised to learn that Rivers isn't all talk. He's about action. And so it sent ripples across the NBA when Rivers demanded that larger-than-life portraits of Clippers players be draped over the Lakers' championship banners and retired jerseys in Staples Center, the arena the two LA teams share. To those who know Rivers, this might have been the least surprising thing he's ever done.
Would Rivers run from his new team's past? Hide from it? Not a chance. With Rivers, no motivational tool goes unsharpened; no knife stays in the drawer.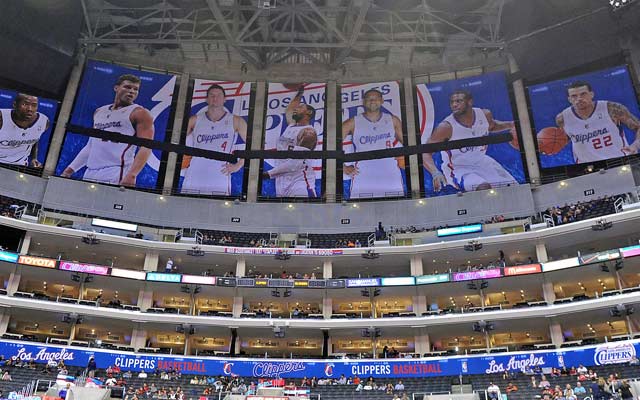 "I told them to embrace it," Rivers was saying on his way to the team bus in Houston on Saturday night. "We have been bad. We haven't done a lot of things. And that's fine. That has nothing to do with tomorrow. It's part of our legacy, but we have a chance to forge our own."
After escaping the Celtics' rebuilding plans that, for 21 million obvious reasons didn't include him, Rivers made another decision about how to change the Clippers' culture.
He had private conversations with his new Big Three -- Chris Paul, Blake Griffin and DeAndre Jordan -- about the process of becoming a champion. He shared with them how it was done in Boston, with an older, very different kind of team. But in front of the team, in the midst of the supporting players who'll be as important as his stars in attaining that goal, Rivers has left his Boston past where it belongs.
"He rarely talks about Boston stuff, honestly," Crawford said. "I respect that."
Rivers knew that the coach he was that first season with the Big Three of Pierce, Garnett and Ray Allen in Boston -- a remarkable season that ended in a championship -- would be of no use here. He talks more about his very first season with the Celtics in 2004-05, when he guided a hodgepodge of a roster to 45 wins and a division title, than he does the halcyon days that have made him one of the coveted coaches in the sport.
"I told them we have to make our own together," Rivers said. "Anything that I've done in the past has nothing to do with what we're trying to do in the future. So I won't use that. I don't think it's appropriate."
The similarities between what Rivers did in Boston and what he's trying to do with the Clippers begin with the position he used to play. In changing coasts, Rivers also changed point guards. Paul has played brilliantly at times with Rivers taking the reins off the offense and allowing assistant Alvin Gentry -- a Mike D'Antoni disciple -- to push the pace and instill the most aggressive, lethal mindset Paul has ever had.
"Chris is going to be great in anything," Rivers said. "Princeton [offense], New Jersey, Delaware; really whatever you run, he's going to be great in. But what we want to do is, we want to be great as a group. And that's with him still being great.
"I just think Chris knows we have multiple options on stuff," Rivers said. "So he doesn't feel like he has to explore as much and so he can be more aggressive. His instincts are so good. ... He's not that hard to coach; he really isn't. He's so dang intelligent, it's amazing."
As Rivers teaches the Clippers how to win -- one practice, one quarter, one possession at a time -- he's also learning how to be a different coach. The grind-it-out, defensive mentality he forged in Boston doesn't translate -- and Rivers has embraced the change, while stubbornly providing constant reminders that at some point, defense must be the backbone of a champion.
Having coached his entire career in the East, Rivers also is learning about the rigors of travel for a West Coast team. He made a mistake, he said, having a shootaround in Orlando on the first game of this trip after traveling from LA. The great Lakers coach, Phil Jackson, always talked about teams from the West having to battle the time zones in addition to the opponents, and Rivers learned the hard way on the Clippers' first extended trip of the season.
"Our shootaround [in Orlando] was awful; well, it's 7:30 in the morning to them," Rivers said. "So I learned a little bit as well on this trip. ... I made some mistakes."
Two weeks into his new journey, there is plenty of trial and error to go around. With Rivers in full control of the Clippers, forging them in his image and theirs, the seeds of something much bigger are just beginning to grow.
"Everything is about trust," Paul said. "And there isn't one guy in this locker room that'll say they don't trust him."
That part, at least, has already taken hold.
Thomas took to Twitter to let the Celtics know he doesn't want to ruin Pierce's night

The Hall of Famer was a seven-time All-Star with the Celtics, and was MVP of the 1976 Fina...

It's rare to see a legit punch in an NBA fight, but this was definitely one of them
We've got all the scores, highlights and news from an NBA Tuesday

The former Slam Dunk Contest champion will take his talents to Tri-State

Do NBA players have look-a-likes from famous paintings? We found out on the new Arts & Culture...