Smith says he's afraid Woodson will be fired as Melo washes his hands
Knicks players starting to indicate they know coach's time is up.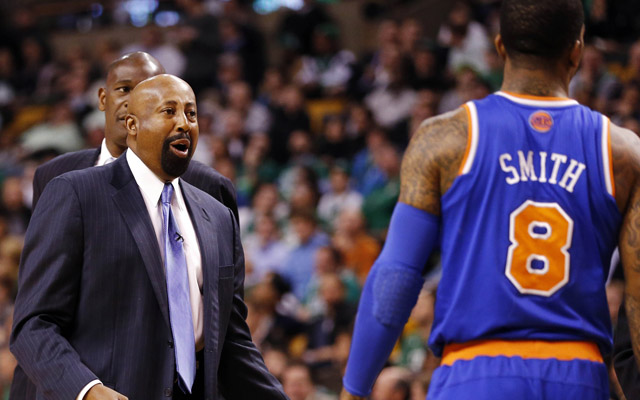 The Knicks looked, albeit briefly, like they had turned things around. They started January 5-1, and were slowly climbing their way out of their hole. They finished January 10-6, though, and are 4-6 in their last 10, on a three-game losing streak and the rats are beginning to scavenge once more. Earlier this week the first reports that coach Mike Woodson could be fired emerged. 
On Thursday, the players started to admit the reality of the situation. 
JR Smith on if he's afraid Woodson will lose his job, "Yeah, without a doubt."

— Al Iannazzone (@Al_Iannazzone) February 6, 2014
Woodson: "This year, for me, has been kind of a disaster from a coaching standpoint trying to get players to compete & play at a high level

— Al Iannazzone (@Al_Iannazzone) February 6, 2014
Carmelo Anthony has started distancing himself from any decision as well. 
After falling to Portland for their third straight loss, Carmelo Anthony said any changes made by management, whether a potential trade or Mike Woodson's status, isn't his decision.

"At this point, I don't really know what's going to happen, if something's going to happen," Anthony said. "If something was to happen then it's out of my hands."

J.R. Smith backed Woodson, but the shooter also knows anything could happen with the Knicks' current play.

"I love Coach Woodson," Smith said. "I think he's done a great job. But it's out of my hands. So I would hope not (if management opts to make a change), but if it does then we have to live with it."
via Melo on trades, Woody: It's out of my hands - Knicks Blog - ESPN New York.
That's what Anthony should say, that it's not his decision, that it's not up to him. He's just a player who plays for his coach. 
It's also a lie. 
If Anthony indicated to ownership that keeping Woodson, who put together a 54-win season last year and gave Anthony the offensive freedom he's always wanted, would help keep him when he becomes a free agent this summer (assuming he opts out), then Mike Woodson would have nothing to worry about. That's the kind of power Melo has in that organization. But publicly stating it's not up to him is, in a way, washing his hands of the situation.
Someone's going down for the Knicks, and it ain't gonna be Anthony. The New York Post reports that the players have come to grips with what's coming down the pipe. 
The players genuinely like him, but it seems like they all see where this is going and a lot of what Woody is saying isn't getting through,'' a league source told The Post. "It's kind of a scapegoat thing, but the reality is once you lose the group, that's it. And I would say that moment is close.''
via Knicks starting to tune out thin-ice Woodson: source | New York Post.
It's not over 'til it's over, but the fat lady is doing a mic check in New York. 
Jonah Keri talks with NFL and NBA broadcaster Ian Eagle

SportsLine simulated Wednesday's Nuggets-Clippers game 10,000 times

Galin Dragiev has his finger on the pulse of the Lakers and just locked in a play for Wedn...
No more McNuggets allowed in the Barnes household

Leonard has played in only nine games this season for San Antonio

Pierce is set to have his jersey retired on Feb. 11, but there's been a lot of controversy...