So just how bad are the new Celtics?
A look at the new roster for the Celtics as they begin a rebuilding effort after trading Kevin Garnett and Paul Pierce.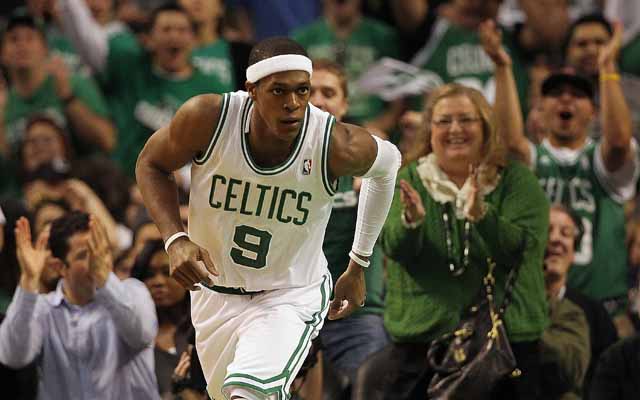 So the Boston Celtics finally, probably two years too late, committed to a rebuild. (Yes, yes, had an elimination game against Miami at home in the ECF in 2012, but a. how did that work out and b. that was more of a fluke combination of schedule and Bosh's injury than anything.) Danny Ainge, who is supposed to be "cold-blooded," could never really commit to a rebuild, he loved the Big 3 era so much. But finally, after Doc Rivers bailed for the red, white, and Clip, he pushed the button and traded Kevin Garnett and Paul Pierce to the Brooklyn Nets. 
Now the Celtics start over. 
We've covered the end of the Big 3 era, and what the Nets are going to look like. But what about the Celtics? We know they're rebulding, but exactly how touch is this going to be?
From CelticsBlog: 
Well, let's review our roster as it stands after the agreed upon deal (that won't be official till July 10).

Returning: Rajon Rondo, Avery Bradley, Courtney Lee, Jeff Green, Jared Sullinger, Brandon Bass, Fab Melo, Jordan Crawford

Probably returning: Shavlik Randolph, Terrence Williams, D.J. White (though not likely)

From the Nets: Kris Humphries, Gerald Wallace, Kieth Bogans, MarShon Brooks, Kris Joseph

Drafted: Kelly Olynyk, Colton Iverson

Undrafted Free Agents: Lamont "MoMo" Jones, Phil Pressey
via What are the next steps in the Boston Celtics rebuilding effort? - CelticsBlog.
So your probable starting lineup, right now, before Ainge makes any more deals or signings, is: 
G Rajon Rondo
G Avery Bradley
F Jeff Green/Gerald Wallace
F Brandon Bass/Jared Sullinger
C Shavlik Randolph/Fab Melo/Kelly Olynyk
Ye Gods. 
What's funny, is that just a year ago, that lineup looks really good up until the center spot, where you start asking questions like "Who?" and "Wait, Shavlik Randolph is alive?" and "What's an Olynyk, is it like ocelot?"
The Rondo question is huge. There's always been a belief that Rondo's excellence was a product of playing alongide three Hall of Famers. Now, though, the misconception may go the other way as a guy who's a tremendous passer will be dishing to guards who can shoot and forwards who can't drive or finish. This is not a recipe for success. 
But there's the makings of a good defensive team there. If Gerald Wallace can make a slight bounceback from physical problems last season (and isn't traded), he can be a big part of their team. And Brandon Bass is a legitimately good stretch four. 
But man. This is going to be rough. 
The Celtics will target trading players for cap space and draft picks in the coming months, and you have to wonder if Rondo, even coming off ACL surgery, will be involved in trade discussions by Ainge. But at some point they are going to have to play actual games with this rebuilding roster, and from the look of it, there could be a lot more losses in the Celtics' future than they've been used to. 
The Warriors used a huge third quarter to come back from a 23-point deficit to get the win

Three takeaways from Golden State's 24-point rally past the Sixers

Okafor has played only 25 minutes this season
Capela's shoe slipped off, and was sitting near the free throw line

The Magic will instead play in the Las Vegas Summer League

Ball walked away from an altercation between the Lakers and Suns on Friday night