So Pop sat his stars, so what? Everyone's wrong, that's what
Gregg Popovich refused to take his talents to South Beach, David Stern stomped his feet and the Faux Spurs almost won. What does it all mean? Everybody's wrong, that's what.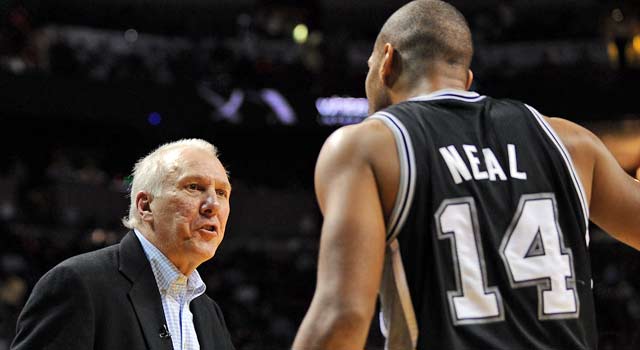 Gregg Popovich sends a message to the NBA schedule makers by sitting his starters.
(US Presswire)
If you've never been to an NBA game in Miami, you have no idea what a gift Gregg Popovich gave to Tim Duncan, Tony Parker and Manu Ginobili Thursday night.
OK, and Danny Green, too.
None of them had to be bothered with flying there, and more important, none had to be bothered with hearing the cacophony that is American Airlines Arena. No throbbing drum section. No P.A. man screaming, "Dos ... Minutos!" Just a night off in November for the Spurs' stars and their (mostly) old bones.
So what?
Well, there are several points to be covered here. Let's just hit them one at a time:
* Gregg Popovich is the coach of the Spurs, and it's his job to decide who plays, when and how much. That's pretty simple to understand.
* He's done this before, many times, with no recrimination from the NBA. Just last season, Pop sat Duncan, Parker and Ginobili on the second night of a home-and-home against Utah. The Spurs won 91-84 that night (April 9). Afterward, Popovich explained that he'd made the decision not to play his Big Three in that game way back when the schedule came out. "However you want to look at it, 13 games in 18 days or 16 games in 23 days or ending the season four in five nights, it's just crazy," Popovich said. "So I've got to do something about it."
More on Spurs
Related links
* A week later, Duncan logged only 11 minutes in a 120-99 victory at Golden State that gave the Spurs sole possession of the top seed in the West. Should Popovich and/or the Spurs have been fined for not playing Duncan enough?
* Duncan didn't play at all two nights later in a 127-102 victory at Sacramento. Should the Maloofs have been fined for fielding such a horse___ team and for plotting their exit from Sacramento with the implied consent of commissioner David Stern and the chairman of the owners' relocation committee, Thunder owner Clay Bennett?
* Once the Spurs clinched the top spot in the West, Pop sat his stars for the final two meaningless regular season games at Phoenix and Golden State. Should the Suns and Warriors -- not to mention the Bobcats and Wizards -- have been fined for long since being eliminated from the playoffs and for subjecting their fans to something less than mediocrity year after year?
So on Thursday, Popovich told 36-year-old Duncan, 35-year-old Ginobili and 30-year-old Parker to not even bother to show up for a nationally televised game in Miami. Either he gave the same instructions to 25-year-old Danny Green, or Danny Green thought his name was Duncan, Parker or Ginobili. Either way, Popovich exercised his responsibility as coach to decide who plays and how much. Also, Popovich raised an inappropriate finger to the NBA schedule makers and to the concept in general that everyone in the NBA is part of a show -- and to the notion that the show often conflicts with his other priorities.
This was the Spurs' sixth road game in nine nights. They'd won the previous five, so by any analysis of probabilities and logic, this one was gravy. Somehow, it was Miami's THIRD game in TWELVE nights -- all at home. Clearly, Popovich thought that was B.S., and he called the NBA on it in a very public and unapologetic way.
Popovich could've done what countless NBA coaches have done over the years. He could've told Duncan to stay at the team hotel and informed the media that he had the obligatory case of "back spasms." Or he could've sent Parker back to San Antonio with a phantom case of "flu-like symptoms." But no; he's Pop. And since he'd never heard a word from the NBA office about resting his players in the past -- and since nobody in Washington or Charlotte or Sacramento gets fined for putting a far more dreadful product on the floor 82 nights a year -- Pop told it like it was.
And commissioner David Stern didn't like it. And perhaps in a sign that his imminent retirement isn't coming a day too soon, Stern the lawyer committed the cardinal sin of lawyering. He went to trial with a case he couldn't win.
Stern ripped off a tersely worded statement distributed first to TNT -- which paid a lot of money to broadcast games such as this one -- and then to the rest of the freeloading media. It read as follows: "I apologize to all NBA fans. This was an unacceptable decision by the San Antonio Spurs and substantial sanctions will be forthcoming."
Then, something glorious and surprising and cosmic happened: The Spurs -- with a starting lineup of Boris Diaw, Matt Bonner, Tiago Splitter, Nando De Colo and Patty Mills -- almost beat the defending champs on their home floor. The outcome came down to the final seven seconds, at which point a tying 3-point attempt by Gary Neal caromed off the rim. Miami held on for a 105-100 victory over the Faux Spurs.
The question of how Stern could possibly fine the Spurs for personnel decisions that are their own business in a game they almost won became a moot point. But the question nonetheless persists: How could Stern fine the Spurs for personnel decisions that are their own business? What section of the rulebook did Popovich violate? (None; I checked.)
So, a couple of points. First, everyone involved in the NBA -- and Popovich has been involved in it for a long time and made lots of money and won lots of championships -- must understand that they're all making cameo appearances in a show that is bigger than they are. For Popovich, this was strictly about making sure his aging stars are rested when the games really matter -- especially when this was a sixth road game in nine nights after five straight road wins against a defending champion that's basically been on vacation for two weeks.
It was also about sending a message to the NBA that the scheduling logistics of this game were atrocious -- just as they are on a dozen nights or more in a league with 30 teams playing 82 games apiece over a six-month period.
I don't begrudge Popovich's right to strategize in the least, nor can I really dispute his opinion about the schedule. But the NBA is about more than Popovich and the Spurs and their particular priorities. It is a $4 billion business -- soon to be $5 billion, if Stern's revenue estimates are correct. It is a show, and Popovich cheated the script Thursday night -- not to mention the paying customers.
Did Popovich consider that the outcome of the game ultimately will affect teams other than those involved in it? Obviously not. Miami gets a victory -- albeit more difficult than it should've been -- that could have a direct bearing on Eastern Conference playoff seeding. Should Popovich care about that? Maybe he should and maybe he shouldn't, but he most assuredly does not.
So if there is any integrity left in the game, Popovich thumbed his nose at it Thursday night. If the commissioner wants to pick a fight over this -- and clearly, he does -- then the basis for it would be his broad powers under the "best interests of the game" clause.
Whether Stern follows through on his threat, and how severely, the outcome here actually was the appropriate one. Popovich refused to take his talents to South Beach, the commissioner stomped his feet and the Faux Spurs almost won. There's only one logical conclusion here: Everyone involved is dead wrong.
LeBron James says he will continue his social activism no matter what people say about him

A dive into the NBA history books for every result from every NBA All-Star Game

The 76ers guard is in hot water after a controversial video surfaced showing him using a racial...
LeBron James earned his third career All-Star Game MVP award

With LeBron James and Stephen Curry as team captains, this was actually an entertaining basketball...

The old teammates worked their magic one more time