Source: Eric Gordon has not requested a trade from Hornets
Eric Gordon has not requested a trade as the New Orleans Hornets evaluate what course of action to take regarding his mysterious knee injury, a league source told CBSSports.com. Additional surgery has not been ruled out, and the team expects clarity on Gordon's future in the coming weeks.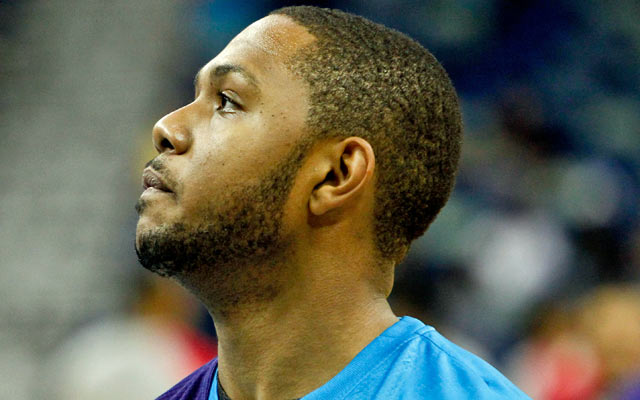 Eric Gordon isn't a star yet, but he has the potential in New Orleans.
(US Presswire)
The only thing missing from the confusing saga over Eric Gordon's mysterious knee injury is a good, old fashioned trade request. And neither Gordon nor his agent has made one, a league source told CBSSports.com.
Team officials are hoping for some clarity on Gordon's status in the coming weeks, and while additional surgery is not a certainty, it hasn't been ruled out, either. But as for the drama factor, there has been no indication from Gordon -- stated or otherwise -- that his goal is getting out of New Orleans.
When coach Monty Williams oddly ruled Gordon out "indefinitely" Wednesday, and when Gordon further confused matters with vague, contradictory statements when he met with the media Thursday, it only fueled speculation that Gordon was still bitter over the Hornets matching the Suns' offer sheet for him during restricted free agency.
This is yet another of the odd contradictions in the Gordon saga; it doesn't fit with his actions. When the team gathered for voluntary workouts in August, Gordon was there -- was there early, in fact. When last season ended -- a season in which Gordon played only nine of 66 games -- Gordon spent the majority of the time working out in New Orleans before heading to Las Vegas with Team USA.
Something happened -- or didn't happen -- between the time Gordon left Team USA and rejoined the Hornets for training camp last month. On Thursday, he called it "sort of" a setback. There's damage, but nothing structural; what the doctors are seeing on his MRI doesn't match what Gordon is feeling in the knee. You've heard it all by now.
One thing we've learned: If it looks like an NBA star hostage crisis and acts like an NBA star hostage crisis, then it's an NBA star hostage crisis. Except for one thing: Despite his four-year, $58 million max contract, Gordon, 23, is not yet an NBA star. With a solid, respected coach (Williams), a Spurs disciple in the front office (GM Dell Demps) and the No. 1 pick on the roster (Anthony Davis), Gordon has a good chance of becoming one in New Orleans. Even without him, the Hornets gave the Spurs all they could handle in both teams' season opener Wednesday night.
But he has to play, of course, for any of that to happen. And while he's not a star in the sense of career accomplishments, Gordon holds star-like importance to the Hornets as the most important piece of the trade that sent Chris Paul to the Clippers last December. Assets like that cannot go unrealized in the NBA if you're planning to win.
For all the metrics, advanced stats and payroll spreadsheets, general-managing in the NBA remains an inexact science. It remains a people business, and one guided by feel. When Jazz GM Kevin O'Connor was evaluating his team's future in February 2011, his All-Star point guard, Deron Williams, had never told him point-blank that he didn't want to stay there when he became a free agent in 2012. But O'Connor just didn't get a good feeling from Williams. His gut told him Williams was a goner, and so he traded him to the Nets. The Jazz hauled in multiple assets that could help them return to the playoffs this season.
To this point, no one in New Orleans has gotten that kind of vibe from Gordon. 
The Hornets have consulted other medical opinions and are evaluating all the information they have on Gordon's injury. And while Gordon said on more than one occasion Thursday that some decisions will be made by this weekend, it seems likely to take longer than that -- weeks, rather than days. With so much invested in Gordon, the Hornets will err on the side of making the best decision for the long term.
For good reason, they hope the long term for Gordon in New Orleans extends beyond, say, Jan. 15, when Gordon becomes eligible to be traded under NBA rules. Which, come to think of it, brings us to the next in a long line of contradictions when it comes to Gordon's status and immediate future. 
What does it mean, exactly, that he hasn't requested a trade now, at a time when he and his agent, Rob Pelinka, know full well that he can't be traded?
Just another aspect of the Gordon saga that makes you scratch your head.
The investigation detailed a corrosive workplace environment

Also, when -- or rather, will -- the Warriors flip the switch?

The versatile forward has one glaring weakness, but Toronto can see it turning into a stre...
The investigation detailed a hostile workplace environment

Cousins suffered a torn Achilles tendon on Jan. 26, and will miss the rest of the season

Ingram has become one of the team's go-to players with Lonzo Ball sidelined with an injury