Sources: Bucks' Ellis, Sanders almost came to blows after loss to Heat
Monta Ellis and Larry Sanders of the Milwaukee Bucks almost came to blows after a playoff loss to Miami, CBSSports.com has learned.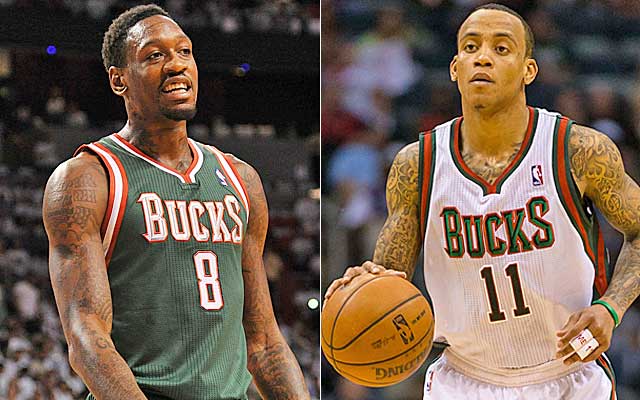 The Milwaukee Bucks' search for a head coach has emphasized strong-willed candidates who would be able to control the locker room. Now we know why.
Monta Ellis and Larry Sanders nearly came to blows in the locker room after Game 3 of Milwaukee's first-round sweep at the hands of defending champion Miami, four people with knowledge of the confrontation told CBSSports.com.
Though the players had to be separated, the dust-up didn't get serious enough to trigger disciplinary action for either player. One source described the confrontation as "just words between teammates in the locker room." But the incident offered a glimpse into some troubling team dynamics as the Bucks navigate a critical offseason for the franchise.
After the Bucks lost 104-91 to the Heat in Milwaukee on April 25, Sanders vented in the locker room and said in a fiery speech, "We need to start playing together as a team and stop worrying about next year," according to one of the people briefed on the confrontation. "We need to stop being selfish and start worrying about right now."
Ellis "took umbrage," according to another person with knowledge of the situation. Correctly assuming that Sanders' comments were directed primarily at him and backcourt mate Brandon Jennings, who both are prospective free agents, Ellis approached Sanders and squared off with him, sources said. A teammate got between the two players and separated them before the conflict became physical.
Ellis was 2-for-9 with seven points and six assists in the game and became livid that Sanders implied he was playing selfishly with free agency looming this summer. Ellis can opt out of his $11 million contract for next season, and Jennings -- a restricted free agent -- has made no secret of his desire to explore an exit strategy from Milwaukee this summer.
The Bucks were swept by the Heat after Jennings had predicted on Twitter they would win in six games. The team fired interim coach Jim Boylan, who replaced Scott Skiles in January after Skiles and the Bucks agreed to part ways.
Bucks GM John Hammond, who got a three-year extension in January, has interviewed former Trail Blazers coach Nate McMillan and Rockets assistant Kelvin Sampson for the head coaching job. It is believed Hammond also will reach out to former Magic coach Stan Van Gundy and Lakers assistant Steve Clifford, a Van Gundy disciple who worked for Stan in Orlando and brother Jeff in Houston, sources said.
Hammond declined to comment on the April 25 confrontation between Sanders and Ellis, calling it "an internal team matter."
The Bucks acquired Ellis from Golden State in March 2012 in a deal that sent Andrew Bogut to the Warriors. Oddly, a member of the proposed ownership group trying to keep the Kings in Sacramento has done some background checking on Ellis as a possibility for the Kings if the team decides to part ways with restricted free agent Tyreke Evans this summer, a league source involved in the discussions said. Ellis is weighing his options and hasn't decided yet whether he will opt out of his $11 million deal.
Sanders, 24, had a breakout year in his first season as a regular starter and was a top contender for defensive player of the year and most-improved player honors.
The former Slam Dunk Contest champion will take his talents to Tri-State

Do NBA players have look-a-likes from famous paintings? We found out on the new Arts & Culture...

Larry Hartstein is on quite a run in picks involving the Suns and the Trail Blazers
Rodman's agent says he is urging the ex-NBA star to check into rehab

The players and referees are working to fix a relationship that has recently been deterior...

The locker room heist is going to lead to plenty of fines and maybe some suspensions from the...