Sources: Kings, free-agent guard Monta Ellis discussing deal
With options running out, Monta Ellis is discussing a free-agent deal with the Sacramento Kings that hinges on several developing trades.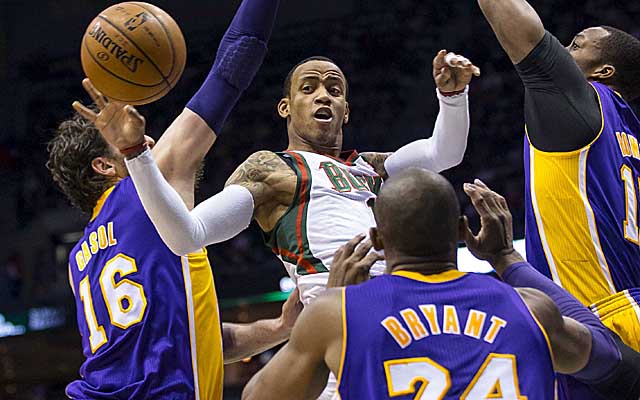 After opting out of an $11 million contract for next season with the Milwaukee Bucks, Monta Ellis is discussing a free-agent deal with the Sacramento Kings, league sources told CBSSports.com.
With several avenues closed off as teams fill their needs for guards in free agency, Ellis could wind up with the Kings, who began doing their homework on him weeks ago. According to a person familiar with the situation, Kings owner Vivek Ranadive began inquiring about Ellis around the time his purchase of the Sacramento franchise was completed in late May.
Ranadive, a former minority partner in the Golden State Warriors, identified Ellis as a possible free-agent target as he was finalizing his group's purchase of the Kings. Ellis, 27, played the first six-and-a-half seasons in Golden State. The Kings hired former Warriors assistant Michael Malone as head coach in late May and later installed former Warriors executive Pete D'Alessandro as general manager.
The cap-strapped Knicks inquired early in the free-agent negotiating period about what it would take to sign Ellis, but they have since agreed to re-sign sixth man of the year J.R. Smith on a four-year, approximately $25 million deal. The Nuggets briefly pursued Ellis but are currently discussing a three-team sign-and-trade arrangement that would net them Randy Foye and a trade exception to plug the space left by Andre Iguodala, who would be signed and traded to Golden State, league sources confirmed on Monday.
Atlanta had been another possibility for Ellis, but the Hawks reportedly are exploring a sign-and-trade deal that would yield them Ellis' backcourt mate in Milwaukee, restricted free agent Brandon Jennings. If that arrangement is completed, it would involve a swap of Jennings for Hawks point guard Jeff Teague, who also is restricted.
It's not clear what the market is for Ellis at this point, but a league source confirmed to CBSSports.com on Monday that the Kings are investigating their options for moving Chuck Hayes and Jimmer Fredette to accommodate Ellis' desire for a contract starting at $12 million per year. It may be Ellis' last chance to recoup the money he opted out of in Milwaukee.
Thomas spent a day with a 10-year-old girl whose family is also new to Cleveland

Barkley did not hold back with his opinion of the Big Baller Brand patriarch

We have all the latest scores, highlights and news from Wednesday's NBA games
LaVar Ball also made it clear he thinks his sons are being placed in 'a great situation'

The Thunder are just 12-14 on the season, despite the addition of Paul George and Carmelo...

The then-Heat teammates squared off during the 2011 ECF, but Erik Spoelstra put a stop to the...