Sources: Pistons target Rondo; Pacers make Granger available
The Pistons were among the first teams to call the Celtics and express interest in acquiring Rajon Rondo, and the Pacers are making Danny Granger and Gerald Green available in trade talks, league sources tell CBSSports.com's Ken Berger.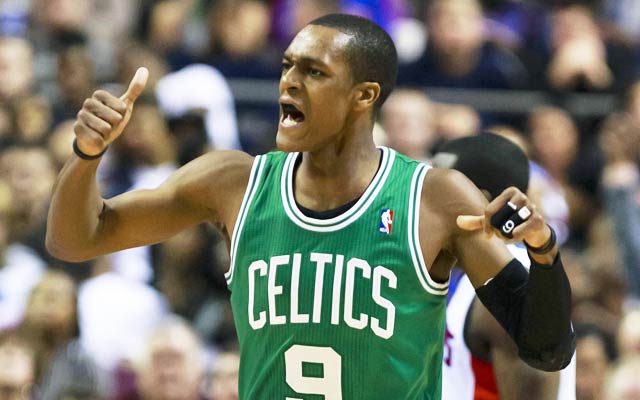 Danny Ainge has said publicly that the Celtics aren't rebuilding, and that he's not trading Rajon Rondo. Be that as it may, the Pistons have let it be known how to reach them if Ainge changes his mind.
In the aftermath of the Celtics' decision to ship Kevin Garnett and Paul Pierce to Brooklyn last week, the calls have been coming in -- chiefly, regarding Rondo. The logical assumption was that if the Celtics didn't want to pay Doc Rivers $7 million to coach a rebuilding team and if Garnett and Pierce didn't fit into those plans, either, then Rondo would be the next to go.
Based on that possibility, the Pistons were among the first teams to reach out to the Celtics and express interest in acquiring Rondo, the All-Star point guard who is coming off an ACL injury, league sources told CBSSports.com. Having already made lucrative pitches to free agents Josh Smith and Andre Iguodala, Pistons president Joe Dumars also has registered interest in Raptors forward Rudy Gay, one source said.
The Mavericks, who met with free-agent center Dwight Howard on Tuesday, also intend to pursue a Rondo trade if the Celtics make him available.
Other trade possibilities around the league are percolating based on the outcome of free-agent pursuits. The Magic's talks with the Clippers regarding a potential swap of Arron Afflalo for Eric Bledsoe and Caron Butler died when the Clippers acquired Bucks free agent J.J. Redick in a three-team sign-and-trade on Tuesday. Bledsoe and Butler went to the Suns, who also sent Jared Dudley to the Clippers. The Bucks got a second-round pick from each team.
The Magic, who chose Indiana's Victor Oladipo with the second pick in the draft, also are inclined to experiment with Oladipo at point guard starting with Summer League games. If they like what they see, the Magic might be inclined to hold onto Afflalo, who is due $7.5 million in each of the next three seasons, to play alongside Oladipo in the backcourt.
The Pacers' agreement with forward David West on a three-year, $36 million deal on Tuesday coincided with ongoing exploration of possible trades for Danny Granger and Gerald Green, league sources said. Teams have been anticipating that the Pacers would be inclined to move one or both of them, especially if they re-signed West. The Pacers, who also have reached an agreement with backup point guard C.J. Watson, have to clear future room under the tax threshold as they plan for giving long-term deals to Paul George and Lance Stephenson.
Despite the Pacers' desire to find a destination for the often-injured Granger and Green, they're finding "no market" for either player at the moment, one rival executive said. 
Davis left the Pelicans' game against the Nuggets in the third quarter

Popovich was upset about an out of bounds call

Wall went 3-for-12 from the field, and had just eight points in the Wizards' loss
Noah was reinstated from his 20-game suspension on Monday, but is yet to play for the Knic...

In his first season with the Cavs, Rose has not played since Nov. 7

Keep it right here for all your Friday NBA scores, updates and highlights