Southeast Division Offseason Report: Heat and four other guys
We've already gone team-by-team though the Southeast Division. Now, a bigger-picture look at the division and how it did this offseason.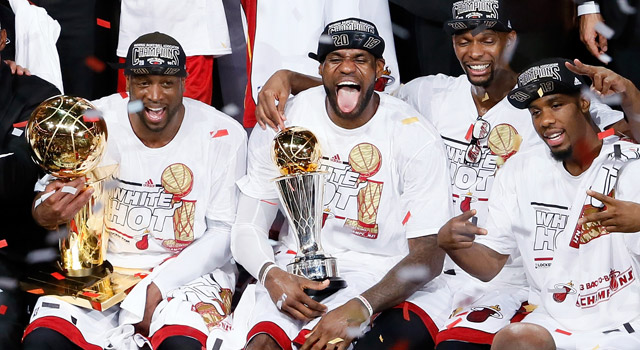 It's my job to take something like how the offseason went for the Southeast Division and break it down in an interesting, enjoyable way. 
Problem for me: Basically nothing happened in the Southeast Division this summer. The most interesting move? Probably the Charlotte Bobcats -- the Charlotte Bobcats -- signing Al Jefferson to a bloated contract. The Miami Heat basically subtracted, the Wizards focused on re-signing and extending their roster, the Hawks added Paul Millsap and the Magic signed Jason Maxiell. 
Who's excited? 
What's a little interesting, at least, about the division though, is that there's a bit of a power shift going on. The Heat obviously still reign, but the Wizards and Bobcats are trending up a tad with the Hawks possibly drifting back. The Heat and Hawks have finished one-two the past two season, with the Heat winning the division by six games in 2011-12 and 22 games last season. No one will challenge Miami in this division as again, nobody really did all that much, but what was maybe the weakest division in basketball last season finally has a bit of depth. 
Start with the Wizards who closed the 2012-13 campaign rather well, especially from when John Wall returned. They drafted Otto Porter Jr., a nice addition, re-signed Martell Webster, extended Wall (no distractions), signed Eric Maynor (quality signing) and should be much more healthy heading into the season. Are they playoff team? Don't know, but the fact we're even asking is a pretty significant leap. 
The Hawks probably aren't better, but I don't think they're worse either. Subtracting Josh Smith stings, but Millsap may prove to be a better fit with Al Horford, and Dennis Schroeder showed some flashy flashes at Summer League of being an impact player. 
The Magic didn't do much, but they selected a player I think will be the best in last year's draft and are counting in internal development to improve their team. 
The Bobcats signed Jefferson, drafted Cody Zeller and finally got Gerald Henderson re-signed. Here's their wins by season over the last five: 21, 7, 34, 44, 35. What surprised me about that is that they haven't been as horrible as I think most of us have all assumed. They actually made the playoffs as recently as four years ago! They're better than they were and if Jefferson -- who got overpaid, but is still going to help a whole lot -- can fit well and provide interior scoring as Michael Kidd-Gilchrist, Kemba Walker and other young players develop, it's not absurd to picture them winning 30-35 games. 
And then there's the Heat. They didn't do anything outside amnesty their NBA Finals marksman and signed a player who has had four knee surgeries and hasn't played a game since 2009. Are they better? Hard really know because so much of that will depend on where Dwyane Wade's health is, but there's no doubt about this: They're going to be right back in the title mix. 
So. The Southeast isn't especially strong, but it might be deeper. And while the Heat are surely set to own it yet again, they may feel a little more competition this time around. 
Here it is, team by team:
From Matt Moore's Bobcats Offseason Report: 
I expect so little from the Bobcats year after year that an offseason where they definitely did not get worse looks like a B to me. It's true that they're managing to not tank the one year with the draft class that validates such an effort, but they have a terrible lottery history anyway.

The Bobcats have a recognizable best player in Jefferson, a roster of young, improving talent, cap room, and a new coach in Steve Clifford. There's a lot to figure out and a long-term vision remains a question mark.

But the Bobcats made some progress. The bar is lowered for them, but at least they cleared it.
When you sign a player to $14 million a year, the expectation is that you're going to make a dramatic turnaround and that player will carry you to immediate prosperity. That's probably not going to be the case for the Bobcats. They're better, they're deeper. But it's still the same story for them -- can their young players improve and finally start to turn the corner? Because until that happens, it's going to be mostly recent history repeated. 
From Royce Young's Magic Offseason Report:
It's hard to really judge a team like the Magic for their offseason. They have a plan, and they're trying to stick to it. (GM Rob) Hennigan has been tasked with rebuilding post-Dwight, and within that, he has to find new franchise pieces, acquire assets and look to create flexibility.

Here's why I love their quiet, yet effective offseason: I think they got the best player in the draft. (Victor) Oladipo could be the star from this draft, the player that's a household name in four years that's about to lock down a max extension. He's got all the tools, the work ethic, the motor, the mental makeup, the athleticism, the room to grow. He reminds me so much of Russell Westbrook when he was coming out of UCLA. A physical freak known for his defense that just had to get his offense to catch up.
Truth be told, the Magic probably would benefit greatly from one more terrible season. One more high lottery pick -- especially in this loaded draft -- and they could have a potential cornerstone player to pair with Oladipo as well as their cast of young players. When you're talking about a young team, you want to progress, you want to improve, you want to show signs of moving forward. And while the Magic may do some of that this season, they'd probably be better served in the long run from winning 18 games and landing a top three pick. 
From Zach Harper's Wizards Offseason Report:
I'm willing to fluctuate on this grade but I picked a C+ just to hedge somewhere in the middle. With Martell Webster's back history, the lack of a true fifth big man on the roster when Nene and Trevor Booker missed significant time last season, and not knowing whether or not Otto Porter can actually spread the floor the way the Wizards need to, I'm not sure how much the team truly addressed their needs for scoring/outside shooting and another big man to call their own.

However, skepticism isn't damnation here; it's simply waiting to find out more of what the Wizards have acquired this offseason. Maybe they didn't need to do a whole lot. Maybe a healthy John Wall, who now has a max contract extension to prove to be justified, teaming up with a healthy Bradley Beal will be enough offensive punch to keep the ball moving and the defense scrambling. Add a healthy season from Nene and you have more balance in the attack than we saw last year.
I'll repeat myself: The fact that even wondering if this is a playoff team isn't lunacy speaks to their positive steps forward. But it also assumes they can build off the positives of last season, that good health will find them, that Wall is a true max franchise player and that Beal and Porter can supply scoring and grow into the players they're intended to be. All that needs to happen. What's a successful season for the Wizards? I'd say 41 wins and the eight-seed would be a good year, but with the way the Eastern has shaped, especially on the back end, something as high as the six-seed might not be outside their reach. And if that's the result, the season would be a smashing success. 
From Zach Harper's Hawks Offseason Report:
Before Ferry took over the Hawks, I hated their plan of 45 wins and a first-round exit just to grab some playoff revenue. Maybe they would get to the second round, but you could guarantee it was never getting past that point and it just seemed like a successful treadmill team. In two years under Ferry, they now look like they have some breathing room, a ton of cap flexibility over the years, and a style that is a lot more modern in terms of where the league is headed.

The team has three or four good outside shooters in the rotation and a couple of big men that can stretch the floor, hit the boards, defend and play inside. (new coach Mike) Budenholzer's design on offense and defense will most likely mirror what the Spurs have done the past few years. If he can capture even 70 percent of what they do, it will be a huge win for the Hawks. The only problem this offseason is as Atlanta continues to transition from its old era to the new era, the top of the East has gotten a lot better.

I wouldn't be shocked if the Hawks won about 45 games this season and grabbed the sixth seed for their troubles, but it doesn't feel the same as it did before. It feels like they might take a step off the treadmill and go for a stroll outside just to see where they can end up.
The Hawks have been mired in advanced mediocrity for a good number of years, which is essentially NBA purgatory. Good enough to make the playoffs, even get a top four seed, but not nearly good enough to actually contend. But that's been the situation when the team was structured on a long-term plan that included Horford, Smith, Marvin Williams and Joe Johnson. Now they've moved on from three of those players and have a decent frontline tandem in Horford and Millsap, a quality young point guard and some decent bit players sprinkled throughout. They have future cap space and some assets. The plan for Atlanta is better now, and while they may finish the season in similar fashion as before, they're at least on a different track ahead.
From Matt Moore's Heat Offseason Report:
Miami just needed to not get worse. That was the big key this offseason. They needed to pass, that's all. You can say that Wade's increasing age and injuries combined with the loss of Miller means they got worse, but there's no way to know if Wade won't bounce back, and there is ample evidence that Battier and Ray Allen provide enough to compensate, along with Norris Cole and Mario Chalmers.

Andersen, sure, great. Oden, sure, why not. That was their offseason. "Sure. Why not?" Because the reality is that this team is still living off what it pulled in the summer of 2010 and no matter how disappointing 2011 was, they have two titles and are the odds-on favorite to threepeat.

Need not, want not. Win lots. That's the Heat.
They didn't do much. They're still the best team in the league. Fin. 
Offseason Power Rankings
1. Heat: They might actually win fewer regular season games depending on Wade's health, but for the Heat, it's all about June anyway. 
2. Hawks: Forty-five wins and the 6 seed in the East? Good season for the Hawks? I would say so, especially considering the transition. 
3. Wizards: I feel like we've been here before, expecting something better from the Wizards, only to be let down in a big way. They're supposed to be better, they're supposed to be different. They need to actually prove it. 
4. Bobcats: Looking at their roster, unless Al Jefferson is planning on averaging 30 a game this season, the Bobcats are probably going to struggle scoring points. 
5. Magic: One more season of patience might be all that's required, Magic fans. Just keep repeating this to yourself: 18 wins are a good thing, 35 wins are not, 18 wins are a good thing, 35 wins are not, 18 wins are ...
Steven Adams believes he's the problem with the Thunder struggles in the clutch

LaVar claims that Luke Walton has been 'soft' on Lonzo so far

Allen has filed an emergency motion in an Orange County court in response to an accusation...
Larry Hartstein has been crushing NBA picks and just made a play for Bulls vs. Lakers on Tuesday...

He also apparently knows how to navigate the city risk-free

LeBron's minutes are a common point of discussion this season