Spoelstra: LeBron 'feels better,' hasn't mentioned problems
Heat coach says LeBron James 'feels better' but that any minutes adjustment will depend on how the game goes.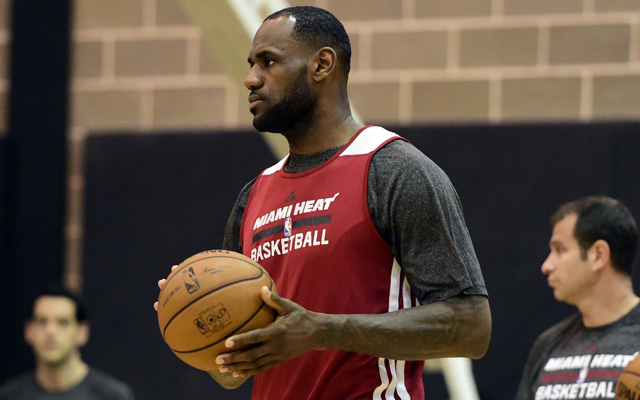 NBA Finals: Game 2 Preview | Manu's "Crazy" passing | LeBron improving 
At a brief shootaround session Sunday before Game 2 of the NBA Finals, coach Erik Spoelstra told reporters that LeBron James "feels better," and hasn't said anything about any lingering effects of dehydration after cramps forced him out of the fourth quarter of Game 1. 
"He feels better, we'll find out tonight," Spoelstra said, adding that how he feels in shootaround has no effect on how he'll feel during the game. "We'll try to manage (any issues that come up) and go from there." 
James doesn't speak to reporters at shootaround, only pre-game in the Heat locker room on gamedays. 
James missed the final five minutes of Game 1 after cramping up due to dehydration when the air conditioning systems at AT&T Center failed. The Spurs issued a statement Saturday that the system had been fixed and they did no expect any lingering issues. 
Spurs guard Tony Parker said he felt no further effects from the heat of Game 1. 
Spoelstra said that any minutes adjustment to James would be made within the game and was not planning for either the same number of minutes as James usually plays in such games, or any changes. 
We've got all the scores, highlights and news from all of Sunday's games

The Rockets beat the Warriors 116-108 on Saturday night

The Cavaliers gave up 148 points in their loss Saturday afternoon to the Thunder
Blatt made the comment before coaching in the All-Star Game in Turkey

Is this rock bottom for the Cavaliers because it sure feels like it is

Wade, as he's done so many times in his career, threw it up to LeBron for the thunderous f...