Spokesman: Kevin Durant contract report a misunderstanding
President of USA Basketball Jerry Colangelo was quoted saying Kevin Durant withdrew due to a "contract situation" but a USA Basketball spokesman says it was a misunderstanding.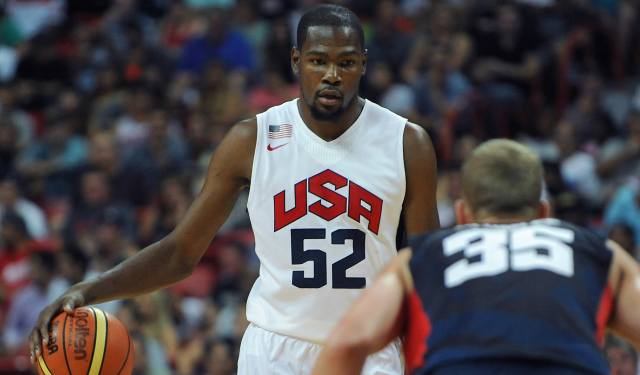 More Offseason Analysis: Coaching changes, news | Free Agency | Draft
Kevin Durant's withdrawal from USA Basketball less than a month before the 2014 FIBA World Cup kicked off in Spain was a big surprise to the international basketball world. Even though Paul George had just suffered a gruesome leg injury that left many wondering whether or not stars would participate in these global contests, Durant wasn't expected to take his name out of the hat this time around. The Oklahoma City Thunder star cited fatigue as the reason for his withdrawal.
Kevin Love also withdrew from Team USA this summer, with many believing the trade situation swirling around the Minnesota Timberwolves and their star player was cause. On Thursday, president of USA Basketball Jerry Colangelo told reporters a "contractual situation" was what kept Kevin from participating on Team USA. Which Kevin was he referring to, Durant or Love?
Jay Cohen of the Associated Press believed Colangelo to be talking about Durant and tweeted the following: 
Interesting stuff on Durant's withdrawal from Colangelo ...

— Jay Cohen (@jcohenap) August 14, 2014
"He found himself in a situation where he had no choice," Colangelo said. ...

— Jay Cohen (@jcohenap) August 14, 2014
Asked by @nrarmour in terms of, "Just contractual situation," Colangelo responded.

— Jay Cohen (@jcohenap) August 14, 2014
Nancy Armour of USA Today had the same "contractual situation" comment from Colangelo here and also believed it was in reference to Durant:
Colangelo said Durant's decision was because of his "contractual situation." The 2014 NBA MVP is under contract in Oklahoma City through 2016, but there's already speculation he'll return to his hometown of Washington D.C. when he's a free agent. And with his Nike contract done, Baltimore-based Under Armour is reportedly making a run at him.
While reporters at the practice Thursday interpreted that Colangelo was speaking about Durant, Team USA spokesman Craig Miller reached out to CBSSports.com on Colangelo's behalf to clarify that the USA Basketball managing director actually was addressing questions about Kevin Love. 
The "contractual situation" being in reference to Love would make more sense, considering the trade situation and Love having just one season left on his deal before he opts out and becomes a free agent. There is a trade agreed to in principle involving Love that will send Anthony Bennett, Andrew Wiggins, and a first round pick in 2015 from the Miami Heat in exchange for Love. An injury in preparation for the World Cup would certainly ruin such an important deal. 
Durant has been rumored to be possibly working out a deal with Under Armour for his next shoe contract, and it has been rumored to be worth as much as $325 million over the next 10 years. It certainly wouldn't be his NBA contract he has with the Thunder because teams can't petition players to be excluded from these tournaments unless there is a medical reason. Durant doesn't have any known injuries or medical issues that would keep him from playing for Team USA in the World Cup.
If there's any justice, the basketball gods will give us the Golden State-OKC playoff series...

Pachulia fell onto Westbrook in a questionable manner during Saturday night's game

Pachulia fell onto Westbrook after they both got tangled up with Nick Young
Butler suffered the injury on Friday night against the Rockets

The extent of Butler's meniscal injury isn't yet known, but there's reason for Wolves fans...

No timetable was provided for Butler's recovery