Sponsors pull support from Clips after alleged Sterling remarks
In the wake of controversy over alleged racist remarks from Donald Sterling, sponsors are starting to pull their support from the team.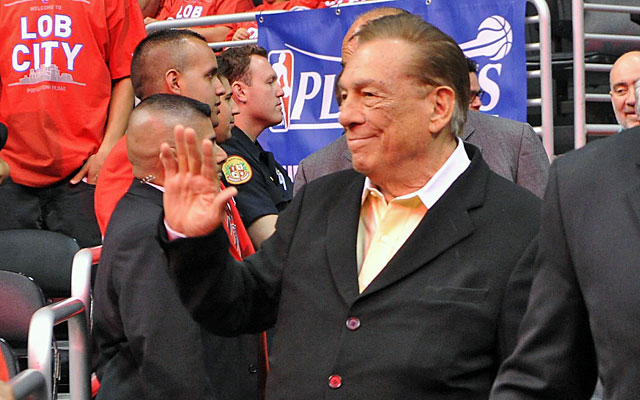 More on Sterling: KJ meets with Silver | Latest Sterling news
Update 1:35 p.m.: State Farm officially pulled its support Monday afternoon, as did Virgin Airlines and Kia Motors: 
State Farm in statement regarding Clippers: "We will be taking a pause in our relationship with the organization."

— Jeff Zillgitt (@JeffZillgitt) April 28, 2014
More from State Farm on pausing relationship with Clippers: "We are monitoring the situation and we'll continually assess our options."

— Jeff Zillgitt (@JeffZillgitt) April 28, 2014
. @nuyorican127 @HowardBeck Chris/Cliff Paul campaign will continue. That's separate from State Farm's deal with the Clippers.

— Jeff Zillgitt (@JeffZillgitt) April 28, 2014
Virgin America: We have made the decision to end our sponsorship of the L.A. Clippers

— Ryan Ruggiero (@RyanRuggiero) April 28, 2014
KIA: We are suspending our advertising and sponsorship activations with the Clippers

— Ryan Ruggiero (@RyanRuggiero) April 28, 2014
Kia is a major sponsor of the NBA at both the team and league level, sponsoring awards, studio shows and major events. 
Original post: 12:00 p.m.: Auto dealer CarMax pulled its sponsorship of the Los Angeles Clippers Monday in the wake of a firestorm of controversy over alleged racist remarks from team owner Donald Sterling. In a statement from CarMax spokeswoman Catherine Gryp: 
CarMax finds the statements attributed to the Clippers' owner completely unacceptable. These views directly conflict with CarMax's culture of respect for all individuals. While we have been a proud Clippers sponsor for 9 years and support the team, fans, and community, these statements necessitate that CarMax end its sponsorship.
Meanwhile, Steve Stoute, the head of marketing firm Translation, which represents major Clippers sponsor State Farm Insurance, visited with ESPN Radio Monday and said he was advising his clients to cut ties. From the Big Lead: 
Steve Stoute, the CEO of Translation – a marketing firm with State Farm as a client – went on Colin Cowherd's ESPN radio show Monday and said "what I'm going to do … I'm telling the brands that I represent, 'let's pull sponsorship.'" Stoute went on to say, "State Farm is pulling out, and other brands are pulling out. We're going to start seeing it over the next 48 hours." State Farm has not officially announced anything yet.
via State Farm May Pull Sponsorship from LA Clippers Because of Donald Sterling | The Big Lead.
Sponsorpitch.com lists a number of other Clippers sponsors including Amtrak, Anheuser-Busch, and Yokohama. This post will update with any developments. 
Sterling has faced widespread outrage and denouncement over the comments which were leaked to TMZ. Commissioner Adam Silver said Saturday that the league hopes to finish its investigation before Game 5 of the Clippers' series vs. Golden State at Staples Center. 
The Clippers released a vague, slight kind-of-denial Saturday night. 
Eric Bledsoe will not be playing against the Kings. Could there be more to come?

J.R. Smith back in the starting lineup after Dwyane Wade's early struggles to start the se...

Travis Schlenk, a former Warriors exec, told CBS Sports' Bill Reiter that Golden State tanked...
The ex-Warriors assistant GM shares his philosophy on scouting and why Golden State had so...

The Suns have been doomed for awhile now it just finally came to a head this season

Andre Drummond is making his free throws now, and Pistons coach Stan Van Gundy says this is...