Spurs and Heat battle over ball movement in the NBA Finals
A look at the real important matchup between the Spurs and Heat, how Miami can prevent the "extra pass" and what makes San Antonio so good at it going into Game 2.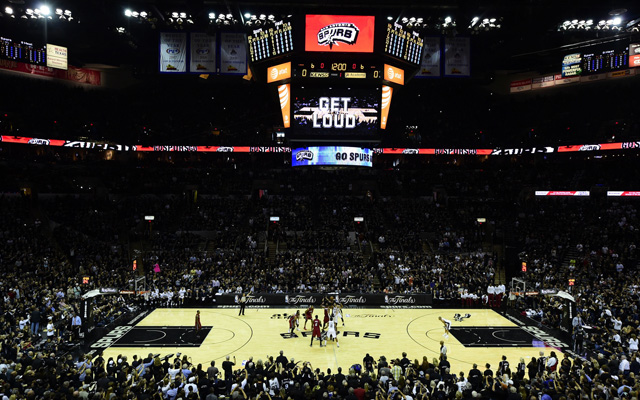 NBA Finals: Game 2 Preview | Manu's "Crazy" passing | LeBron improving 
SAN ANTONIO -- If you ask the Spurs what the key to their offense is, they say "ball movement." If you ask the Heat what the key to the Spurs is, they also say "ball movement." And often times, especially in the NBA Finals, when so much coverage hinges on storylines, narratives, heat, hustle, and easy-to-digest sound bytes, that's where the discussion ends, at the water's edge. 
But there's a lot more to say about how the Spurs create those possessions full of dazzling ball movement, and how they always know to make that "extra pass" which results in the open corner 3's. The Spurs' offensive beauty is structural, in its play design, in the spacing they use, in the talent they have accumulated and honed. But it is also brilliant in its execution, in how they actually play. 
That extra pass is exceptionally dangerous. Even on this shot that Manu Ginobili misses, look at how wide open he is because of the extra pass: 
That's what makes the Spurs so dangerous. They break down your defense, and once that defense is scrambling, they don't just make you pay once. They take your payment for the initial breakdown, a defender sprinting to run off a 3, and then produce an even higher percentage look. The Spurs stressed "quick decisions with the ball" this week as the key to getting ahead of Miami's super-athletic defense. 
For the Spurs, Boris Diaw said Saturday that ability to create those looks is a product of having players who are willing to make that pass, who are unselfish enough to deliver it. 
But in the heat of the moment, with a defense as fast as Miami's closing on you, in the biggest games of your career, how do you know to find that shooter? Many believe it's a product of the Spurs' knowledge of their complex playsets, but the Spurs believe it has more to do with court awareness, and which players are comfortable making that pass. Danny Green credits the international players on the roster with knowing to find the open shot.
For more on how Danny Green hurt the Heat in Game 1, check out Zach Harper's Playoff Assist.
"It's not just the set," expert shooter Matt Bonner said, "but even when a play breaks down or you're in a random transition, you have floor sets that you want to get to, that your teammate needs to know he's got guys in these specific floor spots so when he sees two guys on him or the rotation is coming, he can find you and hit the open man."
In Game 1, the Heat were actually dramatically lucky. The Spurs produced just five "secondary" or "hockey" assists, via SportVU data, meaning just five passes which immediately lead to another pass for an assist. The Spurs missed those looks in Game 1, which they may not do again. 
Still, the Heat know how important it is to prevent those extra passes. When asked if there is anything the Heat can do tactically to prevent those passes, the Heat stressed on Saturday the importance of preventing "straight line" passes. 
"We're going to try and get our hands in the passing lanes a little bit more," Chris Bosh said, "make those extra passes tougher, so it's not a straight line We're going to try and put some pressure on them to make them reload because otherwise you just hope they miss. We're going to have to rely on our athleticism a little bit."
Battier echoed those sentiments, which could see the Heat focus less on shot contests and more on attacking passing lanes. 
The assumption is that the Spurs' 22 turnovers is not something that will be replicated in Game 2. Turnovers are spoken of as simply a matter of carelessness. But the Spurs between Games 1 and 2, while acknowledging that they have to clean up the careless turnovers, have said much of that is the design of Miami's defense which accentuates their speed and athleticism. 
"They play very aggressive," Spurs center Tiago Splitter said Friday. "They do some stuff different than other teams do. They double team you, they force those turnovers. Sometimes they don't care if they leave a guy open. They want to force those turnovers. That's why we got so many open looks, but also so many turnovers."
The Heat and Spurs have now faced each other in eight Finals games and two regular season games in the past year. Despite being in different conferences, the Heat have played San Antonio more times since last June other than the Indiana Pacers. They're very familiar with their sets and what they're trying to do, which helps with anticipating plays to a degree and facilitates "jumping" San Antonio's corner three routes. 
Allen was quick to deny it was any special knowledge, saying he got "lucky." 
"A lot of time I just guessed right. Obviously we've played each other quite a bit and you do get used to some things. But sometimes they stunt and you get tricked. I was just trying to play by our defensive rules and I got lucky."
But the Heat did legitimately get "ahead" of the Spurs' rotations several times, something they stressed on Saturday. 
"Both teams know each other pretty well, so we try to stay ahead of them but not gamble too much either," Mario Chalmers said. 
"You know who makes what kind of passes," Allen said Saturday, "and you just have to try and not be a predictable defense and keep them guessing." 
Still, the Spurs know what the Heat know, and there will be adjustments from both sides in Game 2. The problem with the Spurs is often conflated as being that their schemes are so far beyond everyone else's, the opposite description from how people regard the Thunder offense. But everyone knows the Spurs' plays. It's how they execute them that matter. 
"We know each other's plays. I can practice with them right now and run every play," Bosh said. "It comes down to playmaking ability. We're going to have to make sure we defend late in the shot clock."
It takes the full 24 seconds to combat the Spurs and their ball movement. It takes willing passers and high execution to out-maneuver the Heat's athleticism. 
Forget the air conditioning. Forget legacies. Forget social media, Gatorade, cramping, flopping, and everything else. This is where the NBA Finals will be won and lost, in the high speed highways of the Spurs' passing lanes, and the velocity and intelligence of the Heat's attack upon them. 
Game 2 is Sunday at 8 p.m. ET. 
Miami is on Irving's list, but this package still wouldn't be enough to get a deal done

Some teams want to fight the Warriors, others want to 'fight' for the right to draft Michael...

Oklahoma City has reportedly offered the MVP a five-year extension worth over $200 million
The big man was a big part of the Warriors' championship run last season

The Cavs jokes were out in full force after Golden State reportedly agreed to sign Antonius...

New York seems to be at the top of Irving's list of preferred destinations