Spurs' arrogance fueled penalty; new NBA injury policy could result
The $250,000 fine levied by the NBA on Friday against the San Antonio Spurs wouldn't have been so bad if the team had just played along. If you don't get that, then welcome to the NBA, where deception is an art form -- not a political stunt -- and where stricter guidelines about injury reporting could be on the way.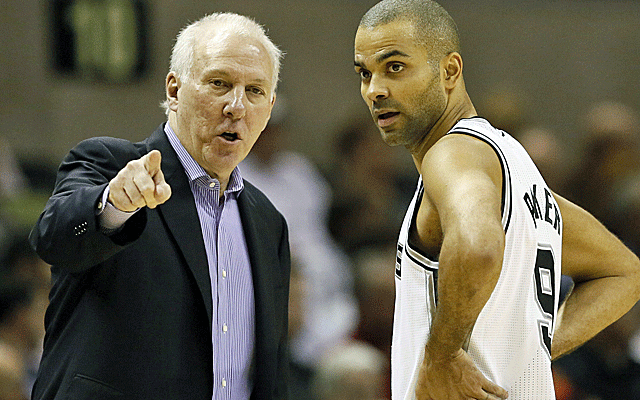 Do you agree with Gregg Popovich's decision to rest his stars vs. the Heat?
(Getty Images)
What prompted David Stern to rip off that angry statement about "substantial sanctions" coming for the Spurs, and what caused him to fine the organization $250,000 Friday, wasn't the mere practice of resting players on a long road trip.
Resting players is OK. It's been done before, will be done again, and it's even been condoned by the NBA.
After the Spurs' decision to rest their Big Three down the stretch before the playoffs last April, deputy commissioner Adam Silver referred to the uniqueness of the lockout-shortened schedule when he said, "The strategic resting of particular players on particular nights is within the discretion of the teams. And Gregg Popovich, in particular, is probably the last coach that I would second guess."
This is not April, and it's not a lockout-shortened season. These were not the circumstances Silver had in mind when he endorsed the strategic resting of players.
But let's play along for a moment, shall we? Let's play along better than the Spurs did.
Suppose the Spurs did want to rest a couple of their older stars Thursday night (which they did)? Suppose they were playing their sixth road game in nine nights (which they were) against the defending champions on their third home game in 12 nights (which was true)? Suppose they were playing with house money, having won their previous five games on the trip (which they had)?
There is such a thing as subtlety and decorum, and if you want to call it dishonesty, then welcome to professional sports. The sun has been shining and the lies flowing in here like oxygen in a Las Vegas casino. Where ya been?
If the Spurs had communicated their intentions, and/or better disguised them by holding, say, 36-year-old Tim Duncan and/or 35-year-old Manu Ginobili out of Thursday night's game in Miami due to any number of injuries that both most assuredly have after 15 and 10 seasons in the NBA, respectively, none of this would have happened. No spicy statement from Stern, no $250,000 fine, no hopeless attempt by me to explain how everyone is supposed to behave.
But Popovich did none of that. He hid his intentions. He sprung his master plan to rest his players, protest the idiocy of the schedule and extend the finger in between the pointer and ring to the NBA shortly before tipoff.
So understand that it wasn't the act of resting players that got the Spurs fined. It was being devious and arrogant about it. 
There is a multi-billion-dollar dance going on here, and it's called the NBA regular season, a six-month journey we know is mostly a pointless exercise to get us to June, when we'll have Heat-Lakers, Heat-Thunder, Heat-Spurs, or some other eminently predictable outcome in the NBA Finals.
Are there double standards at work here? Of course; don't be naive. You can't defend the league's action against the Spurs without noting its chronic inaction against far worse offenders -- be the crimes tanking for lottery picks, tampering, or just running your team into the ground on purpose so Stern will move it somewhere better. All of these are duly noted. Welcome to the NBA.
Playing the NBA season is like covering the news as a police reporter. If you want to break the story about the big bank heist, you have to write up every convenience store robbery along the way. In the NBA, if you want to generate $5 billion from a basketball season, you can't just fire 28 teams and skip ahead to the best-of-7 between the ones everyone wants to see. You have to put in the time. You have to do the dance.
The Spurs made no effort to hide their disdain for the dance, and while much about them is admirable, that was childish and the punishment was just. As one rival executive put it Friday night, "A major fine for a major mistake."
If the Spurs had simply communicated their intentions better, it wouldn't have been this bad. If they'd taken one for the sport that makes it possible to make money and build a sports dynasty in San Antonio, it wouldn't have been a news story or a national embarrassment.
But they did none of that. They didn't play along. And like it or not, playing along is what's necessary when the show, no matter how unfair or ridiculous, must go on. 
Sending Duncan, Ginobili, Tony Parker and Danny Green home to San Antonio might have been what was best for the Spurs. But it was not best for the NBA, without which the Spurs wouldn't exist. And what was even worse for the NBA was that a national TV audience and thousands of paying customers had the whole charade spelled out for them. Just imagine if you'd spent $500 on tickets to this game at 3 o'clock in the afternoon, only to learn later Duncan and Parker were at that very moment taking a whirlpool bath back in Texas.
The idea of resting players in games that do not matter is nothing new. It happens in the NBA all the time in April, when everyone is at best going through the motions and at worst trying to be as bad as possible to improve their lottery chances. It happens in the NFL, when games involving teams that have clinched their playoff position turn into glorified exhibitions. 
The point here is, this isn't about what the Spurs did. Resting players is allowed, even condoned. But you can't be so arrogant, so determined to make a point that you expose the very business that gave birth to you for being a farce. In auto racing, the fast cars need slow cars to pass. In the NBA, the season the Spurs are interested in -- the playoffs -- needs this often unsatisfying appetizer in order to happen.
There's a saying about spite, a nose and a face that applies here as well as it ever has anywhere.
So the message here isn't that teams can't rest players. They can, and they will. But be discreet about it. Be smart about it. Communicate it. And show some concern for the sometimes futile, often unfair exercise known as the NBA regular season, without which no championships can be won and no dynasties formed.
The end result here, sources say, could be a boost of momentum to a small but vocal movement within the league office to formalize the reporting procedure for player injuries. Don't expect anything as specific and strict as the NFL injury reporting policy, which exists mostly for gamblers and which NFL coaches routinely abuse. But something along the lines of teams being required to declare at a specified time on each game day the injury status of their players -- probable, questionable, doubtful, out, etc. -- isn't out of the question.
Will clever NBA coaches like Popovich find ways to manipulate those guidelines, too? Without question. But they'd better do it in a way that upholds not so much the integrity of the game, but at least the appearance of it.
If the Spurs had done that in the first place, there would've been no angry, fist-pounding statement from Stern, no fine and no hopeless attempt by me to explain how everyone should behave.
If you don't get that, then let me welcome you to professional sports, where deception is an art form, not a political stunt. Let me welcome you to the NBA, where the show -- however ridiculous and unfair at times -- must go on.
Draymond Green walked off the floor limping and rubbing his knee in the third quarter

Golden State raised its second banner in three years. Now they start their run for another

Hayward's injury left the Celtics shocked for a moment.
The 11-carat rings hold more diamonds than any other ring awarded in any other major sport...

The Cavs were supposed to honor their ex-star but ended up not showing the tribute video

James has a plan for his oldest son if they were ever to meet in the NBA: 'I'll foul the s---...