Spurs bench starters, Thunder play it out, both play to strengths in Game 4
The Spurs benched their starters and were right to do so. The Thunder played their stars heavy minutes. They were right, too.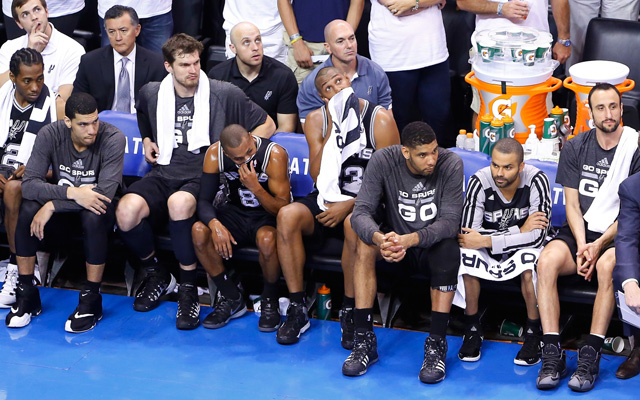 More postseason coverage: Playoff schedule, results | Latest news, notes
Midway through the third quarter of Oklahoma City's 105-92 win in Game 4 of the Western Conference Finals, as the unsettling prospect of a repeat of 2012 started to dawn for San Antonio against the Oklahoma City Thunder , San Antonio Spurs coach Gregg Popovich gave up. Surrendered. Put up the white flag, threw in the towel, told the fat lady to get singing. If this were a video game, and if Popovich knew what video games are, he would have simmed to the end. He pulled all his starters and put in the scrubs.
Asked after the game what his thought process was behind the decision, Popovich responded simply, "Thursday."
This wasn't some sort of mind game. It wasn't a message sent to the starters and it wasn't some brilliant tactic to stage a comeback with the likes of Matt Bonner , Jeff Ayres and Corey Joseph. Popovich knew the game was over, and so he rested his aging and tired players in advance of preparing for Game 5 in San Antonio.
Popovich knew they were done and so he started moving to the future. Another brilliant Popovich move, saving his players' bodies and getting them ready for Game 5. Meanwhile, the Thunder played their starters heavy minutes. Kevin Durant played 41 minutes, Russell Westbrook 45 minutes, 29 seconds, Serge Ibaka (on a bad calf) 34 minutes and 54 seconds. So it's easy to look and say that even though the Thunder won, Popovich got a win by playing his starters less.
Except the Thunder had no choice. The Spurs in the regular season routinely beat good teams -- not basement dwellers but playoff teams -- after resting their starters. Everyone marvels at their ability to get production out of bench players. The system nearly runs itself. And that's what happened after Popovich rested starters. From the 6:46 mark when Pop pulled Tony Parker , Tiago Splitter and Danny Green , the Spurs outscored the Thunder 43-36. They closed the lead to 12 twice.
So why did Scott Brooks keep his stars in so long? Because he had to.
The Thunder could not lose this game. No way, no how. They couldn't risk it. Not with a Spurs team entirely designed with shooters. Three 3s and the score goes from a 16-point lead to a seven-point lead. And then the pressure is on. You can say the Thunder are a lesser team because Perry Jones III, Andre Roberson and Hasheem Thabeet aren't prepared to come into a Western Conference Finals must-win Game 4 and hold a lead. But to say that you have to get past the reality. This is the No. 1 seed vs. No. 2 seed, in the conference finals, in a series now tied 2-2. Both the Thunder and Spurs have won the same number of games.
And that's key for this discussion. There's more than one way to skin a cat and more than one way to win games in the NBA. The Spurs rely on everyone to bond together for the system to work, for each player to strike the rock with the hammer. The Thunder use their best talents, their biggest guns, their highest producers. The Spurs have their way, the Thunder have their own. And both have made the Finals once in the past four years, both made their way to what is now a three-game series.
So did Westbrook think the minutes impacted him?
"Pssh, nah," he said. "Our job is to worry about us. Our job is to win the game."
And while rest is nice, the Thunder are built on young guns. Their younger stars have higher engines, and if you need proof of that, just watch the athleticism gap in Game 4.
This isn't some trope to bring up the "old Spurs." It's true that Kawhi Leonard is a huge part of what San Antonio does. Their bench features young players like Patty Mills and Aron Baynes . But this team stll depends on Tim Duncan , Tony Parker and, most especially in this playoff run, Manu Ginobili and Boris Diaw . Watching the Spurs try and contain the suddenly uncorked (with Ibaka's return) Thunder was pitiful. Diaw lumbering up the court to chase down Durant in the corner. Tiago Splitter (age 29, surprisingly) trying to contain Russell Westbrook in the pick and roll.
This series has two hills for each team to overcome. The Spurs will always be precise. But they have to find ways to run with Oklahoma City's athleticism, which is now set loose like a monster the Spurs had been hoping would remain in its cage. And the Thunder have to find a way to play smart and precise within the framework of their dynamic athleticism. Both teams are excellent at what they do. Both teams struggle when matched against what their opponent does.
But this isn't the time for rest. The Thunder could not afford to take chances in going down 3-1, just as the Spurs now cannot afford to go down 3-2 headed back to the Thunderdome. The series is tied, in many complicated ways. And each team will rely on what it does so well to win the West in what is now a three-game series, Oklahoma City's exceptional athleticism, and San Antonio's devotion to process.
The Spurs rested, the Thunder played it out. Both teams did what they had to. Now we find out what else they can do.
A look at who came out ahead after Tuesday's megadeal swaps the point guards on the East's...

How the addition of IT changes the Cavs and where they go this summer depending on LeBron's...

Ainge said that he expects the start of Thomas' season to be delayed, but he'll be 'fine'...
The NBA MVP odds have shifted quite a bit following the blockbuster Kyrie Irving - Isaiah Thomas...

It's debatable whether Boston gets better right away with Irving, but the future is definitely...

Kyrie Irving was set to grace the cover of this year's video game in a Cavs jersey -- whoo...