Spurs bond at In-N-Out Burger
Spurs bond at In-N-Out burger.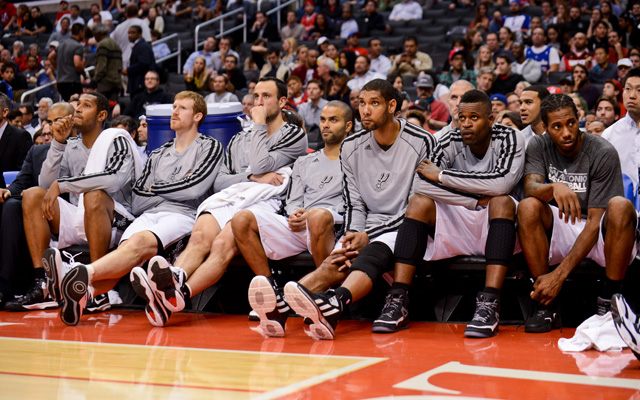 From the San Antonio Express-News, the Spurs bonded this weekend in a very un-NBA-FIT way: 
The latest experience was a repeat of something they did three years ago: A mid-afternoon stop for In-N-Out burgers near the Oakland Airport.

"It was one of those carpe diem moments," forward Matt Bonner said. "You know you shouldn't be eating a grease-laced double burger with fried onions, fries and a milkshake, but once in a while, you've got to go for it. It was one of those things where no one will claim responsibility, but everybody enjoyed it."

Even [Tony] Parker, a native of Paris who considers himself a sophisticated diner, partook of the fast-food fare.

"That was awesome," Parker said. "We did the same thing about three years ago, too, and that was awesome, too. Even though I'm a gourmet guy, it doesn't hurt to eat a double-burger sometimes. I had two double-doubles and a milkshake. I was hungry."

...

"It was good, but I don't like In-N-Out like that," [Stephen Jackson] said. "Fatburger, Sonic, Five Guys, but not In-N-Out. But I ate one."
via Spurs Nation » Spurs notebook: Parker admits keeping Pop in dark about injury.
Manu Ginobili also wasn't ecstatic over the experience. But then, you can't really blame Jackson or any other Spur. In-N-Out is amazing, but these guys live in Whataburger territory. There are things on that menu which should be outlawed for being an illegal substance due to coloric intake. It's amazing. 
Gotta say, I love Jackson's prototypical southern choices. Sonic is a staple in Texas and much of the south. Surpringly, newer chain Five Guys makes the list and not In-N-Out. That's going to ruffle some buns. (You see what I did there?)
Wait, this post is way too sensical and rational. Um, let me manufacture some fake outrage over the Spurs failing to promote healthy eating or risking their performance by eating fast food and I'll be back ... right after I get a burger. 
(Seriously, how awesome does a burger sound right now?)
LaVar Ball formed a pop up shop in New York to sell Big Baller Brand merchandise. The results...

The Cavaliers players took a stand against bullying on social media

The Rockets are gunning for their 10th consecutive win
Victor Oladipo just wants to live his life and enjoy his breakout season with his new team

Keep it right here for all of the news, notes, scores, and highlights from around the Asso...

LeBron has a player option for next season, and is expected to opt out and become a free a...