Spurs dominate Heat with superior depth in Game 4
San Antonio is coming at Miami in waves, and it's proving too powerful to stop.
• 3 min read
More NBA Finals: Schedule, results | Game 4: Spurs 107, Heat 86
Late in the first half of Thursday's Game 4 of the NBA Finals, the San Antonio Spurs led the Miami Heat by 22 points. Tim Duncan, who had just made some playoff history, had only four of them. Duncan is leading his team in scoring this postseason, but the ball just didn't find him in scoring position. That obviously wasn't anything close to a problem, as the Spurs dominated Miami with their usual brand of ball movement, player movement and precision.
Throughout their 107-86 victory, there wasn't one dominant player. Duncan finished with a 10-point, 11-rebound double-double. Kawhi Leonard led the team in scoring with an efficient 20 points and 14 boards. Boris Diaw came close to a triple-double, with eight points, nine assists and nine rebounds. Tony Parker had 19 points, and his backup, Patty Mills, had 15. If one player gets hot, you can make adjustments. If five starters and several reserves are all in rhythm, what are you supposed to do?
"It's fun in the sense that it's great everybody is involved," Manu Ginobili said. "Everybody touches the ball, everybody is making decisions, everybody is catching and making something happen."
The depth issue was a storyline before the series even started. Miami's bench is thinning and aging, and San Antonio's is even better than it was before. Diaw and Mills have turned into game-changers since these teams last met in this setting, while the Heat lost Mike Miller, who made a difference a year ago. LeBron James is the best player in this series, the best player in the world, but it's becoming clearer with each passing game how desperately he needs help.
The fact Miami's been so affected by Mario Chalmers' struggles should be instructive. In years past, the ability to shapeshift has been one of the team's biggest advantages. James can play any position, and if surrounded by players who can shoot and defend, the Heat should be able to match up with anyone. They should be able to overcome a role player going through a cold streak, but that might not be the case anymore, at least not against a team as great as the Spurs.
Miami head coach Erik Spoelstra started Ray Allen in place of Rashard Lewis in the second half of Game 4, tried Toney Douglas at point guard for a few minutes and finally gave Shane Battier a little bit of run. None of this did a whole lot of good. San Antonio head coach Gregg Popovich replaced Tiago Splitter with Diaw in the starting lineup when the series shifted to South Beach, and it has paid enormous dividends. After these two straight losses, it feels like the Heat need to make a dramatic adjustment, but there's no obvious move to make.
This isn't a moral issue, or an example of the Spurs playing team basketball while Miami tries to do things individually. It's roster-building. The Heat's defensive system is all about trust and teamwork, and their ball movement can be as pretty as anyone's, save for their current opponent. They just aren't getting production out of a lot of players right now, including their stars.
Spoelstra often talks about needing everyone, but when James, Dwyane Wade and Chris Bosh all play at their peak Miami's role players don't have to match San Antonio's. Wade's been inconsistent in the Finals and the Spurs are doing an excellent job of limiting Bosh's touches. James had 28 points on 17 shots on Thursday, but that wasn't enough.
San Antonio is clicking completely, and it is just one win away from a title. With how the series is going, Finals MVP will be a difficult decision. The Spurs just come at you in waves, and it's been too much for Miami to stop.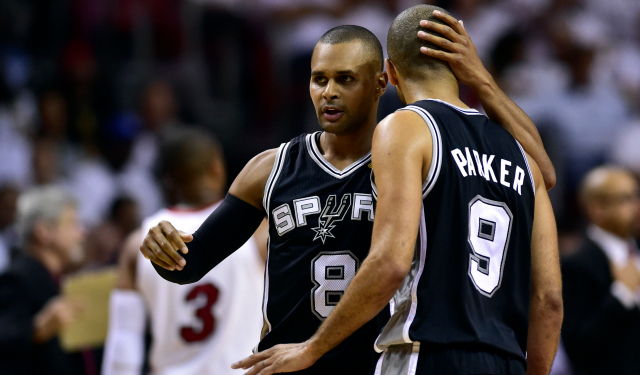 LeBron had 29 points, 11 rebounds, and 10 assists in the Cavs' 109-100 win over the Jazz

The montage showed Carmelo's best Knicks moments before playing the Thunder game

KCP can't leave California for 25 days due to the terms of his pleading guilty to a misdemeanor...
Keep it right here for all of the news, notes, scores and highlights from around the leagu...

LeBron tried to keep what he said a secret, but one mic on the court picked it up

SportsLine's Mike McClure, a DFS pro with more than $1M in winnings, gives optimal lineup...