Spurs find enough to beat Mavericks but bigger issues persist
Dallas loses close one thanks to savvy moves by San Antonio and Manu Ginobili's genius.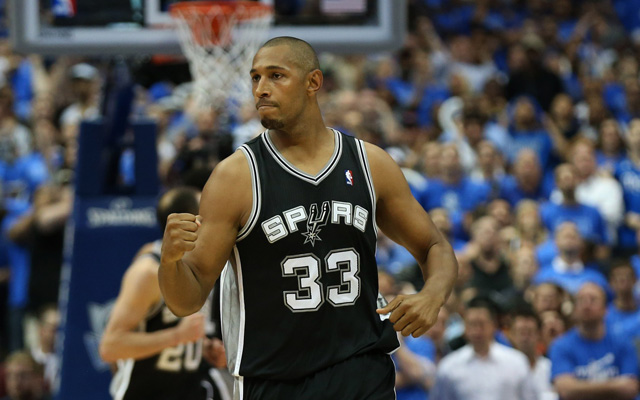 More postseason coverage: Playoff schedule, results | Latest news, notes
The Spurs held on in Game 4 to even their first-round series with the Dallas Mavericks at 2-2. On the surface, it looked like the first appearance of the Spurs we've come to know. They moved the ball, found the extra man, shot well from the field, had 50 points from the bench (!) and built a 20-point lead at one point.
So why does the win feel so full of caveats?
The Spurs won by four, but at one point it was just a one-point lead, then a two-point lead as Monta Ellis slashed to the rim and missed a layup with the ball going off-iron twice. What happened that the mighty Spurs didn't coast after being up 20? Is that something to be concerned with or is their resilience something to celebrate?
A little bit of both, predictably.
The concern is that the Spurs are getting nothing from Tony Parker as these games go on. He plays well in the first halves of games and then vanishes. He hit a late-game jumper that was huge, but overall, he's been largely invisible. The bench gave huge production ... from three players. Manu Ginobili has been the best player in this series, Boris Diaw did work (we'll come back to this) and Patty Mills finally hit a barrage of Patty Mills shots.
But the rest of the bench remains an issue. Marco Belinelli returned to the negative zone, going minus-7 and looking lost once again. The rotation is tightened so there's little left to provide, but the Spurs still aren't getting even distribution like they usually do.
And the concern is that the Spurs keep losing their cool, losing their leads, and largely melting down. So how did they finish this one off, outside of Monta Ellis taking a shot Dirk Nowitzki should have taken and missing a shot that was halfway down?
Savvy. A huge amount of savvy.
Manu Ginobili drew several fouls in the second half by manipulating the Mavs defenders (and the officials) and that kept the Spurs at a distance. Gregg Popovich also made a smart decision by feeding Diaw the ball consistently in the post against Dirk Nowitzki, who had four fouls and couldn't commit to defending him. That's a subtle move but those were targeted points in a matchup the Mavericks were helpless to adjust to.
Throw in a few solid defensive possessions and Nowitzki missing a short jumper, and you have a tied series. The Spurs didn't need to be great in Game 4. They just needed to be good enough. Is that enough to win a series that no one expected to be this tight?
Right before Wiggins hit his shot, Carmelo Anthony hit a 3 to put the Thunder in front

The Suns firing Earl Watson three games into season is second-quickest firing in NBA histo...

Bledsoe tweeted, "I Dont wanna be here"
Giannis had his hand on McCollum's hip when he poked the ball away

Teodosic had to leave the Clippers' game Saturday night against the Suns

Irving said recently that he does not regret the profane outburst