Spurs find their fearlessness to hammer Thunder in Game 5
After looking dazed and confused vs. the Thunder in OKC, San Antonio returns home and blows out the Thunder by playing without fear.
More postseason coverage: Playoff schedule, results | Latest news, notes
The San Antonio Spurs aren't afraid of much after having played together so long, being lead by the best coach in the NBA, and having championship pedigree throughout their team. But against the Thunder in Games 3 and 4, they were afraid. Afraid of Serge Ibaka's rim protection, afraid of Oklahoma City's superb athleticism, afraid of the ball pressure, afraid of the length.
In their 117-89 victory against the Thunder in Game 5 on Thursday, they moved past all that. They got back to what they do, saddled up, and committed to the things that make them one of the greatest sporting organizations in the world -- sticking with the process. Tony Parker was phenomenal once again, creating havoc in the lane by forcing the ball into the middle. The Spurs charged into the paint to grab rebounds and attack inside. They made Serge Ibaka work and the result was Ibaka's first truly bad game in the series and a 3-2 lead for San Antonio with a chance to advance to the Finals with a victory Saturday.
It wasn't an emotional kind of fear, but a cerebral one, a concern over mistakes and the physical presence of Ibaka. But they overcame it with simple precision, the root of their team. When the defense collapsed, they found the outside shooter. When the outside shooter was covered, they maneuvered around the interior defender to score. The move to start Matt Bonner helped, the move to play Boris Diaw heavy minutes to spread the floor helped. But the Spurs also just committed to the things they needed to.
For all the basketball genius of the Spurs, all of Gregg Popovich's superior tactical manipulations, for all the skill and precision, you still have to play with a certain amount of energy. It still does matter the way in which you execute, not just how.
Manu on TNT: "Sometimes it isn't about X-and-O's. Its about how hard you play."

— Quixem Ramirez (@quixem) May 30, 2014
And in Game 5, the Spurs got back to that level of effort, past being in their heads about what they were up against and just played Spurs ball. And it started early as they built a four-point lead. Then eight. Then 12. Then 17, and then the floodgates opened and it was over.
It's not as simple as just effort, or just adjustments, it was both, as it so often is with these kinds of turnarounds. But it's also about mental approach. San Antonio didn't try and avoid Serge Ibaka in Game 5, or try and focus on simply not making mistakes. They played free but precise, focused but in control, and more than anything, they played fearlessly.
Sometimes it's as simple as facing what you're afraid of, and simply sticking to what you know you can do anyway.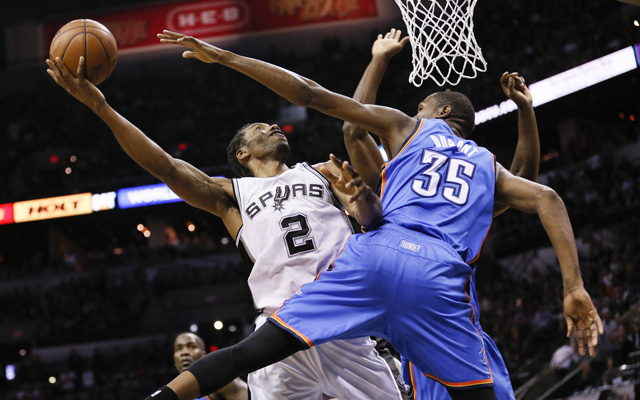 Oklahoma City has reportedly offered the MVP a five-year extension worth over $200 million

The big man was a big part of the Warriors' championship run last season

The Cavs jokes were out in full force after Golden State reportedly agreed to sign Antonius...
New York seems to be at the top of Irving's list of preferred destinations

Is it just a normal workout, or is LeBron continuing his recruiting efforts?

Chris Bosh answered on the spot about the LeBron James and Kyrie Irving situation