Spurs' Gregg Popovich has been this season's Coach of the Year
While we keep trying to search for the fun, new pick as Coach of the Year, Gregg Popovich's success with the Spurs has gone unmatched.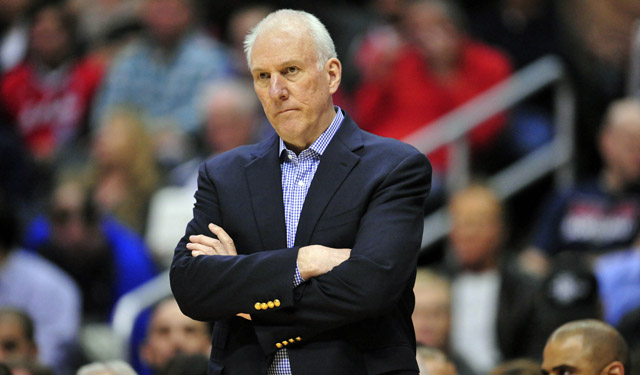 More NBA: Power Rankings | Expert Picks | Latest news & notes
We often overcomplicate things in basketball.
It's a simple result that stems from a complicated process. The process is complicated because you're dealing with the most skilled players and best athletes in the world, all trying to execute a game plan for making baskets and preventing them. The theory of basketball is simple; the execution of it is vexing.
The San Antonio Spurs have had a pretty basic concept wrapped up in smoke and mirrors for nearly 18 seasons: Move the ball until you find the best shot available; Stop the other team from finding good shots. If you have a good shot, pass it if someone has a better shot. It's the simple fundamentals of basketball that are hammered into us as children learning the game, brought out to light by the best system in the NBA.
When trying to decide who deserves the NBA's Coach of the Year honor, it feels like we overcomplicate things. We look for struggles. We look for overcoming lowered expectations. We look for triumph in the face of failure. Jeff Hornacek has coached this Phoenix Suns team to a surprisingly possible playoff berth in just his first year. Tom Thibodeau has kept a battered Chicago Bulls team as competitive as possible. Terry Stotts turned a borderline playoff team with the Portland Trail Blazers into an offensive juggernaut likely to secure a playoff spot and possibly home court advantage in the first round in the next two weeks.
Overcoming lowered expectations isn't necessarily harder than avoiding complacency in a season full of injuries to key players. The San Antonio Spurs haven't just avoided succumbing to the inevitable, which the likelihood should be heightened when missing Tiago Splitter, Danny Green, and Kawhi Leonard for extended periods this season; they're about to end up with the best record in the West for the third time in four years. 
The Spurs have by far the best net rating in the NBA (plus-9.0 per 100 possessions) and yet we seem to discount their accomplishments as ordinary, which in and of itself is insane. The Spurs have incredible talent and the perfect talent for fitting the system Popovich demands his players run to perfection. But should that really penalize their coach when it comes to being recognized as the top coach from the season? Minnesota Timberwolves' coach Rick Adelman doesn't think so.
"Not enough credit goes to people with talent," Adelman said before a recent Wolves' game, "and they don't get the credit they deserve. Gregg Popovich, has he won coach of the year? That's amazing. I think he should be the coach of the year this year. You talk about everybody else, but coming back off of a Finals loss and what he's got them to do, with injuries too, he should be considered.
He probably says he won't want it, but I think he's done a great job. He's been able to keep his system going."
Popovich has won the award twice in his career. He took home the honors after the 2002-03 season and then again in 2011-12. A third trophy would tie him for the most all-time with Don Nelson and Pat Riley. But too often we look at what teams and coaches have done in the past instead of accounting simply for the season at hand and what kind of coaching job has been done. 
The Spurs haven't just churned out the best record in the NBA and a current 19-game winning streak because they rely on Tim Duncan, Tony Parker, and Manu Ginobili to carry them to victories. The coach's system, accepted as their bible on how to play successful basketball, has endured no matter which players are thrown onto the court. Popovich has coached his team to a 58-16 record through the first 74 games while managing the minutes of his three stars with the combined age of 104. 
Duncan is averaging just 29.3 minutes, his third lowest of his career. Ginobili is playing just 22.9 minutes per game, the lowest of his career since his rookie season. Parker is also averaging the fewest minutes of his career since his rookie season with 30.1. And yet, the team is as successful as ever; posting the highest winning percentage in franchise history. 
Still, the process doesn't waver. The results don't lessen. Complacency is avoided. A group of driven superstars play basketball like robots programmed to do the right thing nearly every time. That doesn't come from accident or luck. That comes from drilling this into his players over and over again from Day 1. Conform to the system or find another team that won't be as successful.
Instead of getting cute with our votes or trying to find the underdog in this Coach of the Year voting process, the NBA should reward a team for having the best regular season while pacing themselves to be ready for the playoffs. They've met every challenge, and despite a losing record (7-9) against the Rockets, Thunder, Warriors, Clippers, and Blazers this season, they once again look like an improbable beat in a seven-game series.
There's just no reason to complicate things when evaluating Coach of the Year for the 2013-14 season. It seems like a simple choice to me.
Galin Dragiev is on a 31-18 NBA run and just locked in a play for Thunder vs. Warriors on...

SportsLine's Mike McClure, a DFS pro with more than $1M in winnings, gives optimal lineup...

We've got all the scores, top plays and news from a busy NBA Friday
Butler didn't put any pressure on his right leg as he was helped to the locker room on Fri...

Our advanced computer model simulated Saturday's Magic vs. 76ers game 10,000 times

Several playoff contenders could use the services of Ilyasova, who's nearing a buyout agre...