Spurs-Grizzlies Game 1: No 'freak-outs' for Memphis after blowout
After a blowout loss to San Antonio, the Grizzlies remember they lost their first two Game 1s of the playoffs, too. So do the Spurs.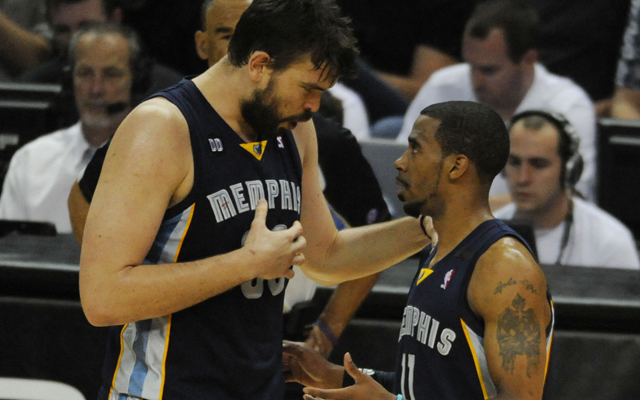 SAN ANTONIO -- It was not how you wanted to start things off. But then, they're used to this by now. 
The Memphis Grizzlies were blown out in Game 1 of the Western Conference Finals. Beaten down. Obliterated. Destroyed. It was ugly, a 22-point Spurs win. 
More on Grizzlies-Spurs
Related links
They're on the road, playing the second-best team in the West, with championship-caliber players, and they just got crushed to start the series. 
So how are they feeling?
Not great. Pretty OK. Little mad. That's about it. 
The Grizzlies were down 1-0 to the Clippers in the first round, a blowout that had people wondering if it would be the Clippers making a magical run to the Finals. Whoops. Then they were down 1-0 to the Thunder after Kevin Durant closed them out in impressive fashion. 
Don't misread it, the Grizzlies were livid with their performance, but there's no sense of shellshock. They just think San Antonio played great and they played terribly. And they're pretty much right. 
"I didn't even mention [that we lost the first two Game 1s]," coach Lionel Hollins said after the game. "I had other things to talk about that were more improtant and more relevant than what we did in the first two series.
"We just didn't play well. I mean, it's not anything specific. It's just that we were running too fast, missing laups. We were taking bad shots. And our defense was really awful. The Spurs played well." 
Guard Jerryd Bayless made it clear there's no sense of desperation, good or bad, after Game 1. 
"We're not going to freak out," Bayless said after the game. "We lost both our series' first games. We just have to go back, correct things, and get better."
When asked what his attitude going into practice on Monday would be, Mike Conley made it clear Memphis was emotionally moved by the disappointing performance. 
"We're angry. We're upset at ourselves. We didn't play to our potential, and obviously we're going to make the adjustments we need to get back where we need to."
The Memphis locker room after the game was an odd mix of disappointment, frustration and resolute conviction that the series won't continue that way. "That sucked," was the basic sentiment.
The Spurs, to a man, were careful not to exude over-confidence or speak as if this game has heavy consequences on the future of the series. 
"We can't expect to make 14 3-pointers every game against this team," Spurs forward Matt Bonner said. "We are going to have to bring that same intensity going forward."
As to be expected, there are a lot of questions for both teams after Game 1. 
Can the Spurs shoot that well again? 
Will the Grizzlies defend that poorly again? 
Can Memphis slow the pace?
Is the use of Matt Bonner in specific sets the X-factor? 
There's a lot left to sort out, but for San Antonio, you couldn't ask for a much better start. For Memphis, you couldn't ask for a much worse one.
But neither team seems to believe Game 1 was anything but that, the opening salvo in what figures to be a tougher series going forward. There's always the possibility all the games go like this, in impressive Spurs victories. But neither side is counting on it. 
Victor Oladipo just wants to live his life and enjoy his breakout season with his new team

Keep it right here for all of the news, notes, scores, and highlights from around the Asso...

LeBron has a player option for next season, and is expected to opt out and become a free a...
The Pistons will be looking to snap a five-game losing streak when they host the Celtics on...

Bryant offers some advice for Ball and other rookies about having a sense of urgency in the...

Burks has stepped up in a big way for the Jazz, averaging over 20 points per game since Rodney...