Spurs had the most efficient offense in NBA Finals since at least 1978
Research shows the Spurs had the highest mark of points scored per 100 possessions in the history of modern basketball.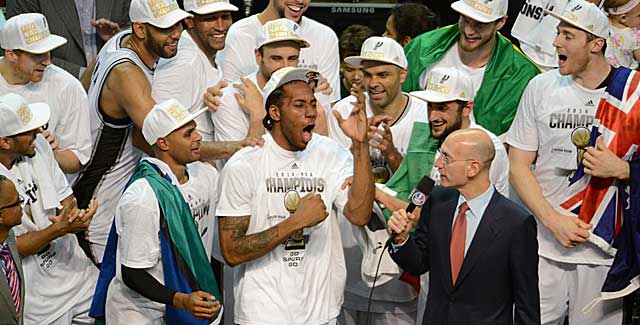 More postseason coverage: Playoff schedule, results | Latest news, notes
If you watched the Finals, you know that the Spurs dominated the Heat and played offensive basketball about as well as is conceptually possible. But it turns out if you look at the data, they literally played the best offensive basketball anyone has ever played. From NBCSports.com: 
San Antonio scored 119.0 points per 100 possessions – the best offensive rating in any Finals since at least 1978, when the NBA began tracking turnovers.

Here's the offensive ratings (black) and defensive ratings (silver) of every NBA champion in the Finals since then. (Click to enlarge.)
via Spurs set modern record for NBA Finals offensive rating | ProBasketballTalk.
That's an unbelievable stat. To put that in context, here are some numbers. If your offensive efficiency is: 
Below 100: Burn everything to the ground and start over. You have died of offensive dysentary. Press start to continue. The Sixers had a 96.8 offensive efficiency this year.
100.0: You have some serious work to do. You need shooting, ballhandling, everything. The Bucks had a 100.2 mark in the regular season. 
105: You're quite good. You're not elite, but you can tear up defenses and have nights where you look unstoppable. 
109 or above: You are elite. The Clippers had a season-best mark of 109.4. 
119: YOU ARE A GLEAMING ROBOT HORSE CAVALRY OF DEATH AND DESTRUCTION. YOU BREATHE FIRE AND WHEN YOUR OFFENSE WALKS THE DEFENSE QUAKES WITH FEAR BEFORE IT. 
So yeah, not a bad run the Spurs had there at the end. 
Mike D'Antoni and Blake Griffin's altercation turned out to be the tip of the iceberg for a...

The former Clipper apparently had some tricks up his sleeve after a chippy game

The Rockets were apparently looking for Austin Rivers and Blake Griffin after a chippy gam...
If they don't meet in the Finals again, let's appreciate every one of the 27 matchups since...

D-Wade picked up the steal and got creative on the fast break as the Cavs headed into half...

Despite the embarrassing hiccup, the youngest Ball had himself a pretty great day on the c...