Spurs-Heat Game 1: Danny Green goes nuts in 4th quarter
San Antonio swingman Danny Green erupted in the fourth quarter of Game 1 on Thursday.
• 3 min read
More Game 1: Court Vision | LeBron's cramping | Steamy conditions
Danny Green must give the Miami Heat nightmares. When the San Antonio Spurs had a 3-2 lead in last year's matchup, it looked like the sharpshooting swingman was going to be the most unlikely Finals MVP in NBA history. He had made 25 of his 38 3-point attempts in the series to that point, and compiled 24 and 27 points, respectively, in the Spurs' Game 3 and 5 wins. The Heat clamped down on Green in the two remaining games, holding him to 2-of-19 shooting, which was a big reason why they won the title.
In this year's sequel, Green will again be a significant factor. Through about 3½ quarters of San Antonio's 110-95 series-opening win on Thursday, he was scoreless and his team trailed by four. That's when Dwyane Wade strayed off of him into the paint, and Boris Diaw found him open in the corner. Green swished the shot he had made countless times before, then ran the other way and shook his head, as if that motion would do away with his quiet start. On the next Spurs possession, Diaw connected with him again, throwing an incredible wraparound pass to the wing. As Green released another 3-pointer and held his follow-through, the fans in the AT&T Center raised their arms to the rafters. Again, it dropped.
"You feel one go in, it helps gain a rhythm," Green said. "Once two goes in, that helps with confidence. You try and just focus not on the previous shot, but take your time, focus on fundamentals."
With LeBron James on the bench and out of sorts due to cramping, the arena could feel the tide turning. One minute later, Wade missed a layup, Green leaked out, caught an outlet pass in stride and attacked the rim with ferocity. The Heat had to call timeout. Shortly after that, Green hit another three when Ray Allen was a split-second too late on the perimeter.
"It was an explosion at that point," Miami head coach Erik Spoelstra said. "Danny Green shook free for those threes, and the floodgates came open."
Green's fourth-quarter line was 11 points on 4-of-4 shooting, 3 of 3 from behind the arc. He did all of his damage in less than three minutes, by far the biggest part of the Spurs' 31-9 run.
"Honestly, the way he shoots the ball, I assume every time he shoots it, it's going to go in," San Antonio big man Tim Duncan said. "So we want to get him as many shots as possible. He's a very confident shooter, a very capable shooter and I think Pop has really instilled a lot of confidence in him in the fact that, when he has a crack, he can shoot the ball. That takes a lot of pressure off of him deciding what shots to shoot and what shots to not shoot. He hits one or two, and then we call a play for him, he hits another one, and that really opened up the game for us."
Heat big man Chris Bosh said what makes Green dangerous is that "he'll shoot anything," via Bleacher Report's Ethan Skolnick. His mere presence keeps defenses honest, and you can't let your guard down, you can't give him space. The Spurs are a phenomenal passing team, and they are always looking for him.
San Antonio point guard Tony Parker said that he was pushing Green, and that after the game he told him how proud he was. There are going to be ups and downs, and sticking with it showed character.
"I don't know if you saw, but every timeout I was screaming at him and encouraging him," Parker said. "I'm very proud of him because you never know when it's going to come and nobody said it was easy. Last year he was on fire, but every Finals is different. He just kept his composure, kept playing defense, and in the fourth quarter finally he made some big shots."
As Green showed in Game 1, it doesn't matter how many he misses in a row. He's always dangerous, and he'll never hesitate. The Spurs won't let him.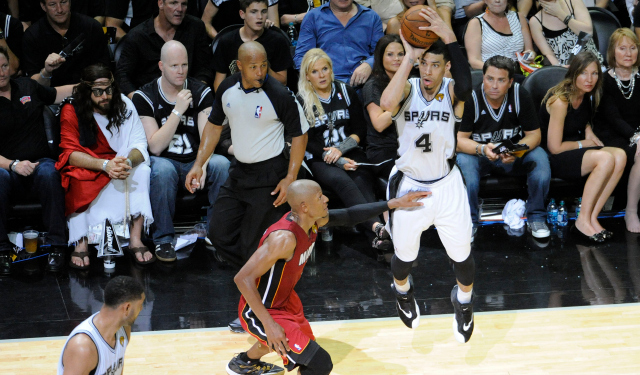 Rap mogul supports the vision the outspoken father has for his brand and sons

Deciding who to watch on League Pass can be difficult, but these rankings promise to help

Veteran forward signed a one-year deal with the Knicks in offseason
Knicks forward had his truck stolen out of his driveway

The Celtics will send No. 34 to the rafters in Boston when they take on his old rival

It's never too early to look at June's NBA Draft