Spurs-Heat Game 1: Ginobili and Wade engage in a showdown
Wade and Ginobili shine in Game 1 of the NBA Finals as the Spurs lead by four.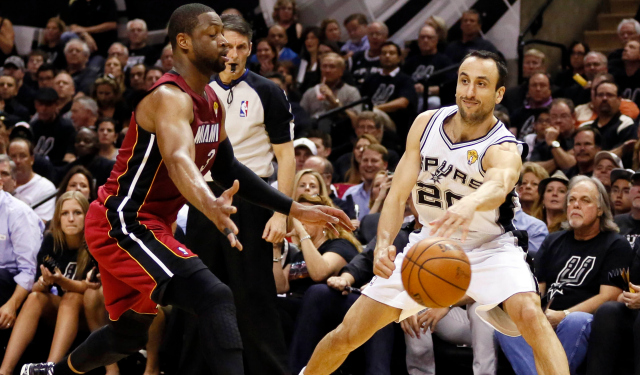 On Wednesday, we pointed out Dwyane Wade vs. Manu Ginobili being a key matchup in the NBA Finals between the Miami Heat and San Antonio Spurs. At halftime of Game 1, that theory has panned out, as both Wade and Ginobili continued their explosive ways they've shown all postseason. The Spurs lead 54-49 at the half. 
Wade sliced in and out of the Spurs defense, racking up 12 points on 5-of-8 shooting, including a sick ball reversal fake. Ginobili struggled to hang with Wade behind screens and off the jab step on the few possessions he guarded him. 
Meanwhile, Ginobili was the reason San Antonio lead at the half, scoring 11 points on 3-of-6 shooting from outside and racking up five assists, some through double-teams while adding three rebounds and three steals. Ginobili played with reckless abandon, throwing bounce and cross-court passes, and gunning transition threes with a hand in his face. His confidence level compared to last year's start seems night and day. 
Wade looks much more athletic than he did in last year's playoffs and was the only guard for Miami to look in control. Mario Chalmers found himself in foul trouble early while Norris Cole struggled against the Spurs defense. What's worse for Miami, there's not much they can throw out at Ginobili. Ginobili beat their double teams, beat them in transition, drew fouls ,the works. 
If this is the level of play Ginobili can provide, that alone may tip the balance of the series. 
We've got all the scores, top plays and news from a busy NBA Friday

Our advanced computer model simulated Saturday's Magic vs. 76ers game 10,000 times

Several playoff contenders could use the services of Ilyasova, who's nearing a buyout agre...
Durant says he probably wouldn't have gone to college because he 'needed the money'

Ball, who has missed the last 15 games with a sprained MCL, will be on a minutes restricti...

Larry Hartstein is in the midst of his best run of the season and released a pick for Mavericks...