Spurs-Heat Game 1: Tim Duncan leads the Spurs in 1st half
Tim Duncan had an incredible first half on Thursday.
• 1 min read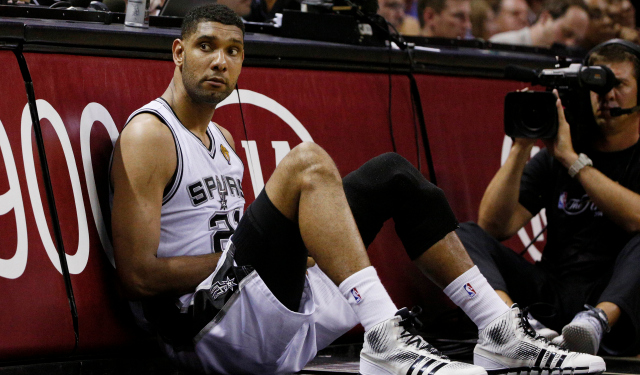 More Game 1: Manu vs. Wade
Fifteen years after his first NBA Finals appearance, Tim Duncan is in form as fine as ever. The San Antonio Spurs big man scored leads all scorers with 15 points on 6-for-7 shooting on Thursday, leading his team to a 54-49 halftime lead over the Miami Heat.
Duncan has scored all of his points on the inside, and he will continue to be a huge part of San Antonio's attack. The Heat elected to start small with Rashard Lewis at the power forward position, while the Spurs went back to their two-big lineup with Duncan alongside Tiago Splitter. San Antonio sacrifices spacing with that look, but its phenomenal ball movement has made that almost a non-issue. There were some turnovers early, but the Spurs got all sorts of good looks, including easy ones for Duncan on the inside.
While Duncan's defense is the main reason why he remains an elite player at 38 years old, his offense has been extraordinary lately. This performance is just continuing what we saw in the conference finals, as Duncan had 22 points and 12 rebounds in Game 5 against the Oklahoma City Thunder and 19 points and 15 rebounds in the series-clinching Game 6 win. If he keeps this going in the second half, San Antonio has to love its chances.  
Trevor Ariza and Gerald Green are reportedly both suspended two games

We've got all the scores, highlights and news from the night's games

Jonah Keri talks with NFL and NBA broadcaster Ian Eagle
SportsLine simulated Wednesday's Nuggets-Clippers game 10,000 times

Galin Dragiev has his finger on the pulse of the Lakers and just locked in a play for Wedn...

No more McNuggets allowed in the Barnes household