Spurs' Kawhi Leonard out 3-4 weeks with finger fracture
San Antonio Spurs' forward Kawhi Leonard is out three-to-four weeks with a finger fracture he suffered Wednesday against the Oklahoma City Thunder.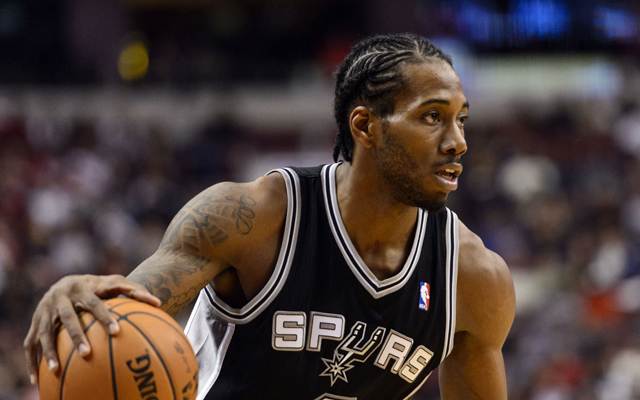 During the San Antonio Spurs' defeat to the Oklahoma City Thunder Wednesday night, they suffered an even bigger loss. Kawhi Leonard caught his finger on the arm of Steven Adams during the first half and broke his finger. After a CAT scan on Thursday, it was confirmed it was a non-displaced fracture of his finger and he's expected to be out three-to-four weeks.
Spurs forward Kawhi Leonard underwent a CAT scan earlier today in San Antonio. Results confirmed he has a non-displaced fracture of the fourth metacarpal in his right hand. Leonard suffered the injury in the first half of the Spurs-Thunder game on Wednesday night. He is expected to be out three-to-four weeks.
You can check out the .gif below and see just how nasty that finger fracture looks when it happened.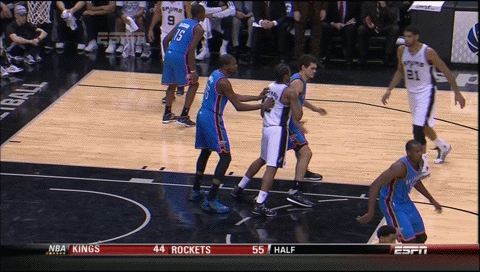 This is a pretty significant injury for the Spurs but something they can still manage to overcome. Danny Green is already out for a few weeks with a broken finger of his own and they're missing Tiago Splitter for a couple more weeks with a shoulder sprain. But the Spurs always manage to plug someone in to the Gregg Popovich machine and keep on playing great team basketball.
Leonard is averaging 11.6 points and 6.1 rebounds this season while shooting a career-high 51.7 percent from the field.
Markieff Morris was already in line to miss the start of camp due to a pending assault cas...

The 76ers should hopefully get a lot of play out of their young guys this season

Okafor's been on and off the trade block for over a year and doesn't seem to be in Philly's...
Fisher is the fourth NBA player to compete for the Mirror Ball trophy on the show

Barkley commends the NBA, sarcastically, for extending the season and reducing back-to-back...

Enes Kanter isn't seeing much comedy in the Kevin Durant social media situation