Spurs-Lakers Game 4: Tiago Splitter out with ankle sprain
Tiago Splitter will not play in Game 4 against the Lakers due to an ankle sprain.
Hey, here's something different. One of the Lakers' opponents is injured. The Spurs announced Saturday that center Tiago Splitter is out for Sunday's Game 4 in L.A. with a sprained ankle. Here's footage of the injury. 
So, that's not great. The Spurs said Saturday there's no timeline established for his return. But with it just being a sprain, you'd imagine he'd play if the game mattered.
Which it does not.
The Lakers are missing half their team and have absolutely no shot against San Antonio if the Spurs put together any effort. Going forward, it could be a problem, though. Getting him rest is important.
Maybe this opens the door for the Lakers to sneak one out! What do you think, Tim?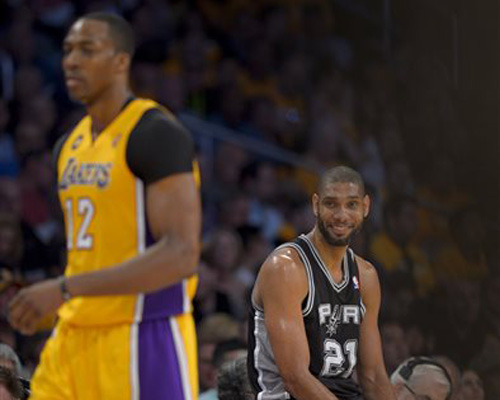 The NBA broke its silence with a statement related to the Lakers-Paul George tampering cha...

The Clippers big man thinks LeBron will reunite with the banana boat crew at some point

Have the Clippers reportedly found their next GM?
The NBA stayed to the point in their response to the Greek basketball federation

The Pacers believe the Lakers tampered with Paul George before they traded him

Among the questionable decisions by Jackson was signing Noah to a long-term, lucrative dea...