Spurs' Manu Ginobili (fibula) will not play in FIBA World Cup
San Antonio Spurs' guard Manu Ginobili is still suffering from an injury to his right fibula and it will keep him out of the FIBA World Cup in Spain.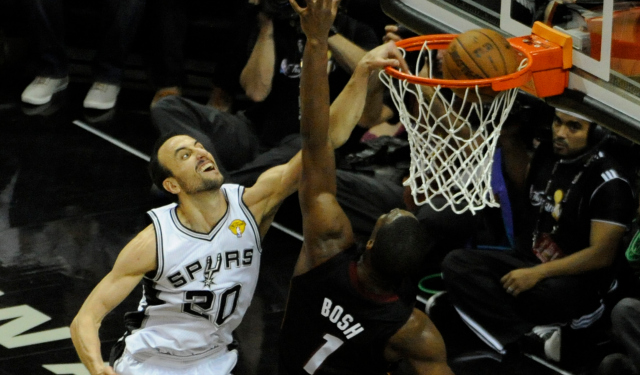 More Offseason Analysis: Coaching changes, news | Free Agency | Draft
The San Antonio Spurs have been in back-to-back NBA Finals with a veteran core they're very protective of when it comes to getting their rest. Holding out key players for nationally televised games isn't a ploy to stiff the audience at home and the league setting up these games, as much as it's a system the team has devised to make sure their players are ready for deep playoff runs when they come about. They've been understanding when it comes to their international roster playing in international competition in the summer, but will certainly welcome a break for their key players.
Dan McCarney of the San Antonio Express-News tells us the Spurs are invoking a clause in an agreement between the NBA and FIBA that prohibits players from participating with their national team when a medical concern is evident. They're invoking this clause with Manu Ginobili, who won't be playing for Argentina in the FIBA World Cup in Spain due to a healing fibula injury.
Spurs guard Manu Ginobili, suffering from a stress fracture in his right leg incurred during the recent NBA championship run, has been officially ruled out for the upcoming FIBA Basketball World Cup, the Argentine Basketball Federation (CABB) confirmed via statement on Thursday.

The CABB cited a clause in the agreement between the NBA and FIBA that prohibits players from participating with their national team when there is "reasonable medical concern" for the player's health. Such is the case for Ginobili, who has yet to recover from the injury in his lower right fibula with the tournament set to begin on Aug. 30.

The Spurs sent Ginobili, 37, a letter earlier this week invoking that clause after a recent re-examination of the injury was described as promising but "inconclusive" by the Argentine team doctor.
While the Spurs certainly don't want Ginobili to miss time with his national team due to injury, they'll be glad to have him getting proper rest and treatment for his injury instead of pushing the limits. Ginobili has led the Argentinian national team to great success during their "golden age" of basketball. He, Luis Scola, Pablo Prigioni, Andres Nocioni, and many other good international players have turned Argentina into a powerhouse internationally with basketball.
The Spurs are already getting a favor from Tony Parker this off-season in regards to the World Cup. He's decided to take a summer off for the first time in a very long time, opting not to play and to rest his body. The tournament will begin Aug. 30.
The Lakers made a strong push for Rose, but he would have been a backup in Los Angeles

The small forward spent last season with the Sacramento Kings

Knight still has three years left on his five-year, $70 million contract
The Golden State forward is accused of assault, battery and making misleading statements

The Nets get their shooter a year later, and the Blazers reportedly will waive Nicholson

The All-Star point guard has requested a trade away from the Cavs