Spurs' Manu Ginobili says it's 'unlikely' he'll retire this summer
Spurs veteran Manu Ginobili wrote in an Argentinian newspaper that he does not plan to retire before next season.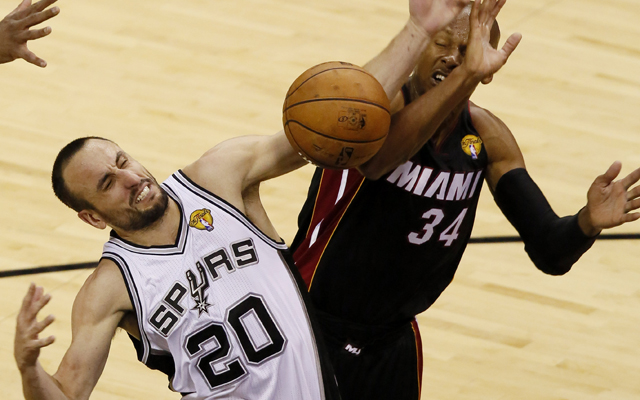 The lasting images for Manu Ginobili right now include the Spurs' heartwrenching collapse in Game 6 of the Finals and his critical late turnover in Game 7. 
He's 35, set to be a free agent, and has talked a bit about retiring. But he wrote in an Argentinian newspaper, via the San Antonio Express-News, that he plans to return for at least one more NBA season. 
"After much thinking, going over and over the bad plays, I feel better and content in spite of the bad outcome, and I find it difficult to believe that I won't play anymore," he wrote in La Nación.

"I don't feel exhausted or frustrated playing basketball, I mean not enough to say I'm done. I don't know about everything; I haven't made a decision, but I see it is unlikely that I will not play anymore.

"I try not to let the tree in front of me block the forest. This is practically an unbeatable situation in sports. A moment of anger and frustration should not cloud the day-to-day and how well I am doing over here.

"… I think they want me here again; but I'm not certain because I still can't talk to the franchise" under NBA rules.
Ginobili left the door open, saying it's only "unlikely" that he'll retire. He never actually said he was thinking about it, anyway, but more just answered a question saying he'll cross that bridge this summer. 
Following the loss in the Finals, Ginobili was very candid in describing his heartbreak of losing both Games 6 and 7. He called it "devastating" and said Game 6 was stuck in his head. Considering how his season finished, he doesn't seem too keen on that being the final touches on an otherwise brilliant career. 
Ginobili is an unrestricted free agent and will certainly see his salary dip back from the $14.1 million that he earned last season. Judging by Ginobili's comments, he has no intention of playing for anyone but the Spurs. 
Kevin Garnett has no interest in working with Glen Taylor, but he'd gladly buy the Timberwolves...

LaVar Ball formed a pop up shop in New York to sell Big Baller Brand merchandise. The results...

The Cavaliers players took a stand against bullying on social media
The Rockets are gunning for their 10th consecutive win

Victor Oladipo just wants to live his life and enjoy his breakout season with his new team

Keep it right here for all of the news, notes, scores, and highlights from around the Asso...