Spurs-Mavericks Game 2 Preview: Trying to catch one that got away
The Mavericks let Game 1 slip. Can they recover to split the season series in San Antonio in Game 2?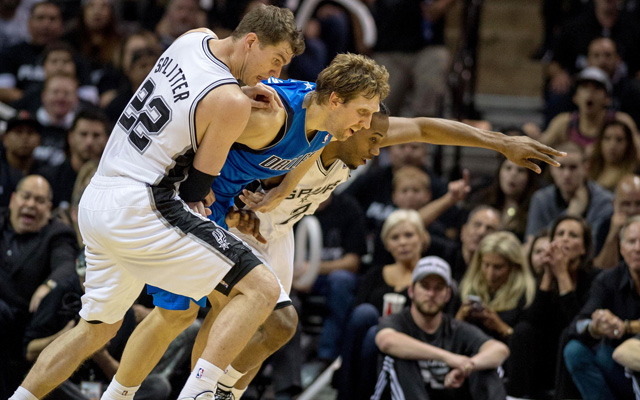 More postseason coverage: Playoff schedule, results | Court Vision
1. Where We Are: So close, and yet so far away. The Mavericks lead by multiple possessions in the fourth quarter, and then completely fell apart as the Spurs kept digging, digging, digging, and eventually struck the soft, caramel center beneath their tough, outer candy shell. 
Dirk Nowitzki missed clutch shots, and that's going to haunt the Mavericks in this series no matter how it unfolds. Stunningly, the Mavericks were plus-6 in the fourth with a lineup of Devin Harris, Vince Carter, Jae Crowder, Nowitzki, and Brandan Wright. Then Rick Carlisle subbed Monta Ellis in for Crowder, and the Spurs outscored the Mavericks by 11. 
Ta-da! 
So now the Mavericks have to deal with having had Game 1, on the road, vs. the No. 1 seed right in their hands and having lost it. Is this particular version of the Mavericks tough enough to recover? Can they catch the Spurs off-guard for a second game? 
2. The Big Number: 23 points. That's the difference between the Mavericks' bench outpuot and the Spurs'. The Spurs usually hold big advantages over their opponents with their depth, but the Mavericks schemed to shut down the extra passes and stop "Spurs ball." The results yielded huge games from Tony Parker and Tim Duncan... and a great defensive effort from the Spurs. 
San Antonio won't win this series if their bench doesn't show up. They dodged a bullet in Game 1. They won't be able to dodge it twice in a row. 
3. Key Adjustment: Jae Crowder and Brandan Wright have to play more, Jose Caldron has to play about the same, and Samuel Dalembert needs to take it easy this series. The Mavericks have to constantly push to apply pressure to the Spurs' transition defense and Crowder's size and versatility opens up options for them. Crowder is maddeningly inconsistent like a lot of young players. But he's athletic and can make plays. Calderon needs to have his time, but Carlisle figured out pretty early on that he can't stay on the floor much because of his defense in this series. There's nowhere to hide him. 
And Wright has been the best Mavericks center all season. I don't know why we're still talking about this. 
4. The Big Story: Dallas suffered a crushing loss in Game 1. Was that their shot? Is this team mentally tough enough to recover from that kind of loss, or will the age and exerience of the veterans work against them, in them understanding "That was our shot, and we missed?" Can the players who have never had sustained playoff success come through? 
Is there any way the Mavericks can make themselves more mentally tough than the Spurs? 
5. The Facts: 8 p.m. ET. All players expected to be available. 
Barkley spoke to the NFL Today crew about the response the president received in his home...

The restricted free agent has a deal in place that will keep him with the Bulls after a st...

James' support continues his trend of social activism on social media
The newly-acquired All-Star thinks the addition of Anthony boosts the Thunder in the NBA's...

The Knicks were asking for the house in discussions for Carmelo Anthony

Steve Kerr has given his response to Donald Trump in writing